St Clair County Community College in Port Huron Michigan becomes the first American college to take delivery of the new Research PowerCube, possibly the most advanced wind and solar research tool available anywhere.
University Research Teaching Tools and Portable Research Lab
David Cooke | TRUE-NORTH
Friday 15 Jan 2010
Mohawk College, near Hamilton Ontario Canada now have a totally self-contained and portable lab for wind and solar energy experimentation and research. It contains a sophisticated integration of both renewable energy technology and advanced sensors as well as hardware and software analysis tools that this PowerCube contains. Nowhere else can you get all these capabilities together in a portable and rapidly deployable package that can be taken anywhere you want to study wind and solar energy or the systems that collect and convert energy. There are lots of good sensors and development tools as well as a wide variety of wind and solar collector technologies available today. Never before have so many experimental options and tools been so portable and reconfigurable, and all in one package. If you know of another one that can do this much or more, let us know info@truenorthpower.com .
Students and researchers now have the ability to design tests and experiments across a wide variety of disciplines. Weather and environmental studies, climatology, low level wind behaviour, blade performance, solar and UV irradiance, solar cell performance, battery and inverter performance, temperature and stress analysis, data and sensor analysis, statistics and data reduction techniques can all be supported by this versatile resource. Being portable, it can be shared among departments and campuses.
Classrooms are great for learning theory but students need real world experience to apply the theory and understand how technology really works. Researchers need high quality data and reconfigurable systems that provide more experimentation time and less setup. Rather than wait for the weather you need, PowerCube lets you take the experiments to where the wind and sun is suitable, capture some high quality data and be back before dark.
The Research PowerCube is loaded with sensors, data collection, analysis tools and computing power to capture what is happening, millisecond by millisecond, when you collect, store and use renewable energy. The high speed analog/digital data collection and analysis platform can sample 8 analog and 8 digital channels simultaneously and store as many as 100,000 samples per second. All this high speed data is delivered to a portable laptop computer loaded with other software tools to create charts and graphs that capture and analyze the results. One application has a drag and drop icon driven interface to allow students and faculty to create their own unique data collection and analysis tools without having to write software.
Built in digital filtering, spectrum analyzer, oscilloscope and calibration tools ensure focus is on the important data of interest to the experiment. It's wireless weather station constantly logs and plots over a dozen local weather parameters, allowing students to evaluate how climate effects energy production. The weather station can also be used as a stand-alone monitoring system to support other climatology experiments for environmental programs at the college or integrated into the campus network to constantly display weather parameters in real-time.
The unique 1kW WIND ARROW small wind turbine it uses is like no other machine available today. It has no mechanical furling system and uses "Active Flight Control" to manage the power it produces under software control. You can now watch this process happen in real-time data flows that the data acquisition system can display, store or retrieve later for more detailed analysis. An 8 channel data patch board contains a set of voltage dividers to handle 0-100v +- 100th of a volt or current variances of as little as 1/10th of an amp. There are temperature sensor inputs and 2 on-board user clocks for triggering event capture or timing your own experimental cycles with 32bit precision.
The PowerCube can be towed to any location and have the turbine and solar panels producing energy in less than a minute so students and researchers can focus on collecting and evaluating data rather than installing or configuring the system. Experiments can be set up and running and collecting data in under 5 minutes from arriving at a desired location. Whether it's climate or weather monitoring for environmental studies or wind turbine blade performance, solar cell testing or power controller evaluation, the PowerCube can provide quick results where ever you take it. With multiple campus operations you can easily support any number of campuses and/or research programs by sharing the resource as needed.
Data Collection and Analysis Tools
Packed and ready
for deployment
Cover can also be buttoned
up in deployed state
Tilt and swivel solar to any angle
University of Western Ontario
University of Western Ontario installed a complete hybrid wind and solar research platform for use as both test capability and to offer students an ability to see first hand the integration and operation of current renewable technology.
The System:
1kW 24v WIND ARROW turbine with Active Flight Control
1kW Solar Array Roof Pedestal mount able to tilt and swivel
60a MPPT Solar PV controller/Charger
4kW Pure sine inverter/charger 120/60hz output
Midnite Solar E-Panel AC DC distribution panel with AC DC lightning Arresters
1000AH 20hr rate 24v Battery pack
Davis Instruments Vantage Pro2 Wireless Weather Station
Third Floor install with battery pack inverter and controllers . . weather station remote on the battery

WIND ARROW 1kW turbine uses the most advanced Active Flight Control software and True North Power will be collaborating with UWO programs to modify and update the firmware for experimental purposes.

Two Arrays were installed one fixed mounts with 8 Sanyo 195 HIT and 1 swivel mount with 6 Suntech 175. Interestingly the Sanyo panels will be individually wired in 8 parallel circuits to allow multiple controller performance comparison and other experiments.

Active Flight Controller shows battery state lights (temperature compensated white thermister wire is attached to the batteries GREEN Power light and relay status light is ON)

WIND ARROW mounted only 21ft above the roof is not ideal for for easy lowering and test point installations it will be easier to service
Railroad Signal Switching PowerCube
Canadian Pacific Railroad installed a PowerCube just east of Ayr in their new switching yard to replace the need for continuous Diesel operation. Initial use over the first 5 months of operations showed they likely will not need the diesel on site now. Signals and track continuity circuits and NiCad battery pack are housed in the same cabinet as the PowerCube controllers. 340 watts of solar panels in series at approx 78-80v DC are connected to the FM60 MPPT controller that feeds 12v to the battery pack. At the same time a 1kW 24v turbine connected through a 24 v AFC controller then feeds a 24-12v conveter to allow 12v battery charging from the wind. In addition, a 24v Load Diversion regulator (LDR) also feeds excess wind energy to a small 2kW heater on the ooutside of the cabinet. This gives the AFC controller the ability to absorb charge the batteries without shutting down as it would normally be programmed to do if the batteries are full.
Residential 2.5kW and 5kW Array Grid Tie (Ontario MicroFIT configurations)
This direct Grid tie system is very compact and accessible for cleaning and seasonal adjustment. As a result we expect to see as much as 20% more energy collected annually over and identical roof mounted system. Ground mounted or pedestal mounted systems are more efficient and collect more energy than panels mounted against a flat or pitched roof. For more info on why that happens, read FREE Wind News - REALITY CHECK 5 .
| | |
| --- | --- |
| 12 Sanyo HIP 195w PV Panels in Series | |
| Includes emergency shut off and watt meter for tracking production | |
True North PowerSeries 12 Panel Pedestal mount, Engineer Certified to withstand 110mph. Fully integrated inverter Grid-Tie system mounted can be on the strongback
This installation is 2 x CERTIFIED mounts each carrying 12 195w panels - These PowerSeries mounting systems allow annual pitch adjustments for summer and winter to capture more energy than fixed roof mount. Also since they are on pedestals mounts in the open air they stay cooler and produce more energy than roof mounted arrays. In northern climates they are easier to clear snow and debris and to adjust seasonally, so more likely to be producing optimum power than less accessible panels on the roof. This simply means more annual production overall.
Four of these mounts together carry a total of 10-11kW depending on panel choice.Three of the newest PS3000 mounts can carry 15 panels each for a total of 45 panels and ~10kW.
Download the full PowerSeries Mounting Options Brochure 4.1 here

Remote Telecom Power Systems
Telenor Pakistan
There are 19 Telecom repeater sites in the middle east now using three or four PS1800 mounts each with 9 Sharp 235 mono panels. Some are 50-80km from the nearest road and were originally run by diesel generators only. Since installation during Dec 2009 March 2010 the sites now run less than 1 hr a day on diesel. These sites were installed by DWP Group of Pakistan for the service provider Telenor Pakistan.

DWP Group is a leading provider of products and services in the fields of CONSUMER ELECTRONICS, TECHNOLOGY & LOGISTICS. Globally acclaimed, highly reliable products

Visit www.dwp.com.pk/

Telenor Pakistan is a wholly-owned subsidiary of Telenor. On 14 April 2004, Telenor was awarded a GSM licence to build and operate a mobile network in Pakistan that now provides telecom services to over 21.7 million mobile subscribers. With 167 million people in Pakistan the network has 58% Mobile user penetration according to official estimates.

Visit www.telenor.com
The content & opinions in this article are the author's and do not necessarily represent the views of AltEnergyMag
---
Comments (0)
This post does not have any comments. Be the first to leave a comment below.
---
Post A Comment
You must be logged in before you can post a comment. Login now.
Featured Product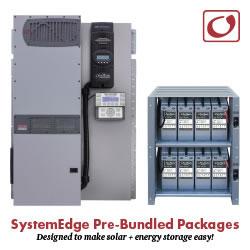 Each pre-bundled package is designed to make solar plus energy storage easy. By combining OutBack's most popular FLEXpower pre-wired systems with matched OutBack energy storage, SystemEdge takes the guesswork out of installing solar plus storage. Every SystemEdge package includes a FLEXpower factory pre-wired system, application-specific EnergyCell batteries and racking, FLEXware ICS Plus combiner and all the necessary connection hardware.