The February eMagazine covers topics including Geothermal and Solar Energy, Hydrogen Production, Supergreen Ship Building and Plankton Power long with some technical papers and conference reports.
Editorial Comments
Bob Hetherington | EarthToys
The February eMagazine covers topics including Geothermal and Solar Energy, Hydrogen Production, Supergreen Ship Building and Plankton Power long with some technical papers and conference reports.
Bob Hetherington
---
Welcome to 2007 and our February eMagazine issue. Alternative and Renewable Energy has never been a hotter topic than it has become as a result of an unpredictable winter and a new political landscape in the US.
Again this month we have added a few new features for you to add to your research tools. The first is a simple Glossary of Terms which defines hundreds of words that you will run across in your reading. It covers 4 main topics namely Solar Energy, Wind Energy, Alternative Fuels and Vehicles, and BioEnergy. If you have any suggestions that will help us build this list please let me know.
Next have a look at the Alternative Energy Learning Library. The Learning Library is designed to guide readers through the many facets of this exciting new world and help you make the decisions necessary to take advantage of emerging energy technologies. There are three main sections to the library depending on your expertise and area of interest namely:
Consumers and End Users
Those who work in the industry
Institutional, Commercial and Industrial Decision Makers
Each section gives you specific lists with links to general and specific articles, directories and other resources available to you. Give it a try and again ... if you have input to help us improve just let me know.
In the State of the Union Address, there was much talk about Alternative and Renewable Energy ... which is great. Our news page contains press releases from many energy related associations discussing the speech and debating it's relevance ... some positive and some negative reactions.
My two bits worth is this: Any serious discussion about Alternative Energy is good ... but so far I'm not seeing enough action resulting from all the discussion. We need solutions to the energy problems we are facing and they must range from small inventions to mega-projects. Everyone needs to be engaged in applying the solutions to everyday life. There are many products out there already that work. Lets start promoting their use and generate some cash to build more. We do not need to reinvent the wheel ... just start rolling it and having fun with it.
Down with the study groups and up with the EarthToys!
Now on to our eMagazine issue. The first article discusses what I feel to be a great solution that is available now. COMMERCIAL HOT WATER TECHNOLOGY OFFERS 400% EFFICIENCY discusses a system that uses heat pump technology to extract heat from the earth and use it to heat water. I think if you couple this idea with a PV solar system (read SOLAR CELL SURPASSES 40 PERCENT EFFICIENCY) and some good design (PASSIVE SOLAR DESIGN) we are on the way to not only saving energy but using renewable sources for the smaller amount of energy we need.
Continuing with the Solar energy topic there is a fun article (ROCKIN' ROLLER SOLAR) describing mobile solar power. Put your plant on wheels so you can take it with you when you move or go on holidays.
And for you techies ... how about this one. STUDIES ON IDEAL AND ACTUAL EFFICIENCY OF SOLAR POLYMER ELECTROLYTE FUEL CELL. The nitty gritty.
Hydrogen is of course a hot topic too. We have an article discussing a new HYDROGEN PRODUCTION TECHNOLOGY and another (NEW PLAYERS IN THE HYDROGEN GAME) which discusses what some countries around the world are implementing.
To keep up with new technology we have two conference reports (NEXTFEST 2006: THE FUTURE OF EARTH TOYS) and PRINCIPAL VOICES SPEAK: RENEWABLE ENERGY PARAMOUNT.
Transportation uses huge amounts of energy and in some ways I think it's the easiest usage to attack. SUPERGREEN SHIPS AND BARGES is a great article for many reasons but especially because it brings up a discussion about sea travel that is easy to overlook.
And maybe my favorite article ... just because it is so obvious yet illusive, BACK TO THE FUTURE WITH PLANKTON POWER. One of the smallest life-forms can help with a huge problem
I hope you enjoy the issue. As always I welcome your comments and input ... but be careful ... I may ask you to write an article about it :-)
Bob Hetherington - news@earthtoys.com
The content & opinions in this article are the author's and do not necessarily represent the views of AltEnergyMag
---
Comments (0)
This post does not have any comments. Be the first to leave a comment below.
---
Post A Comment
You must be logged in before you can post a comment. Login now.
Featured Product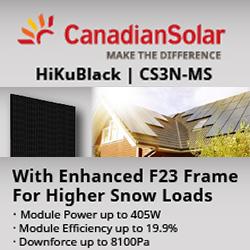 Aesthetic appearance for residential systems: With black backsheet & black frame, Power range 380 ~ 405 W, Low power loss in cell connection. Enhanced reliability: · Low temperature coefficient (Pmax): -0.34 % / °C, LID LeTID less than 2.0%, Lower hot spot temperature, Better shading tolerance.