Passive solar design takes the pressure off conventional heating and cooling systems.
How much heat do you really need?
Jennie Lay | ecoLogical Home Ideas
Passive solar design takes the pressure off conventional heating and cooling systems.
How much heat do you really need?
By Jennie Lay
Reprinted with Permission ecoLogical Home Ideas
---
Licensed master mechanic Gemma McKee says her new passive solar home near Branson, Missouri, "sticks out like a sore thumb." In other words, there hasn't been a glut of energy efficient construction going on in her neighborhood. McKee's home is 3,570 square feet, one story tall and designed to include a full range of creature comforts and unusual design aesthetics. She can also heat and cool the whole space for under $50 a month.

Drilling to install the geothermal exchange system.
McKee calls this her "High Tech Home." It's a demonstration project she will live in for at least the next three years. During that time she will collect hard data that comes from monitoring the results of construction with insulating concrete form (ICF) exterior walls, in-floor radiant heat, a geothermal exchange system, high-velocity mini ducts and good passive heat and cooling design. The home represents her ideal energy efficient plan, gleaned from years of consultations that helped other people estimate load calculations and determine proper sizing and efficiency for their own homes. Now McKee's ideal construction plan has emerged as her actual home, incorporating the most efficient construction technology in what she believes is the homeowner's best interest.
"As the fuel prices rise, so does the homeowner's interest in taking this seriously. This has been a wake up call," McKee says. She regularly helps others reevaluate their home plans to improve heat gain and loss, suggesting options like wall material changes, low-e windows or adjusting the angle a house sits at on a lot.
"The misnomer is that this is not affordable," she says. The truth is, when homeowners design passive heating and cooling elements into their homes, the need for mechanized heating and cooling systems can be significantly reduced - along with expensive monthly energy bills. And that doesn't mean homeowners have to sacrifice comfort or affordability, McKee says.
Start saving with passive design
While every house is different, the U.S. Department of Energy recommends some basic ground rules for designing a passive solar home: Orient the house so it maximizes solar gain in the winter and minimizes it in the summer. Run the long axis from east to west, and position south-facing windows within 30 degrees of due south. Make sure the home is well sealed and well insulated. Size roof overhangs to allow winter sunlight to enter the house, yet create shade from the summer sun. Create thermal mass in the walls and floors to store heat. Use natural ventilation to move air around the inside of the house and cool it.
When mechanical components are integrated to complement a home's passive heating and cooling, a variety of strategies cost less to install and run than a conventional air conditioner or heating system. Fans and evaporative coolers lower the air temperature and use less energy. In-floor radiant heat can run off a geothermal exchange system, providing a plentiful and efficient heat source. High velocity "mini-ducts" are two-inch vents that move air faster through the house, reducing humidity and eliminating hot and cold spots because air circulates more evenly. A masonry heater allows you to burn wood cleanly, then store the heat in its thermal mass and radiate heat for the next 18 to 24 hours. Each of these options, along with good basic passive solar design, helps diminish an individual home's requirements for additional heat and cooling. Do the math: passive solar and heat load calculations.

Hydronic heat installation.
Whatever you do, make sure to perform a room by room heat load calculation, advises Paul Kriescher, a home performance energy consultant for Lightly Treading Energy and Design in Denver, Colo. This is essential to picking the correct size and type of system, and it is not standard procedure for all installers. Heat load calculations are influenced by everything from local climate, the type of insulation and windows and seasonal shading to light sources, appliances and various uses for a given room. Passive solar design intentionally impacts many of these variables - so heating and cooling systems need to take these added efficiencies into account.
Kriescher says building an airtight house is critical. "Seal up your penetrations and make it tight as possible," he says. He aims for no more than one-third of a house's air to exchange with outside air each hour, whereas a typical house exchanges anywhere from 50 to 75 percent of its air each hour, he says. Considering these factors, the National Institute of Building Sciences warns in the "Whole Building Design Guide" of building a heating, ventilating and air conditioning (HVAC) system that is too big, and therefore inefficient: "Greatly oversized equipment operates less efficiently and costs more than properly sized equipment. For example, oversized cooling systems may not dehumidify the air properly, resulting in cool but 'clammy' spaces."
Ted Cartwright, an environmental consultant in Dallas, advises homeowners to beware of leaking ducts. This means building tight duct work from the start, or making sure it happens during renovations. "Even if you buy a super-efficient air conditioner, if you've got duct work that leaks you're going to be disappointed," Cartwright says. Good attic ventilation, properly sized ducts and well-planned placement of the thermostat, return air vents and supply grills are important, he says. Duct work should be sealed and insulated, especially if it's in the attic. Cartwright suggests checking out how your house is performing with a thermography analysis of the structure - essentially a photo with an infrared roadmap that pinpoints where your home is leaking energy.

Heat loss up high at yellow areas and above windows.
Building an appropriate heating and cooling system for a passive solar home requires contractors to do a little extra math. Calculating loads for a heating and cooling system must consider both your comfort and things like your home's low-e windows, extra insulation, thermal mass and day-lighting. On the website for her High Tech Home, www.airbrokershvac.com, McKee reiterates that each home's load calculation is unique: "A builder may choose to use the same set of plans repeatedly. But if in one application he or she were to opt for a different window or insulation type, it could dramatically impact the load calculation results, and the required system for the structure."
RESOURCES
The National Institute of Building Sciences "Whole Building Design Guide" www.wbdg.org
Air Brokers, for efficient HVAC information and High Tech Homes www.airbrokershvac.com
The content & opinions in this article are the author's and do not necessarily represent the views of AltEnergyMag
---
Comments (0)
This post does not have any comments. Be the first to leave a comment below.
---
Post A Comment
You must be logged in before you can post a comment. Login now.
Featured Product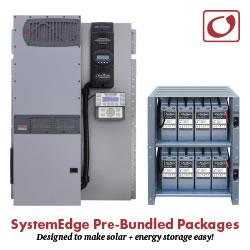 Each pre-bundled package is designed to make solar plus energy storage easy. By combining OutBack's most popular FLEXpower pre-wired systems with matched OutBack energy storage, SystemEdge takes the guesswork out of installing solar plus storage. Every SystemEdge package includes a FLEXpower factory pre-wired system, application-specific EnergyCell batteries and racking, FLEXware ICS Plus combiner and all the necessary connection hardware.