Why not combine a flexible thin film photovoltaic module with a high performance coating, in effect creating a monolithic membrane system consisting of the coating and the photovoltaic both waterproofing the roof and generating renewable energy.
Creating New Application Solutions for Building Integrated Photovoltaics (BIPV)
Michael Gumm | SolarPower Restoration Systems, Inc
Why not combine a flexible thin film photovoltaic module with a high performance coating, in effect creating a monolithic membrane system consisting of the coating and the photovoltaic both waterproofing the roof and generating renewable energy.
Creating New Application Solutions for Building Integrated Photovoltaics (BIPV)
Michael Gumm, President
SolarPower Restoration Systems, Inc & Corporate Roof Consultants
---
A few years ago, I was fortunate enough to see the first Uni-Solar thin film flexible photovoltaic modules laminated to a single-ply polymeric roof membrane. I thought the ability to combine a flexible photovoltaic module with a flexible roofing membrane was a brilliant idea.
As a roof consultant, over the years I have seen quite a few rack mounted photovoltaic arrays on roofs, and I have always thought there has to be a better way to place solar on roofs. Don't get me wrong, mounting rack supported solar glass modules on a roof if done properly does work, but roof-mounted arrays can have drawbacks. On large commercial roofs, many times you are adding hundreds of new roof penetrations and more weight to the roof and building structure, making the roof harder to maintain and in some cases reducing the roof's service life. On other roofs, you see the latest rack array solar systems with an expected service life of 30-years mounted on a roof that at best would have five to ten years of performance left. Sometime in the future, the solar array will have to be disassembled, the roof replaced, and the solar array re-installed. The fact is, in the US, the average built-up roof has a performance life of 15-years, and at some future date, the roof will be repaired or replaced long before the solar modules stop working.
Solar contractors who install roof mounted array systems are sometimes unaware of roof warranties by most US roof manufacturer that requires the owner to notify the roof system manufacturer of any use changes on the roof. If an owner adds a PV array system to a roof, they are voiding the roof guarantee if they do not contact the roof manufacturer prior to installing the array. The roof manufacturer requires all modifications and repairs to the roof be completed by a manufacturer certified contractor, using their approved details and specifications. A roof leak or repair call in the future to the roof manufacturer can end up costing the owner if they have not completed all the notification requirements in the guarantee. Remember, roof guarantees exist for two reasons: one they are a selling tool and they exist to protect the manufacturer, not the owner.
The flexible photovoltaic roof system originally developed by Solar Integrated Technologies uses flexible thin film modules made by Uni-Solar combined with a good polymeric roofing system made by Sika-Sarnafil and has performed very well over the past several years. Brilliant as this concept is, the Solar Integrated solar roof system still has limitations. Polymeric membrane roofing systems made from PVC or TPO account for 20% of the commercial roofing membrane market. The majority of commercial roofing still uses asphalt based roofing technologies in the form of conventional built up roof systems and single-ply APP or SBS asphalt roof membranes and the only option is to install a new photovoltaic roofing membrane system over them. Other problematic roof systems include elastomeric rubber roofs made from EPDM and Hypalon.
The Solar Integrated PV roof system works well on new construction projects, but what about re-roofs? The SIT solar roof system is good for a old worn out roof that must be replaced, but what about a relatively new roof, one that is five or ten years old and still under warranty and not leaking? Do you want to replace the roof? How does the additional roof replacement cost impact the life cycle and investment cost of the original roof system? While it's possible to apply thin film modules directly to an existing thermoplastic PVC or TPO roof, do you want too? After all, the flexible PV module has a service life of 25-years, does it makes sense to apply the modules to a roof with a more limited service life? What about all of those asphalt based roof systems or EPDM rubber roofs? You cannot apply flexible thin film modules directly to them. I thought there had to be another way.
In my research, I talked with several of the new thin film photovoltaic manufacturers about application solutions for flexible thin film modules. The most common answer I got back, is their flexible modules would be used as a building integrated photovoltaic (BIPV) product for roofs, walls and in glass, but they had no real application method in mind yet their focus was manufacturing the modules. So how does one apply these new flexible thin film photovoltaic modules to a building surface? I wanted a universal application solution, a system where it would be easy to apply flexible photovoltaics onto any new or existing building surface, an application solution that would work over roofs, on walls and other construction surfaces.
One day a few years ago, the idea came to me when I watching an existing roof being coated with an elastomeric restoration coating. The roof coating repaired the surface of the roof, creating a new waterproof surface, made the roof solar reflective and extended the service life of the roof. The idea was simple; why not combine a flexible thin film photovoltaic module with a high performance coating, in effect creating a monolithic membrane system consisting of the coating and the photovoltaic both waterproofing the roof and generating renewable energy. I tested the idea, applying flexible PV modules by Uni-Solar and Iowa Thin Films with different roof coatings to a roof surface and found these combinations performed very well. During the same time, I started research to patent this idea and found to my surprise no one had patented this idea before and this is how SolarSeal Technologies™ came to be.
The most common exterior finishing system on any building surface is an elastomeric coating system. Elastomeric coatings are used on roofs, on walls and over concrete. SolarSeal Technologies evolved into a number of photovoltaic application solutions for all types of building surfaces.
SolarSeal PV Roof System™
The SolarSeal PV Roofing System™ (patent pending) takes a complete new approach to integrating thin film photovoltaic modules onto new and existing roof systems. The SolarSeal Roof System™ is a simple application solution. The SolarSeal application system uses proprietary elastomeric coatings, creating a new waterproof surface over the roof substrate. Structurally flexible thin laminated photovoltaic modules such as those manufactured by Uni-Solar or Open Energy or one of the future flexible modules by Miasole', DayStar or MWOE-Solar can be embedded into the new waterproofed roofing surface and an elastomeric top coating with both excellent waterproofing and weatherproofing characteristics is applied around the PV modules and remaining roof surfaces.
The SolarSeal PV Roofing System™ creates a new monolithic, seamless, waterproof, and weatherproof roof surface, capable of generating renewable energy from the sun. The SolarSeal PV System™ provides the least expensive and fastest installation method compared to current photovoltaic roofing systems. The SolarSeal PV Roofing Systemtm goes directly over any new and existing smooth or gravel surfaced built-up roof, including smooth or mineral surfaced modified bitumen roofs, single-ply roofing (Hypalon, PVC, TPO, EPDM, and co-polymer alloys), polyurethane foam roofs and metal roofs.
The SolarSeal PV Roofing System™ is the perfect solution for existing roofs that under normal circumstances require a roof tear-off, such as buildings with two existing roofs or buildings that have structural or lightweight concrete decks and are difficult to fasten to. The SolarSeal PV Roofing System™ is the most cost effective system for applying Flexible photovoltaics over recently installed roofs. The SolarSeal Roofing System™ is the best solution to convert existing black EPDM roofs into white energy efficient roofs with the latest flexible photovoltaic module technologies.
The SolarSeal PV Roofing System™ is a renewable roof system. The SolarSeal PV Roofing System™ is a sustainable roof system, synchronizing the roof service life with the long performance life of the photovoltaic modules.
SolarSeal PV Concrete System™
Concrete is the most widely used construction material in the world. While the photovoltaic industry has focused on creating a number of roof based photovoltaic applications, the integration of photovoltaics with concrete surfaces has remained largely undeveloped
SolarPower Restoration Systems created a (patent pending) photovoltaic array system combining concrete surfaces with the protection of elastomeric waterproofing coatings and the solar power production of structurally flexible thin film photovoltaics.
Concrete is the ideal building material to create basic structural foundations for scalable power arrays. If you look around, concrete is everywhere, many large existing concrete surfaces become unused over time as the facilities use surrounded by these concrete surfaces change. This includes closed factories, military bases, shopping centers, distribution centers, parking lots, tennis courts and even abandoned roads. Many existing facilities and campuses have under utilized concrete surfaces. New large area concrete slabs are relatively inexpensive to pour.
SolarSeal™ elastomeric waterproofing coatings are applied to the concrete, sealing all exposed concrete surfaces. Flexible thin film photovoltaic modules are embedded into the elastomeric waterproof coating; the photovoltaic modules are flashed with an additional coating to create a continuous, seamless, weatherproof and waterproofed surface capable of generating renewable energy from the sun.
The SolarSeal Technology system offers a number of advantages over traditional ground-based rack and pole constructed photovoltaic arrays. The SolarSeal System requires little maintenance; the waterproof coatings can be renewed, effectively extending the SolarSeal System service life to 25-30 years or more. SolarSeal PV Concrete Systems are not impacted by adverse weather conditions such as windstorms, hurricanes or hail.
SolarSeal Wall Systems™
SolarPower Restoration System's (patent pending) SolarSeal Wall System™ integrates thin film photovoltaic technologies with SolarSeal Coatings™ creating a photovoltaic wall system with new or existing concrete, masonry, EIFS wall systems and other vertical material surfaces.
The SolarSeal Wall System™ combines elastomeric SolarSeal Coatings™ that waterproof and seal concrete, masonry and EIFS wall systems with specially designed flexible thin film photovoltaic modules on a semi-flexible polymer substrate onto the wall surface forming a watertight, weatherproof, seamless wall system capable of generating renewable energy from the sun.
The SolarSeal Wall System can be used with most common wall construction systems for modern buildings. The SolarSeal Wall System can be applied to concrete walls (tilt-up wall panels, pre-cast wall panels, poured concrete, and masonry block walls), framed walls systems , structural insulated concrete composite panels and multi-layer wall systems with an exterior layer of insulation with a synthetic elastomeric coating that looks like a masonry/stucco surface, called EIFS (Exterior Insulation and Finish Systems).
The SolarSeal Photovoltaic™ wall modules with the SolarSeal Coating™ system can be combined with conventional wall finishing systems forming a monolithic waterproofed solar-power system with an unlimited number of architectural design options.
The SolarSeal Wall System™ can be applied to other facility/campus architectural construction and building elements such as landscaping and terraced walls, tops of parapet walls and a number of other horizontal concrete and masonry surfaces. SolarSeal Coatings can be supplied in a wide range of both standard or custom colors and textured surfaces.
In development for 2008 is a magnetic membrane system for metal roofs and a thin film photovoltaic modules inter-locking panel system, both systems can be permanently mounted or can be installed as re-deployable solar array systems.
The content & opinions in this article are the author's and do not necessarily represent the views of AltEnergyMag
---
Comments (0)
This post does not have any comments. Be the first to leave a comment below.
---
Post A Comment
You must be logged in before you can post a comment. Login now.
Featured Product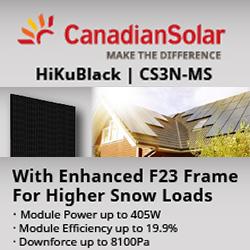 Aesthetic appearance for residential systems: With black backsheet & black frame, Power range 380 ~ 405 W, Low power loss in cell connection. Enhanced reliability: · Low temperature coefficient (Pmax): -0.34 % / °C, LID LeTID less than 2.0%, Lower hot spot temperature, Better shading tolerance.