We established the Guidance Green Committee to set in motion actions that will help us meet an ambitious yet concrete goal: to operate as an environmentally aware, carbon-neutral company by 2009.
Jon Provisor of Guidance
Jon Provisor | Guidance
We established the Guidance Green Committee to set in motion actions that will help us meet an ambitious yet concrete goal: to operate as an environmentally aware, carbon-neutral company by 2009.
EarthToys Interview - Guidance Green
Jon Provisor, Owner & CTO of Guidance
---
Jon Provisor oversees the strategic technical direction of Guidance, and has a hand in setting and achieving the Guidance vision for the future. Key initiatives include enhancing and expanding the firm's Web 2.0 expertise, managed services and business intelligence offerings, while continuing to build on Guidance's position as a leader in e-Commerce. Provisor has been with Guidance since 1999, creating Web technology solutions for a range of companies - including Relax the Back, Foot Locker, Universal Television and Networks and Weider Publications.
Provisor also oversees Guidance Green, a company-wide initiative to operate as an environmentally aware carbon-neutral company. He helped Guidance achieve carbon neutrality in August 2007 - a full 18 months ahead of the company's goal - and is overseeing the implementation of a host of actions within Guidance that will help create a sustainable environment. He contributes to the company's Green blog at http://www.guidancegreen.blogspot.com/, and created a toolkit to help other companies go green, as well.
Prior to Guidance, Provisor was a managing principal consultant for Oracle Corporation. While there, he managed the implementation of Oracle's suite of multi-organizational manufacturing applications for Havas Interactive. He also was responsible for the design, implementation and testing of multiple manufacturing modules for the HID Corporation, including those affecting inventory, bills of material, work in progress, engineering, cost management and material planning.
Provisor earned a bachelor's degree in social sciences from the University of California, Berkeley, and a master of science in design, analysis, and management of information systems from the London School of Economics.
What is Guidance?
We're specialized technology advisors – a group of passionate, seasoned technologists who envision, build and support inventive web technology solutions that help businesses thrive online. We specialize in e-Commerce, multi-channel retail, e-Business, business intelligence applications and managed services, driving increased revenue and efficiency for clients across a range of industries. Guidance has been around since 1993, helping companies seize opportunities and solve problems through the innovative and practical use of technology.
What is Guidance Green?
In March 2007, we decided to officially declare that the environment matters to us, as a business and as individuals. We established the Guidance Green Committee to set in motion actions that will help us meet an ambitious yet concrete goal: to operate as an environmentally aware, carbon-neutral company by 2009. We achieved carbon neutrality in August 2007 – a full 18 months earlier than expected.
We continue to implement a variety of activities that help us reuse, recycle and reduce as much waste as possible. We also organize events for the office to encourage recycling, carpooling and other environmentally friendly activities. And, perhaps the most fun of all – as a group we participate in various volunteer activities within our community. We've partnered with local organizations like Heal the Bay and a local Boy Scout Troop to do things like plant trees and pull weeds in a state park, clean a nearby beach, and even tour a local home designed to be environmentally friendly.
What was your motivation for starting a green initiative?
We believe strongly in our role as individuals and as a company to create a sustainable environment. We were motivated to action by one of our clients, Bentley Prince Street – a manufacturer of broadloom and carpet tile products for commercial interiors. Bentley Prince Street is committed to eliminating any negative impact it has on the environment by the year 2020. The team told us about its goal in early 2007, and we were so inspired we decided to examine our own practices. And a new Guidance mission was born.
What has Guidance Green achieved to date and how?
We're excited about what we've been able to do so far. As I mentioned, we've achieved carbon neutrality. To do that, we evaluated our consumption of non-renewable resources – like energy, paper, plastic and CO2 emissions – and developed strategies for reducing consumption where possible. Then we worked with Green Mountain Energy to calculate how many metric tons of CO2 Guidance emits annually. For 2007, we purchased renewable energy credits to offset 100 percent of the carbon emissions associated with our business activities. The renewable energy source derives from wind and biomass production facilities, and this action helped avoid more than 99 metric tons – or 219,000 pounds – of CO2 per year, which has the equivalent impact of not driving more than 243,000 miles.
We've also implemented a host of practices throughout the organization, on two tracks simultaneously: 1) actions that will help us reuse, recycle and reduce as much as possible, to eliminate waste; and 2) community-building activities that help us get out, work together and share our vision with others.
Among the green-friendly changes Guidance made throughout 2007:
Celebrated National Rideshare Week by implementing rideshare day and an ongoing carpool incentive program
Implemented recycling program
Switched to purchase of recycled paper office products, holiday cards and other paper goods
Set the A/C to maintain a steady temperature and to turn off when not in use
Installed motion detectors in the restrooms to save electricity
Phased out plastic and paper use in the kitchen
Installed bicycle racks to encourage bike riding
Began using energy efficient light bulbs wherever possible

I mentioned some of our community-building volunteer activities above. But we also believe it's important to be in conversation with each other and with people outside our organization. So we created a blog (http://www.guidancegreen.blogspot.com/) as a place where Guidance employees can share their thoughts, what they've done, things they've learned or anything else green-related.
What's the feedback been from employees? How is that feedback reflected in the program?
Guidance Green is largely employee-driven. It's a team effort – employees run the committee with me, the entire staff participates in the activities, and many Guidance employees have written posts for our blog. Green initiatives and events are warmly supported by all our staff, and anyone on staff can easily bring suggestions to a committee member.
I understand you recently released a "Green Toolkit." Can you explain?
We created a best-practices guide to help companies of any size operate as environmentally aware organizations and reduce or eliminate their carbon footprints. We've put a lot of time and effort into figuring some of this out for ourselves, so it just made sense to package what we've learned to give other companies a head start. The guide includes strategies learned from our own experience throughout our quest to help create a sustainable environment.
It's available here http://www.guidance.com/images/green/guidance_green_toolkit.pdf.
What are your future goals for Guidance Green?
We want to continue to look for ways to preserve our environment and to be active in local projects that will benefit our community and ourselves. We also want to share our story with others. It's not about what we've accomplished – it's about inspiring others to do the same, and enjoying the community of people who share the vision of creating a sustainable environment. We were inspired by one of our clients, so we've seen first-hand how one company sharing its story can influence another.
How have clients reacted to your green initiatives?
Clients are either delighted that we take this matter so seriously (and are themselves active in green issues), or they are envious (in the best possible way) and would like to be doing more themselves. Either way, it creates a positive view of Guidance, demonstrates the proactive nature of our team members, and reveals how committed we are to living our values.
Is there a business/bottom-line benefit to your green initiative?
Directly, our "green hosting" gives us a differentiator for our services. Over time, we expect this to make a difference to our hosting sales/revenue. Indirectly, clients are impressed with our efforts, how much we have achieved and our willingness to share that information. And, of course, we save energy and other costs thanks to certain aspects of our green activities. We've also made a commitment to travel less, which saves costs and lets our employees spend more time with their families – which has its own rewards.
You've chosen not to make "green" a business focus or profit center, preferring instead to teach by example. Why?
We're a web development company, not experts in the environmental field. We don't have experience in environmental consulting, but we have been able to demonstrate that you don't have to be an expert in "green science" to create a significant result in a short period of time.
The content & opinions in this article are the author's and do not necessarily represent the views of AltEnergyMag
---
Comments (0)
This post does not have any comments. Be the first to leave a comment below.
---
Post A Comment
You must be logged in before you can post a comment. Login now.
Featured Product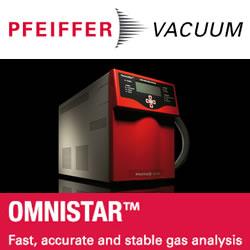 The Pfeiffer Vacuum OmniStar benchtop analysis system offers you a compact footprint, powerful software and Ethernet connectivity. It's the optimum solution for many real-time gas analysis applications. With the OmniStar, Pfeiffer Vacuum offers you a complete solution for gas analysis, in chemical processes, semiconductor industry, metallurgy, fermentation, catalysis, laser technology and environmental analysis. The turnkey OmniStar gas analysis system consists of heated, temperature-regulated gas inlet system, Quadrupole mass spectrometer, a dry diaphragm vacuum pump and HiPace turbopump. Unlike competing methods such as FTIR, OmniStar is suitable for qualitative and quantitative analysis of most gases.