Wagner & Co is a leading provider of integrated solar thermal and solar electric systems solutions. Off -grid solutions were among the first solar electric applications and yet also developed into a particularly innovative field, where new technologies, approaches and combinations are being tested. Off-grid - or "Island" - systems, as they are also called, can be found in many new infrastructure projects.
Off-Grid Know How Connects Countryside to The Net
Dr. Stefan Thiesen | Wagner & Co
They power street lamps, traffic lights, sensor arrays, isolated water treatment plants and much more. A particularly forward-looking example of an infrastructure project heavily relying on expertise of Wagner & Co is the recently completed "Rimberg Tower".
The Rimberg Tower near the village of Caldern in the rural Lahn Valley, Germany, is a new type of high-end DSL relay station now providing high-speed wireless Internet access to the population of this area. What is special about the tower is, that it entirely relies on an integrated renewable and off-grid energy supply. This is in so far unusual, as renewable energy often are considered unreliable, partly due to their transient nature, and in this case the system must be basically fail proof. The solution to this problem is redundancy. Instead of relying on only one energy source (e.g. photovoltaic modules), the towers power supply is ensured by no less than three independent integrated sources of electricity: solar panels, wind generators and a methanol fuel cell. The fuel cells are the last backup resort if the rare case should occur that the batteries of the system are entirely discharged. The engineering know-how employed in the planning process also includes taking the geographical characteristics of the location fully into account. Measurements have shown that solar and wind-energy complement each other well in this location. Basically there is more wind during seasons and periods of low solar irradiation, and vice versa.
The 25 meters high tower is equipped with solar generators boasting a total peak performance of no less than 1230 Wp. They are complemented by two wind generators with all in all 500W and the 65W fuel cell. Peter Hoenen, product manager off grid at Wagner & Co Solar technology, personally carried out the planning. "I did the planning myself" the electronics engineer said "but there was a constant fruitful exchange with the Marburg City Works (Stadtwerke), the public utility company of the University town who contracted the project." Hoenen is very enthusiastic about the projects innovative nature. "We had to develop many special solutions, for example related to lightning protection, which we also installed."
The Wagner & Co technicians also provided and installed the mounting racks for the roof and a switchboard for the technical central of the tower. "We tried to make it all as simple as possible, but not simpler" Peter Hoenen said, referring to a famous Einstein quote. "Fortunately I had qualified help," he said. "Anja Sperling finalized the wiring blueprints, and our electronics apprentice Tim Zielosko assisted during the installation.
As excited as Hoenen is about the project, he very much becomes the engineer, when talking about the technical details. "The System current is 24 V, and we use 12 Hoppecke OpzV Batteries with 490 Ah at 2 V each", he explains, and continues: "As solar generators we chose six Sanyo 205 WP with 3 strings. There are always two modules connected in series., that is 100V DC at 15 Ah. This solution was necessary to keep the cable losses low - or rather to keep the cable cross-sections low. Naturally the battery system is not installed on the roof of the tower - it weighs no less than half a ton!"
As charge controller the Wagner & Co Experts used an Outback FM 60 with data logger and remote access capability for all relevant system data. "The charge controller does an MPP tracking and takes care of adjusting the system current of 24 V" Hoenen went on explaining. "Measuring shunts and the Outback data logger analyze the energy flow."
The employed wind generators were two 24 V Air Breeze models from Southwest Windpower, and the installed fuel cell is an EFOY-Pro 1600 (DMFC). It completes the redundancy strategy of the entire system. "For the worst case - dead calm winter days with snow covered solar modules" Hoenen jokes. But even there it does not end - 2 Victron inverters with redundant switching capability (1x multi, 1x phoenix) allow to even supply energy to the tower, if all of the towers own energy sources would fail: in case of emergency the batteries could be charged via a portable motor generator, so that the Internet connection can be assured under practically every condition. The system now is up and running, and it can be continuously monitored via remote access. The project is a breakthrough towards providing high-speed Internet infrastructure even to the remotest rural locations in Europe - an important competitive factor of our time.
The content & opinions in this article are the author's and do not necessarily represent the views of AltEnergyMag
---
Comments (0)
This post does not have any comments. Be the first to leave a comment below.
---
Post A Comment
You must be logged in before you can post a comment. Login now.
Featured Product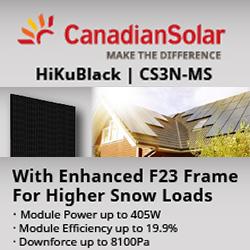 Aesthetic appearance for residential systems: With black backsheet & black frame, Power range 380 ~ 405 W, Low power loss in cell connection. Enhanced reliability: · Low temperature coefficient (Pmax): -0.34 % / °C, LID LeTID less than 2.0%, Lower hot spot temperature, Better shading tolerance.