Marc Doyle is global business director, DuPont Photovoltaic Solutions (DPVS). He is responsible for creating business strategy for DuPont within the Photovoltaics (PV) market space, coordinating activities across DuPont in the PV industry to create a singular market-facing business, and aggressively growing DuPont's business within the PV space by identifying and championing new business opportunities in white space areas.

Marc Doyle | DuPont Photovoltaic Solutions

Coming out of the economic downturn, what is DuPont doing to support growth in the industry?
Coming out of the economic downturn, DPVS is supporting growth in the PV industry by investing in manufacturing capacity, launching new products, and by collaborating with leading companies throughout the value chain to accelerate industry technology roadmaps. These activities are very much a part of our aim to increase the efficiency and lifetime of c-Si and thin film PV solar modules, reduce overall system costs, and enable the PV industry to reach grid parity faster.
Where and how are you investing?
We very recently announced the completion of a $295 million investment in a multi-phased expansion for Tedlar® polyvinyl fluoride films – the critical component of photovoltaic backsheets. The investment will more than double manufacturing capacity, and provide Tedlar® oriented film capacity to support global demand of over 10 gigawatts of PV module production.
DuPont has also invested the development of new innovative technologies to address different applications within the industry. DPVS opened a PV technical center in 2009 at its China global R&D Center in Shanghai to support material developments for the fast growing crystalline silicon photovoltaic market. Additional technical center openings around the world are planned in 2010, so stay tuned!
What other companies are you partnering with?
DuPont has formed a number of key collaborations across the PV value chain.
Our work with Applied Materials to boost solar cell efficiency by developing multiple printing technology using Solamet® photovoltaic metallizations is one example.
Our work with Oerlikon on thin film PV modules made with DuPont™ PV5215 PVB-based encapsulant has enabled the newly approved encapsulant to be used in modules carrying the Oerlikon Solar's master certification from TÜV Rheinland, who provide international testing and certification services for crystalline silicon and thin-film module technologies.
And, working closely with Silicon Energy, LLC, DPVS announced the world's first glass-glass polycrystalline silicon PV power-generating modules made with advanced DuPont™ PV5300 series ionomer-based encapsulant for added module strength and durability. By combining the high efficiency of crystalline silicon with the new, stronger encapsulant from DuPont, this module offers greater physical strength, durability and improvements in design.
Describe your product portfolio.
DuPont Photovoltaic Solutions (DPVS) represents a broad and growing portfolio of innovations for the industry, designed to increase the lifetime and efficiency of solar modules, and improve the productivity of PV module makers. Our products are key to the manufacture of both crystalline silicon and thin film solar cells and modules, and include films, resins, encapsulation sheets, flexible substrates and photovoltaic metallizations, as well as high performance seals for solar cell manufacturing equipment, wet-etch additives for semiconductor texturing, and metallic sodium.
What new products have you introduced?
There are several new DuPont offerings for the PV market:
DuPont™ Solamet® PV173 photovoltaic (PV) metallization paste is a new lead-free* front side material for crystalline silicon solar cells. With its high performance and superior environmental properties, Solamet® PV173 is targeted to PV cell and module manufacturers who are seeking technologies with a significantly reduced environmental footprint.
* "Lead free" as used herein means that lead is not an intentional ingredient in and is not intentionally added to the referenced products. Trace amounts however may be present.
DuPont™ Solamet® PV412 photovoltaic (PV) metallization paste is the latest in a line of silver conductor materials specifically developed for use in thin film PV technologies where a Transparent Conductive Oxide is utilized.

DuPont™ Elvax® EVA resins for photovoltaic (PV) module encapsulation are now joined by two additional PV encapsulants recognized by Underwriters Laboratory (UL): DuPont™ PV5200 Series PVB-based sheets and DuPont™ PV5300 sheets, based on ionomer technology.

DuPont Teijin Films™ recently announced the first in a series of Mylar® and Melinex® polyester films with enhanced weatherability and durability performance.
What is your outlook on the PV market in 2010?
DuPont estimates the PV market to grow by about 30% in 2010.
Looking into your crystal ball --- where is the industry going over the next 5 years?
DuPont expects to nearly triple its annual photovoltaic sales to more than $1 billion in 2012 based on strong fundamentals for long-term revenue growth in the photovoltaic solar energy market, combined with our ability to deliver new technologies to the industry.
Do you think Carbon Cap and Trade is the best solution to keep us on track to expand Alternative Energy solutions in the future?
Properly designed climate change legislation will provide U.S. companies with the certainty they need to innovate, creating new market opportunities and jobs for American workers. Environmentally effective and economically sustainable climate legislation will encourage markets to turn increasingly to greater energy efficiency, low carbon energy forms and bio-based products, accelerating development and deployment of technologies that will be critical for a low-carbon economy.
DuPont believes that market opportunities will open up across a wide array of industries and the company is well-positioned to help the U.S. lead in the low-carbon economy. While we recognize that achieving the needed emission reductions is not free of costs, we also believe well-crafted legislation can spur innovation in new technologies, help to create jobs, and increase investment and provide a foundation for a vibrant, low-carbon economy. Good legislation will provide a framework and a pathway for the long-term challenge of de-carbonizing our economy. Congress doesn't need to pick technology winners and losers - a federal cap-and-trade program that creates a carbon price will help make low-carbon technologies and energy sources more cost-competitive with traditional carbon-based counterparts.
Will DuPont continue to expand its product lines over the next 5 years? Is PV the only Alternative Energy industry that you are focused on?
DuPont is a leading technology supplier to the photovoltaic (PV) industry, with more than 25 years of experience in PV materials development, applications know-how, manufacturing expertise and global market access. I am confident about our commitment to this market and our ability to continue to bring the kind of innovation that will increase the efficiency and lifetime of c-Si and thin film PV solar modules, reduce overall system costs, and enable the PV industry to reach grid parity faster.
DuPont also has other initiatives designed to reduce our dependence on fossil fuels, including products for the Wind and Biofuel industries.
What are your biggest challenges/opportunities?
The photovoltaic industry's biggest challenge is reducing the total cost per Watt for PV installations to achieve "grid parity" more quickly. We believe this young industry still has numerous opportunities for cost reductions from innovations all along the value chain, involving new materials, processes, and installation technologies. However, we need suppliers and customers to align on industry roadmaps that can drive new technology improvements from concept to commercialization as efficiently as possible. The achievement of a grid parity situation that reduces dependence on subsidies will also improve our ability to perform long-term forecasting of market demand, which is quite important for suppliers to make the significant, on-time capital investments required to support the industry.
Marc Doyle
Global Business Director
DuPont Photovoltaic Solutions (DPVS).
The content & opinions in this article are the author's and do not necessarily represent the views of AltEnergyMag
---
Comments (0)
This post does not have any comments. Be the first to leave a comment below.
---
Post A Comment
You must be logged in before you can post a comment. Login now.
Featured Product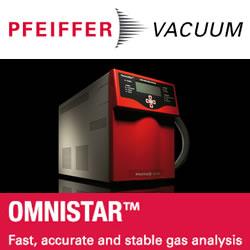 The Pfeiffer Vacuum OmniStar benchtop analysis system offers you a compact footprint, powerful software and Ethernet connectivity. It's the optimum solution for many real-time gas analysis applications. With the OmniStar, Pfeiffer Vacuum offers you a complete solution for gas analysis, in chemical processes, semiconductor industry, metallurgy, fermentation, catalysis, laser technology and environmental analysis. The turnkey OmniStar gas analysis system consists of heated, temperature-regulated gas inlet system, Quadrupole mass spectrometer, a dry diaphragm vacuum pump and HiPace turbopump. Unlike competing methods such as FTIR, OmniStar is suitable for qualitative and quantitative analysis of most gases.