The average solar stock has moved up 124% since March 9th 2009 and the average gain for just the 8 Chinese based public solar companies ( CSIG,CSUN,JASO,LDK,SOLF,STP,TSL,YGE ) was an amazing 267.96% !

Peter Lynch | Sun Series
One year ago on 3-9-2009 the stock market bottomed and started the dramatic recovery that we are still experiencing. There were basically two minor corrections along the way – July 2009 and January 2010, but other than that it has certainly been a classic "bull market" that has gone straight up in a very orderly manner.
To give you some perspective, below are the performance numbers of the market in general and for the Photovoltaic (PV) segment from March 9th 2009 to today. Keep in mind that these one year numbers INCLUDE the current mostly negative numbers in the last column.
No matter how you look at it, the last 12 months were amazing for the market as a whole and for solar stocks in particular.
The average solar stock has moved up 124% since March 9th 2009 and the average gain for just the 8 Chinese based public solar companies ( CSIG,CSUN,JASO,LDK,SOLF,STP,TSL,YGE ) was an amazing 267.96% ! Chinese solar companies were obviously the place to be for maximum profits, far outdistancing the rest of the market.
The Chinese are moving into the solar industry at light speed, dwarfing any similar attempts in the U.S or Europe. Meanwhile in the US, we are arguing what we may or may not do and it is sadly beginning to look as if it will end up as just "talk" and, once again, no meaningful action. The Chinese have already made their decision, taken decisive action and are moving forward in a very significant and focused manner. It is no longer a question whether or not the U.S. will take the lead in the clean tech race – at the moment we are not even in the race!
If we look at these numbers, are they telling us something else about the industry and its future that we should pay attention to? I think there may well be something to consider given this data and what is happening currently in the industry.
The Chinese are producing quality products at very low costs and most, in spite of margin pressure are making money. This tells me that the first industry major shake-out is underway and the trend is becoming very clear – LOW COST WINS. The Chinese are ramping up production and achieving economies of scale enabling them to drop their prices, strictly control their costs and still maintain their margins.
Where the Industry needs to go
The cost of Photovoltaics has come down dramatically over the past 10 years, but the cost of PV has to continue to drop significantly if it is to make a meaningful contribution (greater than 20%) to the world's future electricity needs. We need to start seriously thinking about GIGAWATTS (billions of watts) of solar electric generation verses MEGAWATTS (millions of watts) and we may even need to think about TERAWATTS (trillions of watts) in the near future.
Thought always proceeds action and we need to begin NOW to conceptualize PV production at these dramatically higher levels if we are to get there in a reasonable period of time, if at all.
There are only two ways that the industry can get down to production costs necessary to achieve the lower cost levels necessary to make a significant penetration of the worldwide market:
Current production and technology must be scaled up to MUCH larger capacity factories such that the economies of scale will hopefully bring the price down, as it has in many other industries in the past.
Or….
A dramatic breakthrough in photovoltaics needs to be discovered and rapidly commercialized. The new technology will have to be a revolutionary change in the way that Photovoltaics are produced, NOT just an incremental change. I think this breakthrough will result from "out of the box" thinking and not conventional thinking. I also do not think this technology has "arrived" yet…... So keep your eyes open!
What will this mean for the industry in the long term and solar stocks in the short term?
It will mean exciting times for the industry and dangerous times for the unwary investor.
If the industry starts to ramp up capacities, the prize will obviously go the more mature and well financed companies. So the balance sheet and cash flow of solar companies will become increasingly important for investors to be aware of. I also think that because of the historical higher volatility of the solar market segment that it will continue to be an area that investors will NOT be able to just "buy and hold". They will have to approach the industry from the point of a trader and be ready to move in or out of these stocks when dictated by market action.
On the other hand, there is always the possibility of a major technical breakthrough, a "wild card" so to speak. These technology driven advances are one of the things that America is famous for, traditionally very good at and is "hopefully" just around the corner. But in order for that to happen I think we need to keep a few things in focus:
We must keep an open mind and be flexible to new possibilities and not remain focused on prior methods or technology. We have to guard against thinking based upon the past. Many times we get locked into the idea that since it worked before, it will work again. This type of thinking will NOT get us a revolutionary breakthrough.
We will have to step up and explore higher risk or unconventional technologies – playing it safe "sounds" good but it can sometimes (especially in technology) lead to actually taking the biggest risk of your life.
Finally we need to stop wasting valuable time and money on old school fossil fuel based pipe dreams, like "clean coal", which does not even exist and that has very little chance of ever becoming a commercially cost effective technology.
The bottom line is that we live in exciting times so keep your wits about you, stay nimble on your feet and look forward to a wild ride that will hopefully end with dramatic breakthroughs that will move our world into the middle of this century lead by a sustained clean energy boom.
Mr. Lynch has worked, for 33 years as a Wall Street security analyst, an independent security analyst and private investor in small emerging technology companies. He has been actively involved in following developments in the renewable energy sector since 1977 and is regarded as an expert in this field. He was the contributing editor for 17 years to the Photovoltaic Insider Report, an early publication in PV that was directed at industrial subscribers, such as major energy companies, utilities and governments around the world. He is currently a private investor and has from time to time been a financial/technology consultant to a number of companies.

He can be reached via e-mail at: SOLARJPL@aol.com. Please visit his website for the promotion of solar energy – www.sunseries.net.
The content & opinions in this article are the author's and do not necessarily represent the views of AltEnergyMag
---
Comments (0)
This post does not have any comments. Be the first to leave a comment below.
---
Post A Comment
You must be logged in before you can post a comment. Login now.
Featured Product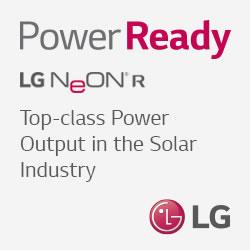 The NeON R module features "Back Contact" cell technology delivering an entirely black panel that is aesthetically pleasing and energy efficient. The cell's seamless, surface blends perfectly into nearly all rooftop designs while the module's electrodes are positioned on the rear of the cell. Using LG's N-type cell structure, the panels produce 365W of energy, up to 7.3kWp, compared to 5.8kWp of the p-type cell. The module's new design minimizes LID, thereby delivering a longer lifespan and increased energy output.