Though North America lags Europe on the wind energy front, with less cumulative installed capacity despite a vast geographical size difference, growth is strong and has only scratched the surface. Huge potential, particularly, exists in offshore installations, which represent just a small percentage of global wind capacity to date. Ocean-based turbines, both floating and fixed, take advantage of powerful, more consistent wind speeds and a topography that doesn't obstruct wind flow.
Sea Change: Recommendations For Offshore Wind Farms
J.P. Mäkinen | The Switch Inc.
With its extensive shoreline, the U.S. can tap a massive source of energy through gigawatt-scale installations. To do so, however, will require more-ready adoption of leading-edge technology and acceptance of a global supply chain.
Technology considerations for offshore installations differ from onshore. Machine components — generators, converters, gearboxes, slip rings, bearing seals — are exposed to more corrosive elements and atmospheric conditions. Turbines, meanwhile, are sited where they're not nearly as accessible as onshore machines when they need maintenance.
Thus, turbine configurations will face increased scrutiny as offshore ramps up. In traditional double-fed induction systems, for example, the necessary gearboxes not only don't optimize energy usage, but are costly, noisy, weigh a considerable amount, can be unreliable, and require regular maintenance to ensure they're operating optimally. These issues, common onshore, will be amplified in offshore settings. Just as they're making inroads in onshore installations, low-speed generators that work without gearboxes are turning the heads of those involved in offshore wind projects. Here, a synchronous generator is far superior, with the state of the art for offshore turbines comprising a direct-drive permanent magnetic generator (PMG) with a full-power converter.
Among the reasons PMGs are a better offshore option is their efficiency, particularly at partial speed — load situations in which they're superior to double-fed generators. In addition, the rotor structure in PMG-based turbines is more robust as it uses no slip rings and brushes, which are prone to problems in maritime environments and therefore less conductive. Even for those turbine manufacturers that use gearboxes, PMGs make sense because they're much easier to maintain than double-fed systems. Gearless machines are inherently more efficient as there is no gearbox contributing additional losses.
Atmospheric conditions, corrosive elements and erosion create an urgent need for more-rugged composites, seals, rugged power electronics packaging, and machine components across the board. The industry has progressed significantly from a protection-class standpoint for offshore turbines, but we continue to engineer, test and iteratively improve equipment. However, industry consensus is that PMG converter packages — when they become as readily available as current installed technologies — will be the prevailing technology in offshore efforts. When production volumes increase, PMGs can be sold at a price point that competes readily with existing technology.
Ready for Launch
Based on our experience with both onshore and offshore installations, we recommend those developing offshore wind farms consider the following recommendations:
Push hard on pilot projects and permits: Aggressively drive the permitting process, because it can be a slog. Offshore installations are newer in wind energy and people aren't accustomed to them. Yes, oil platforms have existed for many decades but the level of machinery that will populate some of these farms hasn't yet been seen offshore. In most countries, it's common for, say, 15 government agencies to have to sign off on a single memo. The onshore permitting process is difficult enough — once offshore, we will see the permitting process get even more complex.
Start with a small park and measure everything: Once permits are gained, proceed with the pilot and demonstration phase. A small park is ideal, as stakeholders can study the environmental impact on equipment, wind activity, and gain valuable experience. Without feedback from an actual installation, contractors can't built the right turbine configuration and finalize it for offshore purposes.
Bond with 'inhabitants of the sea.' As part of the pilot phase, communicate openly with everyone affected by the turbines. Though countries that have leveraged wind power for years are largely beyond worrying how birds will be affected, many groups nonetheless feel they have something at stake as wind energy moves offshore. One of our partners that's becoming active in the U.S. is paying particularly attention to local fishermen, for example. Commercial fishermen, commercial freight, sailors, and the Armed Forces that patrol related areas should all be party to communications and be encouraged to familiarize themselves with projects.
Build to offshore demands: Anyone involved in turbine production tailors equipment for the specific environment. To withstand offshore conditions, providers must develop to a high protection class — NEMA 4, NEMA 4x, IP 54 — for the cubicle housing and machine parts. Coatings are another consideration.
Construction must also take into account the nature of offshore winds. We've worked on large wind projects near coastlines onshore that operate in more turbulent conditions than those offshore; offshore winds are actually more constant and stable. Still, despite more consistent winds, turbines at sea have to withstand more powerful storms, including typhoons, and must be secured accordingly. They should be built to take care of themselves: they should always shut down at a certain maximum wind speed, or turn their blades downwind when facing extreme conditions to have their best chance of protection.
Be good maintenance partners: The company operating a wind park — usually the turbine manufacturer — is the first tier of maintenance, typically having resources onsite to handle issues. But anyone whose products are part of that turbine has a critical stake in support as well. That means providers should train partners in components, go through the commissioning process with them, and generally back them up. Lighthouses may have people living in them to handle problems, but nobody's sleeping in turbines — at least not yet.
Bleed and lead: North America has a huge opportunity to impact the future of renewable energy but it's reluctant to lead in technology adoption; the trend has been to use the most conventional technology available in energy projects. Big manufacturers, in fact, often release new, leading-edge technology in Europe but don't simultaneously announce it for the U.S market, waiting sometimes years until it's proven before marketing it for North American projects.
Now is the time for the U.S. to break ground rather than wait, to take some risk on cutting-edge, immature technologies. If it waits for offshore technology to mature, it will wait another 25 years. The adoption will follow old patterns seen in the car industry — run big, reliable tested machines but lose the race. To be true leaders in offshore wind energy will require the adoption of some bleeding-edge technology.
Scale-back protectionism: The Obama administration's financial commitment to sustainable renewable energy production, while encouraging, is nationalistic in nature; they're emphasizing the "made in America" issue more than the need to increase renewable energy output. In the last two years, the U.S. has led the world in wind power growth but that will likely not be the case in the next year, as attention has shifted focus more toward manufacturing than finding the most expedient way to increase renewable energy production.
If the U.S. takes less of a protectionist stance, regions around the country and all of North America stand to more quickly reap rewards from offshore wind energy. Wind farm developers can use U.S.-based manufacturers where it makes sense, partner with foreign suppliers when it's more efficient and effective, and do all the tower construction, turbine placement, coating, etc., with local providers. This approach provides a great opportunity for all stakeholders to gain experience and learn new technologies, and in return, be able to leverage that experience globally.
Jukka-Pekka Mäkinen
CEO and president of The Switch Inc.

A Finland-based provider of megawatt-class permanent magnet generator and full-power converter packages for wind power and other new energy applications. The Switch has four years of operation experience with GE Wind Norway (formerly Scanwind) in extreme nearshore conditions, where wind speeds exceed 110 miles per hour.
The content & opinions in this article are the author's and do not necessarily represent the views of AltEnergyMag
---
Comments (0)
This post does not have any comments. Be the first to leave a comment below.
---
Post A Comment
You must be logged in before you can post a comment. Login now.
Featured Product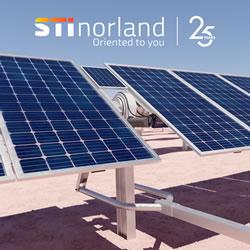 Developed in 2017, the STI-H250â"¢ is consists of two linked torsion beams that rotate simultaneously following the sun's path. They are moved by just one motor, cutting supply and maintenance costs. STI-H250â"¢ dual-row tracker includes backtracking mode to avoid shadowing between adjacent rows and stow function to protect the tracker in extreme wind conditions. For cleaning, vehicles can pass between trackers and each row can be placed in a different position.