Altenergymag interview with Barry Kay, President of Kay + Sons, a national leader and expert in how light is managed in buildings of the future.
Total Light Management To Save Energy
Barry Kay | Kay + Sons
Kay + Sons uses total light management systems to harness the available "free" natural light and combine it with intelligent control of artificial light to significantly reduce a building's cost of occupancy. The company contributes to the competitiveness of architects, engineers, facility managers and developers by designing and installing total light management systems that increase energy efficiency and employee productivity, while decreasing operating and construction costs.
How does daylight management work? What are the main components of a daylight management system? Are these systems scalable/adjustable?
In today's economy, companies are challenged to reduce costs at an unprecedented level. Every facility, in every industry, is faced with "doing more with less," due to rising costs and lower revenues.
In commercial buildings, one of the largest costs of operation is energy. Lighting makes up 40 percent of the total energy use in a building and therefore represents the greatest opportunity to impact a company's bottom line.
Total Light Management technology, an intelligent and systemized approach to lighting, is changing the way that buildings of the future will be managed. Facilities managers and building owners now have the ability to provide their companies with a unique competitive advantage by reducing overall operating costs and contributing to increased employee productivity.
Total Light Management is a systemized approach to how light is managed. The system is made up of the following components:
Maximum use of natural light – Take advantage of sunlight, a free natural source of light, while controlling comfort in the workspace. This is achieved with automated shading systems that effectively position the shades to ensure that the building harvests the maximum amount of the natural light, while at the same time controlling heat gain and glare.
Minimum use of artificial light – Smarter use of natural light is made possible with intelligent controls and dimmable ballasts, lessening the dependency on costly artificial lighting.
Use only the light that is needed – Everyone has entered or exited a room where the lights remain on for no reason. Lighting unoccupied spaces or over-lighting occupied spaces amounts to a huge waste of lighting energy. The smart and thoughtful use of sensors and intelligent, wireless devices maintain optimum light levels by turning lights off when not needed, and on to the correct level of light required for the tasks being performed within the space.
Enhance the value of other systems – The technology (listed above) used to manage natural and artificial light levels also contributes to increased efficiency of the HVAC system, life, fire and safety systems, and building automation systems. The software technology used to control the lighting and shading components of a Total Light Management system can be interfaced and controlled via existing building management systems, enhancing and coordinating their performance, and providing facilities managers with an even greater value and return on their investment.
Use other people's money – Take advantage of incentives from utility companies, state and local rebates, federal tax credits, demand response programs, and various financing options that help pay for, or subsidize, portions of the system.
The Total Light Management approach detailed above provides the building manager or owner with a holistic solution to the management of a building's energy use, and a greater overall return on investment than traditional solutions.
Total Light Management systems can be scaled and adapted over time depending upon the needs and uses of the building space. They can be designed as a complete, fully integrated solution from the start, or can be built over time in a phased manner, which might fit better into a company's operating budget. The trick is to do something now to start. Then continue to add on components as your resources and demands require.
How much energy can be saved with a daylight management system?
Lighting is the number one source of energy consumption in buildings, typically making up 40 percent of a building's total energy costs. Most of that is wasted on fixtures that are too bright, inflexible, competing with sunlight, or illuminating empty spaces. So, affecting change in the lighting system is the best way to impact overall operating costs and can therefore truly affect a company's bottom line.
In today's world, cost savings are paramount, and daylight management technology lets facility managers take an aggressive approach to the reduction of operating costs. The level or scale of a building's system will directly impact the amount of energy savings. On average, the lighting control solutions that Kay + Sons installs in its clients' facilities saves 60 percent on lighting energy costs.
Most facilities professionals target heating and cooling equipment to save costs and aren't fully aware of savings available by controlling the lighting. Lighting represents 40 percent of the total energy in a building. Total Light Management systems effectively reduce that by 60 percent, so we are realistically reducing total energy in a building by close to 25 percent.
In addition to the lighting energy saved, we are also helping to reduce HVAC energy costs between 10-16 percent. The combination of these two represents a significant reduction in the total cost of occupancy and a valuable savings for our customers.
How can facilities managers and building owners integrate a new daylight management system with existing building operating management systems?
Retrofits represent the greatest opportunity to save money. After learning about a customer's challenges and objectives, the Kay + Sons team performs energy surveys and audits of a facility to determine the most strategic and fiscally responsible solutions.
Often, we are able to take advantage of existing equipment and technology to not only create cost savings, but to enhance existing technology to provide the client with greater value and a better return on their new and old investments. The incorporation of both new and existing technology is often the best approach to managing lighting costs, as well as total building energy costs.
How can a company help finance these systems? Are there any tax rebates, utility discounts or grants available for the implementation of this type of energy saving technology?
One of the most significant values of a Total Light Management system is the residual value of the technology. Total Light Management technology not only directly reduces energy use, but it also provides the user with the ability to capture additional savings, such as: incentives, rebates, tax credits, and favorable financing options.
The system provides real-time data, giving the user accurate documentation and verification of energy usage. This information provides the user with access to other sources of funding that require the verification and control that this technology delivers.
The ability to easily load shed gives facility managers the ability to take advantage of peak demand programs. EPACT tax credits, verification to qualify for utility rebate programs, etc are also made possible because of this technology.
In effect, users are getting more bang for their buck as the investment in a Total Light Management system goes well beyond simple energy reduction. In some cases, the return is so significant that the system almost pays for itself right out of the gate.
As you can see, a holistic approach to building management that incorporates a solution, like Total Light Management, directly and effectively helps companies better compete in their industry.
It provides a competitive advantage. It not only significantly reduces a company's cost of occupancy, but also helps reinforce their brand of being "best in class" or the "company of choice," demonstrating responsible and public efforts to reduce a carbon footprint and a commitment to sustainability.

The content & opinions in this article are the author's and do not necessarily represent the views of AltEnergyMag
---
Comments (0)
This post does not have any comments. Be the first to leave a comment below.
---
Post A Comment
You must be logged in before you can post a comment. Login now.
Featured Product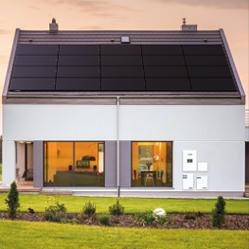 The Q.Home+ ESS HYB-G1 energy storage solution offers scalable storage capacity from 4.5 kWh up to 18.9 kWh and comes in a modular design for easy and fast installation. The system is offered in both DC-coupled and AC-coupled configurations and can connect up to 3 batteries in series using only one inverter and battery management system (BMS). The system includes an integrated backup power function for 100% of the rated inverter output to support critical loads in the event of power failure and offers remote monitoring using the QHOME+ web portal or QHOME+ ESS mobile app.