The CCF Energy Credits Program facilitates the implementation of scalable and auditable energy efficiencies through education, baseline auditing and practicable product and service applications, all of which result in volume job creation at the shop floor and management levels now and in the future. For business and consumer customers, the benefits are also clear - reduced costs of energy be it water or electricity, with a no cost power efficiency program.

Gregg Fryett | Carbon Credited Farming
What does Carbon Credited Farming do, specifically in the green oil industry?
CCF develops green oil assets for long-term and critically sustainable resources, replacing the need for fossil fuels. Unlike other biofuel companies, CCF owns eight generations of Jatropha genetics and promotes sustainable farming practices that exceed the most optimistic yield estimates. It provides a sustainable farming program, enabling farmers in marginal communities to gain financial independence.
The company has developed a value process which integrates social economic drivers at the shop floor if you will, starting with the farmers, with logistical, geographical and investment drivers plus technology to build a robust route to market (domestic or international) for the product which builds commercial confidence for the farmers and investors. This is also a critical element for the buyers - confidence of supply.
Why are you currently focused on Jatropha? What are its benefits compared to crude oil and how do you differ from other companies producing green oil from Jatropha? Will you look into other energy crops?
We have identified jatropha as an excellent pioneer crop both agriculturally and commercially. It will remediate soil well while providing revenue while building asset backed crops. HOWEVER, a biodiverse strategy is critical, or you end up with the same challenges as many of the Orange Groves in Florida have faced. That being said, we have also developed other genetics such as Oil Palm, Sweet Sorghum and Pongamia which give us both cash crop and asset crop strategies. This in turn allows us to build a more commercial crop strategy in the long-term.
Does Jatropha farming take fertile land away from food production uses?
Yes and no. There is a lot of land where jatropha works in conjunction with land remediation strategies, however if you have a crop which brings better returns than current crops, then of course you get competitive commercial drivers kicking in. However, this then becomes the responsibility of the principals to ensure that these crops are implemented properly. We implement a four or five crop strategy whereby we have lumber crops, cash crops, food crops and energy crops in a diverse portfolio for the farmer. This means they benefit from the balloon payment benefits of lumber (a pension if you will), the cash crop revenues, food crop revenues and of course the baseline perrenical income from oil. Because we teach much better farming techniques, you see food crop yield by example of 30 tonnes/ha for Cassava going to 100 tonnes/ha , thus requiring much less land needed for the same totals. Net result is the same food production plus better quality with a much more commercially balanced farming operation through biodiversity.
Discuss the green oil feedstock program--what is it and what are the benefits?
For an investor, we are in its purest form simply developing a Green Oil Asset (property) from which they get oil revenues. For the farmer, we have a full value crop and technology transfer operation which in turn brings economic stimuli and route to market confidence - thus farming security. Thus this is a win-win for all in that the farmers' success and the investors' success is our success as well.

You also enable people and companies to invest in Jatropha plantations--tell us how this works and the benefits.
In the Crude oil industry, there are three parties - the Oil property owner, the Oil property development company (Haliburton, for example, in the crude oil industry who specializes in extracting the oil from the ground) and the financier. Incoming investors get ownership of the property and the return on their capital accordingly (so a capital asset with revenues) while CCF, in conjunction with the farmers, is the operator specializing in extracting the oil from the property. This was designed to give an investor ownership and control of their asset, which is reportable and accountable to the owner. It is not an equity investment, as the level of participation is literally determined by the number of trees owned. This then manages the risk considerably, but allows us huge scope for development as the capital is non-dilutive to CCF. It is working very well.

Do you currently have plantations established? If so, tell us what stage they are currently in and when might people/companies except to be able to purchase and use Jatropha oil?
We have a lot of plantations in Thailand, Cambodia, Philippines and several in development. We are selling oil now with a lot more volume coming on line this year. We expect to plant out 100,000 ha this year with all of this coming on line next year.
Does Jatropha oil require conversion of equipment in order to use it to replace crude oil to produce energy?
No. You can't turn and burn jatropha in its crude form (extracted from the seeds and then filtered) into suitable mid and slow speed diesels. High speed diesels are best operated on a blended mixture of Jatropha (30%) and diesel (70%) as they have different fuel system demands. However, Jatropha is better used as a lubricant or the basis of polyols (Polyurethan plastics) or high value petrochemical products before it is used for the transport or energy sectors which offer lower returns to oil operations. However, logistics and domestic market demands will have influence on this.
At what point in the future do you expect to see the price of Jatropha oil production become competitive with crude oil?
If you look at the cost of production and risks, for example, the recent oil spill in the gulf, then we are already competitive. We believe the cost of development of a green oil asset against the crude oil asset is 18 percent of the total cost of the crude oil asset. Additionally, the resource is non-declining. Our business is a pyramidal business employing many people where as the crude oil industry is very linear. Our cost per liter is about $36 per barrel, which is competitive, but we believe this will drop to sub $22 per barrel within two years, which we believe is competitive.
The content & opinions in this article are the author's and do not necessarily represent the views of AltEnergyMag
---
Comments (0)
This post does not have any comments. Be the first to leave a comment below.
---
Post A Comment
You must be logged in before you can post a comment. Login now.
Featured Product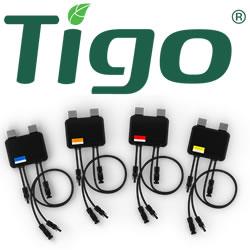 Tigo will announce the new product launch of the patented UHD-Core TS4-A (Advanced Retrofit/Add-on) Platform at SPI 2019. The new TS4-A-M (Monitoring) & TS4-A-S (Safety) units have improved lightweight hardware and lower labor costs to address a range of functions and budgets. The TS4-A-M allows module-level monitoring via Tigo's SMART Website & App. The TS4-A-S is UL-certified as a rapid shutdown solution for residential and C&I PV system. Both units join the Tigo's multivendor solution that works with almost any inverter and smart module in the global PV market. Contact sales@tigoenergy.com for pricing, shipping, and availability in Q4'19.