For more than 20 years, Virtual Industries has been a leading supplier of manual vacuum handling solutions to the world's top technology firms. Based in Colorado Springs, CO, the US-based company provides an extensive and innovative range of hand-based operator tools, and focuses on being in tune with the industry sectors it supports and the customers within them.
Altenergymag Interview With Tom Mealey Of Virtual Industries, Inc.
Tom Mealey | Virtual Industries, Inc.
Using a policy of listening and responding to customer's individual needs, the company strives for efficiency in its process, and uses this feedback to create ideal and unique solutions. Most recently, Virtual Industries has been developing products for the solar and photovoltaic industry. Here we catch up with Tom Mealey, Virtual Industries' Executive VP, to find out why the company has decided to enter this market segment.
How do Virtual Industries' products and technologies fit into the solar/PV industry? Why are your products beneficial to customers in this market segment?

We specialize in solutions for manual handling of sensitive items in the high-tech industries. Over the years we have developed a variety of tools for handling wafers in the semiconductor industry, small displays in the cell phone industry as well as tools for other substrates with a flat surface. The handling concept for these substrates has been a natural transition into the PV industry. There are many areas in the production of photovoltaic cells that require manual handling of individual cells. Solar cells are very fragile and a single crack results in a scrapped part. Our technology for picking up flat items from a coin stacked lot of PV cells does so without damage to the cell being handled or the cells under it.
Tom, have you noticed an uptick in interest in your products with solar applications? To what do you attribute this?
We noticed an increase in sales for this PV industry about two years ago. There is a global interest in providing renewable energy sources to steer the world away from use of CO2 producing fossil fuels. I think that all of the recent media attention is making the world population more aware of what solar/PV power can provide in remote areas as well as assisting to reduce power costs for people who are on the grid.
It appears as though your product lines ― VMWT, VWWB, VWT, ― have applications in the solar industry. Can you briefly describe each line?
Our line of molded (VMWT) and Teflon (VWT) coated tips are designed to easily pick up and handle substrates that have a flat surface. There are basically seven different sizes of tips to accommodate the different sizes and weights of the substrate being handled. The larger the PV cell being handled. the larger the pick-up tip should be. The pick-up tips also are available in various lengths and angles to ergonomically accommodate a variety of handling situations.
The VWWB wands are designed to accept any of the above pick-up tips. The front of the wand has a press fit adaptor that the stem of the pick-up-tip fits snugly into. The barbed end of the wand connects to an in-house vacuum system via one of our vacuum hoses. This set up, in addition to a stand that holds the wand when it is not in use, forms a vacuum handling system for individual PV cells. The VWWB wand is designed to turn off the vacuum source when it is returned to the proper stand.
What is Virtual Industries doing to gain market share in the solar/PV industry?
We continue to feature our product line at trade shows and in trade journals to educate our customers about the applications for our tools.
Is the solar industry growing at a rapid, average or stagnant rate at this time? In your opinion, why is this the case? Where will the solar industry be in five years?
The solar industry is growing at a fast pace. There are government subsidies and tax incentives that are contributing to this as well as consumer enthusiasm. I look back five years to the cost of a 60 inch plasma display. The cost then was about $8,000 whereas today I can buy a better performing high definition 60 inch plasma TV for about $1,500. I see the same cost curves applying to the solar/PV industry. As the cost falls, more people will be able to afford to buy into this renewable energy technology. With the threat of cap and trade taxes on our fossil energy sources, people would be overjoyed to approach energy parity with the power grid and in some cases receive credit for selling renewable energy back to the power companies. Prices are already approaching "gird parity." For those people who are concerned with aesthetics, there are PV manufacturers providing colored PV panels to more closely match the color scheme of your home. Solar hot water is a technology that has been around for decades. Recent advances in solar hot water heating puts the solar collector into a vacuum tube to provide additional insulation. The insulation provided by vacuum makes this technology more efficient in colder climates.
In five years, I see PV power systems and solar heating systems readily available at the big box stores such as Sam's Club and Costco. This will increase the demand for jobs in the plumbing industry for the solar heating installations and electricians for installation of PV systems onto the power grid. Connection to the power grid requires a high level of expertise. If the grid goes down in a storm, it would be dangerous to have hundreds of homeowners energizing the grid from their PV systems while workers are reconnecting fallen lines. This is an area where smart grid technology is a must.
The content & opinions in this article are the author's and do not necessarily represent the views of AltEnergyMag
---
Comments (0)
This post does not have any comments. Be the first to leave a comment below.
---
Post A Comment
You must be logged in before you can post a comment. Login now.
Featured Product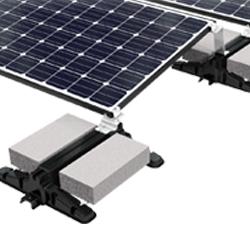 Preformed Line Products introduces the POWER MAX Ballasted Roof Mounting System. The POWER MAX solar mounting system is engineered to maximize energy output on commercial flat roofs. Developed with the professional installer in mind, this system offers adjustable inter-row spacing in the field of up to 11 inches. It features 50% fewer components and a simplified design resulting in faster assembly rates and labor savings on every project. Available in a flush mount, 5˚ or 10˚ tilt or higher density dual tilt design, the POWER MAX base arrives stacked on pallets providing easier transport to the roof. Engineered as a fully ballasted, non-penetrating system, it accepts standard concrete blocks and is qualified by wind tunnel testing.