It is critical to understand the many complexities specific to rooftop solar photovoltaic (PV) development. Successful execution and delivery of expected returns requires careful management of the complex route to rooftop solar PV development.
10 Things to Know When Developing Rooftop Solar Photovoltaic Systems
Chris Young | Enfinity

Ontario's
Feed-in-Tariff
(FIT) program presents a compelling business model for commercial and industrial building owners interested in generating clean solar power on their rooftops. Renewable energy developers have succeeded under similar tariff models across Europe, growing a new industry that has attracted dramatic growth in investment capital.
Here in Ontario, the
tariff rates
are among the highest in the world, backed by a 20-year contract with the
Ontario Power Authority
. As a result, there are many new renewable energy startups (and some experienced developers) entering the Ontario solar market.
As Ontario's building owners evaluate this opportunity, it is critical to understand the many complexities specific to rooftop solar photovoltaic (PV) development. Successful execution and delivery of expected returns requires careful management of the complex route to rooftop solar PV development.
Project success is dependent upon the following key considerations:
1. Access to Financing and Start-up Capital
Solar projects are capital intensive. For 250kW projects, the costs for fees and securities can be upwards of $100,000 before the panels are even purchased, at which point, an investment upwards of $1.3 million is required, based on
Enfinity
's own internal calculations and market assessments.
Favorable financing terms are a key component to the creation of a successful investment profile.
As Canadian lenders begin building experience with the financing of renewable energy projects, financing will only be awarded to project proponents that can demonstrate experience, a healthy corporate balance sheet, and a bankable project plan involving an aggregated grouping of projects.
2. Accurate and Reliable Revenue Modeling
The key metric for this investment is consistent, reliable power production over a 20-year term. Accurately forecasting this production is very site-specific and comes from experience, reliable data, design expertise, and an intimate knowledge of various PV technologies.
For example, have you completed accurate horizon surveys? Do you understand the effects of shading, snowfall, debris, and other site-specific factors that will impact power production? These are critical considerations to gaining a realistic view of the power production potential of the site.
3. Careful Structural Analysis by Qualified Engineers
Protecting your existing structure is paramount. In the Ontario climate, there are several structural considerations that require careful examination, and in some cases, detailed modeling to properly understand.
Careful analysis of the existing building by a qualified structural engineer, combined with a detailed analysis of the impacts of the panels themselves, is a critical step of the design process. Proceeding with anything less than this degree of rigor is a mistake when dealing with the complexities presented by the Ontario climate.
4. Technology Best Suited for the Building's Characteristics
There are many PV technologies and mounting systems available on the market. Selecting the best solution for your roof requires the right technology, for the right roof, at the right price.
Every roof is different (structurally, membrane differences, orientation, geometry, rooftop furniture, etc.). Your ability to maximize power production (and therefore revenue) depends on your ability to deploy the technology best suited to the characteristics of your building.
As a project proponent, you must ask yourself questions such as: Is this chosen technology proven in a comparable climate? Are there performance data available? Is the mounting system appropriate for the existing structure? Is the manufacturer a reputable, bankable entity?
At the same time, a developer must ensure its solar equipment meets the domestic content requirements as stipulated in the FIT program specifications (
50% rising to 60% in 2011
).
With the Ontario solar manufacturing market still in its infancy, the domestic content requirement can significantly impact your cost structure if you don't have access to a competitively priced supply chain. This usually only comes with buying power and economies of scale of larger solar project portfolios.
5. Project Management That Can Navigate Change
Installation of rooftop solar projects requires management of permitting processes generally involving the Ontario Power Authority, distribution companies, municipalities (building permits), and the
Electrical Safety Authority
.
The FIT process is still evolving and as such, navigating the changing waters of the process will be challenging. Projects can be optimized only if the proponent has intimate knowledge of the requirements and processes surrounding domestic content, approvals, design, reporting, timelines, and the agencies and stakeholders interacting with the project. Building the right project team of specialists and managing them through the process can mean the difference between a project that is on time and on budget and one that is not.
6. Array Design That Maximizes Power Production
A rooftop solar array will not meet its fullest production potential without an effective DC design from an expert in solar engineering. Optimizing an array design involves such considerations as: varying resistance across the array, temperature differential, incompatible panels, differential shading, proper degradation calculations, optimization of panel spacing and layout, understanding snow melt, and intimate knowledge of the PV technology.
Attention to these design details goes straight to the bottom line as power production is maximized.
7. Installation Expertise through a Reputable Contractor
Safety and quality are the two objectives of the construction of the array to ensure no performance issues and/or accidents occur. Proper procedures and documentation all require the involvement of an experienced, reputable contractor.
Working with a contractor will ensure the protection of your existing roof system and minimize your exposure through warranties and guarantees on the work.
8. Multiple Insurances to Ensure Favorable Conditions and Costs
The solar PV array should be insured on a broad form and replacement cost basis, and include liability insurance. Proper installation from an experienced contractor, a comprehensive operations and maintenance program, and maintenance of a suitable security system on the PV array will ensure the most favourable conditions and costs.
9. Comprehensive Maintenance to Meet Estimated Power Production
In order to meet the predicted power production supporting your investment, a comprehensive maintenance program is required. This includes regular cleaning of the panels, digital monitoring and analysis of performance, emergency response, regular inspection of array connections and safety considerations. Knowing what to look for and how to make the necessary ongoing adjustments ensures the array is performing as expected.
Further, it is necessary to establish and manage sinking funds to cover replacement costs of fixtures. For example, for larger commercial installations, we have calculated internally that the inverter will be replaced during the 20-year term at a cost of more than $100,000.
10. Enough Administrative Resources to Handle Operations
Operating the solar array requires administrative resources. Systems and personnel must be in place to successfully operate a solar array, including the management of the payments with the local distribution company and the Ontario Power Authority, management of reserve funds for inverter replacement, panel repair and replacement, array removal for roof maintenance, operations and maintenance contracts, insurances, reporting, and array disposal at the end of project lifecycle.
Options Exist for Building Owners Wanting to Take Advantage of Solar
Ontario's Feed-in-Tariff program presents an opportunity for building owners to create new revenue from their building by generating clean solar power on their rooftops. Maximizing your investment returns while mitigating your risks requires unique skills and resources. Executed well, investment in solar panels will generate returns in the range of 8 to 10% based on Enfinity's internal calculations and market assessments. Missing the mark on any of the above can quickly diminish your expected returns, or in some cases, turn your investment into a cost.
There are options for those who would like to benefit from solar arrays on their rooftops without committing the required resources or taking the risks associated with rooftop solar projects. One such option is leasing your roof to a qualified, experienced developer who will finance, design, install, maintain, and operate the solar array. Likewise, developers can offer joint venture models for cost and revenue sharing, which also work to reduce the capital outlay and risk to the building owner. Such models enable a greater number of building owners to boost the cash flow of real estate assets at no cost or commitment of resources, while participating and making a valuable contribution to the sustainable energy initiatives of the Province of Ontario.
About the Author:
Chris Young is the Managing Director of the Canadian operations of Enfinity, one of the world's largest and most experienced solar photovoltaic (PV) development companies with operations in 21 countries and a portfolio of over $3 billion in projects. Chris has been active in the field of solar energy since 2006 and a member of the Enfinity executive management team since 2008 where he played a pivotal role in launching the North American operations of Enfinity and establishing Enfinity Canada Ltd. Chris has a Bachelor of Social Science in Geography and Business from the University of Ottawa. He can be reached at
cyoung@enfinity.ca
.
The content & opinions in this article are the author's and do not necessarily represent the views of AltEnergyMag
---
Comments (0)
This post does not have any comments. Be the first to leave a comment below.
---
Post A Comment
You must be logged in before you can post a comment. Login now.
Featured Product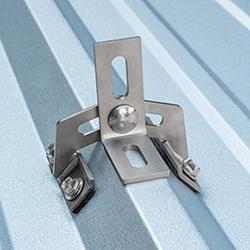 Explore new lines of income for your solar installation business with QuickBOLT's Stone Coated Steel roof mounts designed in partnership with metal roof manufacturers themselves. These SCS roof mounts work on all metal tile profiles and will help you bring in money you're missing out on. By not driving into the roofing material, QuickBOLT's Stone Coated Steel roof hooks maintain the integrity of the roof. Install with ease and confidence knowing your roof is protected against the harsh elements that these hooks are designed for.