Solar cogeneration combines proven photovoltaic (PV) and solar thermal technologies to maximize total collected energy and optimize economic benefits for institutional, commercial and industrial customers. Using up to 80 percent of the sun's delivered energy
Solar Cogeneration - The highest utilization of the sun's resources
Gilad Almogy | Cogenra
What is solar cogeneration?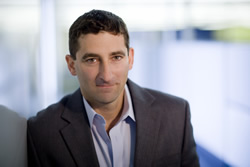 Solar cogeneration combines proven photovoltaic (PV) and solar thermal technologies to maximize total collected energy and optimize economic benefits for institutional, commercial and industrial customers. Using up to 80 percent of the sun's delivered energy, Cogenra's solution captures excess heat that standard photovoltaic panels dissipate as waste and transfers the heat away from the solar collector to produce useful hot water.
What are the benefits over standalone PV or SHW technologies?

Cogenra's hybrid solar solution produces 5x the energy, 3x the greenhouse gas reduction and twice the financial savings compared to traditional PV systems.
The technology improves upon pure PV systems, which are still only 15-20 percent efficient and waste nearly 80 percent of the sun's useable energy. The Cogenra solution, in contrast,
uses
up to 80 percent of the delivered energy with the added benefit of cooling the solar cells in the process. During electricity production, PV cells absorb the energy that cannot be converted into electricity as heat. This raises the temperature of the cells causing their efficiency to drop by one percent for every 2
°
C increase in temperature. By transferring the heat away from the PV cells to produce hot water, solar cogeneration increases electricity output while extending the lifespan of the system.
Essentially all sites that require hot water for daily operations or amenities are also in need of electricity. With solar cogeneration, both needs are met. Producing energy in both forms results in payback times that are typically one-half to two-thirds that of standalone PV or solar hot water systems.

3. Where do you see the market for solar cogeneration right now?


Cogenra's solar cogeneration technology addresses an existing but underserved market: industrial, commercial and institutional facilities that use hot water for a variety of applications. According to 2007 data from the DOE Energy Information Administration, the United States consumes 315 billion therms per year in heat usage. Solar cogeneration can easily, and economically, reach applicable temperatures to address between 30 and 50 percent of the nation's thermal energy needs.
Facilities that fall into this market include energy-intensive industrial sites that process food, beverages, textiles, paper and pharmaceuticals, among others, and institutional sites that house communities of people such as dormitories, military bases, correctional facilities, multi-tenant housing complexes, hotels/resorts and hospitals. The electricity generated is fed directly to the building's existing power supply, while hot water is used for a range of applications, including washing and amenities, sanitation, laundry, cleaning, pasteurization, fermentation and boiler pre-heating, to name a few.
The current global commercial and industrial solar hot water market is estimated at more than $18 billion USD and is expected to continue to grow, exceeding 25 percent growth per year to nearly $30 billion USD during 2012-2013.

4. What are typical applications for solar cogeneration?


Any facility that consumes large amounts of hot water is well suited for solar cogeneration. From beverage and food processors to healthcare and retirement housing to military campuses and corporate cafeterias—there are many diverse applications for solar cogeneration. The electricity generated is fed directly into the building's existing power supply, while the hot water is applied to washing and other amenities: laundry, cleaning, cooking and sanitation or to fuel industrial processes such as pasteurization, fermentation or boiler pre-heating, to name a few.
Late last year we commissioned a 272 kWp (50 kWp electric + 222 kWp thermal) project at the Sonoma Wine Company, a full-service crush-to-bottle contract winery located in Graton, CA. Used primarily to fuel the facility's tank and barrel washing operations, the installation displaces nearly 50 percent of the facility's natural gas use and 10 percent of its electricity.

Who are your competitors?


Our number one competition is the cost of fuel (natural gas), which facilities burn to heat water. In California, natural gas prices are at a historical low. These rates differ across the country, for instance being much higher in the northeast, where many customers heat water with electricity. Similar variations occur around the world, pending local natural gas supplies. As for competing solar companies, we see some interest in traditional flat plate solar thermal collectors, but the economics of these systems pale when the additional greenhouse gas reductions and financial value of solar cogeneration is considered. There are a small handful of emerging companies offerin
g
hybrid solar solutions, but they are not yet market ready and have not demonstrated the same market adoption as our solution.
What's the typical payback period of a solar cogeneration system?


Our system increases energy output, resulting in faster returns over competing distributed energy solutions. Cogenra's technology offers five times the energy over traditional PV systems, cutting the payback period by more than half. A typical installation averages about a 4 to 6 year payback. For larger projects with high-credit organizations, Cogenra offers the industry's first and only Heat and Power Purchase Agreement (HPPA). The HPPA eliminates all upfront costs for the customer; rather than buying the equipment, energy is purchased from Cogenra at locked-in rates below utility prices. Other financing includes standard debt or tax lease options, which also eliminate upfront cash outlays or incurrence of debt.

What else drives implementation of solar thermal and cogen?

Customers are first and foremost looking to reduce operating costs. Cogenra's solution results in both natural gas (or LPG) and electricity utility savings, while helping business achieve sustainable supply-chain and greenhouse gas reduction goals. We've also seen interest stem from those seeking LEED qualification points and Energy Star ratings.
Another important driver is government mandates for renewables. For example, the 2005 Energy Policy Act requires existing and new federal facilities—prisons, military bases, public hospitals, etc.— to offset 30 percent of the energy used to heat water with solar thermal where economically feasible.

What incentive programs are available for solar cogeneration?


Solar cogeneration is uniquely eligible for both solar electric and thermal state incentives, in addition to federal programs, such as the treasury grant/investment tax credit (ITC) and accelerated depreciation, offered for renewable energy projects. New solar thermal incentive programs have emerged in the United States, such as NYSERDA, CSI and tax credits in Arizona and Hawaii, reflecting and validating a renewed interest in solar thermal technologies.
Additionally, governments around the world have launched incentive programs targeting the solar thermal sector in efforts to promote the most efficient technologies and meet carbon reduction goals. Italy's solar hot water incentives and France's Fond Chaleur are examples of government programs bolstering the solar thermal expansion now taking place.


Where do you see the major growth opportunities for solar cogeneration? What would drive adoption of this emerging technology?


Education around the financial and operating benefits of solar cogeneration is key to raising awareness among prospective adopters. We're currently seeing heightened demand in many of the processing and community-based industries in the United States, though much of the growth is happening overseas. The European market is expanding in countries such as France and Italy, where strong renewable energy incentives exist, as well as Asian (India, China, Vietnam) and South American countries (Brazil) where reliable sources of renewable energy are needed to combat high growth rates in housing and factory development.
What new customers do you have?


Cogenra will announce new projects as they come online. Our current pipeline includes wineries, multi-residential complexes, federal facilities, food processers and university campuses.
Cogenra CEO and founder Dr. Gilad Almogy brings more than a decade of experience leading global technology organizations. Prior to founding Cogenra, Dr. Almogy was a senior vice president at Applied Materials (AMAT), in charge of the Display and Thin Film Solar Products business segment. Dr. Almogy joined Applied Materials in 1997 through the acquisition of Orbot Instruments and went on to become the General Manager of its' PDC (Process Diagnostics and Control) Business Group in 2000. Throughout his career Dr. Almogy has initiated, led the development of, and brought to market, advanced technology products generating billions of dollars in revenue.
Mr. Almogy is the inventor of over 30 registered US patents and holds a Ph.D. in Applied Physics from the California Institute of Technology and a BSc in Physics and Mathematics from the Hebrew University in Jerusalem, Israel.

---
The content & opinions in this article are the author's and do not necessarily represent the views of AltEnergyMag
---
Comments (0)
This post does not have any comments. Be the first to leave a comment below.
---
Post A Comment
You must be logged in before you can post a comment. Login now.
Featured Product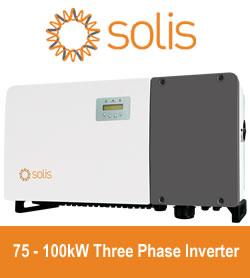 Solis75kW - 100kW series high-power string inverters are widely used in industrial and commercial rooftops. Solis's new three-phase string inverter is the first choice for industrial and commercial photovoltaics. 75-100kW three phase series string inverter have Maximum 28 strings input, support "Y" type connection in DC side. Maximum string input current 13A, support bifacial modules access.Supports anti-PID function to improve system efficiency.