Through events, direct engagement with Commission staff and membership of technology platforms, SEGEC is focused on delivering innovative, low carbon energy projects - the key for marine energy is to unlock the deployment opportunities and to demonstrate the benefits that wave and tidal energy projects provide for emissions reduction.
EU Engagement Key to Marine Energy Sector Commercialisation
Tim Hurst | Scottish European Green Energy Centre
This year has seen significant activity in the wave and tidal sector in Scotland, particularly in the deployment of demonstration devices. By the end of 2011 there will be around 10 wave and tidal technologies deployed and operating at the European Marine energy Centre (EMEC) on Orkney. This confirms Scotland's position as a global leader in the development and deployment of marine energy technology.
Whilst we need to maintain focus on technology development and testing, if marine energy is to make a contribution to national and EU 2020 emissions targets, there is now a requirement to shift towards the deployment of tested devices in small demonstration arrays, with the aim of reducing technology risk and driving down installation costs. This is essential to pave the way to commercial deployment and the exploitation Scotland's vast marine energy resource.
The Crown Estate (the UK body who lease the generation of renewable energy on the Continental Shelf out to 200nm) has identified potential areas for the development of marine energy in the North of Scotland, and exclusivity leases amounting to 1.6GW of installed capacity have been awarded to developers through the Pentland Firth and Orkney Waters (PFOW) leasing rounds. However, these leases will remain undeveloped unless demonstration arrays are first developed.
The cost of marine energy technology remains high, and despite the revenue support of 3 (tidal) and 5 (wave) Renewable Obligation Certificates, significant grant funding will be required to stimulate the installation of the first demonstration arrays. For a typical 10MW array, this may require grant funding to the tune of £25M. For the required cost reductions to be realised across the sector to commercialise the technology, around 4 projects, or approximately 40MW of installed capacity would be required. This puts the bill for public sector funding required to launch a marine energy industry at a minimum of £100M.
The Department of Energy and Climate change (DECC), has recently announced £20M of funding for marine renewable energy, which demonstrates that funding the industry is beyond the scope of current funding programmes for marine energy at national and regional level, and it is unfortunate that this requirement comes at a time of global fiscal tightening, and public spending cuts.
Looking beyond the UK, there are some funding opportunities in research and development for energy technologies, including low carbon technologies such as wave and tidal energy from the European Union. The EU's New Entrants Reserve (NER300) is a c€4 billion fund that will support renewable energy technology projects, as well as Carbon Capture and Storage (CCS) projects. The UK has submitted 5 Renewable energy applications and 7 CCS projects to the NER300 competition. 4 of the 5 renewable energy projects were for marine energy, 3 tidal and one wave project. Under the NER competition, each member state can be awarded up to 3 projects and it is clear that there is strong competition within the UK. Whilst the UK is clearly the leader in the marine sector, the reality is that probably only one of these projects will be successful.
Funding for demonstration projects will also be available from the EU's FP7 Research and Development programme, with a recent call for proposals to fund the first Ocean Energy Arrays. This could provide between £15M and £20M for up to 2 demonstration projects of at least 3MW scale. But, again this will be competitive call across the EU 27 Member States.
These funds along with contributions at national level may be sufficient to develop some small marine arrays, but will not be sufficient to drive down costs to the point where marine technology will be commercially viable and private investment will flow into the sector.
The EU has set out its priorities for developing energy technologies in the Strategic Energy Technology (SET) Plan, which drives decision making in the funding of R & D and demonstration of energy technology. Currently marine energy is not covered in the SET Plan - when the plan was originally negotiated in 2005 the technology was not sufficiently advanced to merit inclusion. As a result, marine energy does not receive significant funding in the current Multiannual Financial Funding (MFF) period (2007-2013), which explains the limited extent of recent funding calls.
For the period 2014-2020 the Common Strategic Framework for Research and Innovation (CSFRI) will subsume the SET Plan and set out the priorities for the €1.5 billion annual budget that is likely to be available for that period. Negotiations are now underway in Brussels by the European Commission and Council on the details of the CSFRI, with discussions expected to last until 2012. So far, the Commission has completed its headings proposal in which it has committed to continue support for the SET Plan.
If marine energy is to receive the levels of funding required to create a sustainable industry within Europe, it must be a priority within the CSFRI. Now is the time for industry and government from the UK and other Member States with an interest in marine energy technology, to apply pressure to the European Commission, Council and Parliament to ensure marine energy is not pushed out by competing technologies such as offshore wind and CCS.
Organisations such as the European Ocean Energy Association (EU-OEA) and Scottish European Green Energy Centre (SEGEC) maintain a constant dialogue with the Commission regarding progress within the sector, but need the support of the industry to have maximum impact on issues such as the SET Plan and future priorities.
It is in this context that SEGEC represents Scottish project delivery interests within the sector and seeks to give wave and tidal energy companies the opportunity to engage with European Commission staff and MEPs with an interest in marine energy. Through events, direct engagement with Commission staff and membership of technology platforms, SEGEC is focused on delivering innovative, low carbon energy projects – the key for marine energy is to unlock the deployment opportunities and to demonstrate the benefits that wave and tidal energy projects provide for emissions reduction.
Established in 2009, SEGEC has delivered over €110M of EU funding for low-carbon energy projects. An independent, not-for-profit organisation, SEGEC is supported by the Scottish Government, ERDF, Scottish Enterprise, Highlands and Islands Enterprise, ScottishPower and SSE.
The content & opinions in this article are the author's and do not necessarily represent the views of AltEnergyMag
---
Comments (0)
This post does not have any comments. Be the first to leave a comment below.
---
Post A Comment
You must be logged in before you can post a comment. Login now.
Featured Product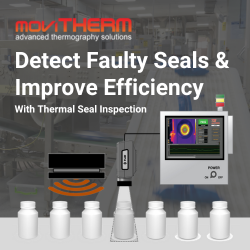 MoviTHERM's Thermal Seal Inspection (TSI) solution provides precise and reliable detection of defects in a variety of packaging types, including pouches, bags, blister packs, bottle caps, and more. By detecting defects in your packages, the TSI solution helps increase efficiency in your production line and ensures top-quality packaging is delivered to your customers every time. With state-of-the-art technology and an experienced team, MoviTHERM is dedicated to delivering accurate inspection solutions and peace of mind to its clients. Contact MoviTHERM today to learn more about their thermal seal inspection solution.