There is continuous and increasing demand to manage and control the usage in order to reduce costs. The need for lower consumption and cost savings runs across all sectors inclusive of local, state and the Federal Government as well as utilities, commercial and residential consumers of energy
A case for low cost and affordable Energy Management Devices
Solomon Meskin, Ph.D. | Universal Devices Inc.
Our industry is well familiar with the increasing cost of energy. There is continuous and increasing demand to manage and control the usage in order to reduce costs. The need for lower consumption and cost savings runs across all sectors inclusive of local, state and the Federal Government as well as utilities, commercial and residential consumers of energy.
The fundamental concern of our industry in finding solutions needs to address enabling technology and more importantly the cost of implementation and return on investment (ROI) for a potential prospect considering implementation of a proposed solution.
The components of a solution include energy consuming trigger devices such as light switches, thermostats controlling HVAC, irrigation systems and home appliances need to become "Smart" so that they can communicate. Many companies are developing smart products which communicate wireless using protocols such as Zigbee, Insteon and Z-wave. Hard wiring devices is cost prohibitive and will soon become a thing of the past. The cost of making any of the above is reasonable and will become more so with more demand and increased production to meet the demand.
With the assumption of smart devices, need arises for a unit to communicate and have the capability to monitor and direct the operation of each device based on instructions by a decision maker. Further there is a need to share the device information with others for their processing or collaboration. For the purposes of this article let's call this unit "ISY Orchestrator or ISY". Hence, the ISY will, for a spectrum of examples, be able to have communication with any light switch or thermostat or an energy monitor connected to an RTU (Roof Top Unit) or an irrigation system or a Gas Monitor or even an audio video system. The ISY will know the status, be able to change the status (For example switch the device on or off and/or change the settings) as instructed by the decision maker. The ISY will also be able to share the information with others (such as a portal) for publishing the information in a user specified manner. Such ISY Orchestrator should also have the capability to continuously record the operational history and life cycle of the particular device for evaluation and analysis or be permitted to behave at the direction of a third party (Such as a utility and Open ADR).
The ISY could be a costly proposition. Most solutions include propriety software which is costly. Further the software needs to be maintained and serviced for updates and the recurring cost could make a major difference in the ROI calculations. Besides, the particular software may be limited to responding to only one of the various communication protocols readily available in smart devices. In one case that UDI was consulted, for a city which had decided to use solar panels in one of their buildings and monitor the usage, control it and have monitors to exhibit the data the cost of maintenance was in excess of $15,000 a year.
The portal is the next piece in a complete solution. The portal will use the data gathered by the ISY and publish it in a user specified manner. It could be graphs showing present conditions and settings and including usage. It could be a presentation of historical data and usage. The portal can be accessed by third parties to view status and based on the view; third parties can issue command and control directives which will be sent to the coordinator for execution. The portal has an upfront cost and then a monthly maintenance fee as most software programs do.
Commercial and personal internet communication units such as desk top and lap top computers, cellphones, droids and notebooks are also ingredients of a complete solution. The diagram below is a rendering of where pieces fit in a complete solution.
The ISY Orchestrator from Universal Devices serves as the best solution in term of the most affordable unit cost. As well it is capable of communications using many different protocols such as Insteon, Zigbee, Z wave and others without a need for proprietary software. It has no recurring monthly maintenance costs and it is very easy to install and operate. There are more than 15000 units currently sold and operating in North America and the company has won pilots with major utilities as well as OEM with fortune 500 companies. Universal Devices is currently negotiating to market the product as a part of a complete solution with major retailers.
The content & opinions in this article are the author's and do not necessarily represent the views of AltEnergyMag
---
Comments (0)
This post does not have any comments. Be the first to leave a comment below.
---
Post A Comment
You must be logged in before you can post a comment. Login now.
Featured Product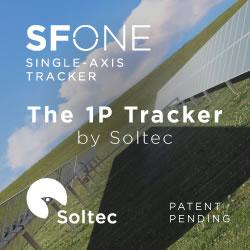 SFOne is the 1P single-axis tracker by Soltec. This tracker combines the mechanical simplicity with the extraordinary expertise of Soltec for more than 18 years. Specially designed for larger 72 an 78 cell modules, this tracker is self-powered thanks to its dedicated module, which results into a lower cost-operational power supply. The SFOne has a 5% less piles than standard competitor, what reduces a 75% the labor time.