California, Hawaii, New Jersey, Colorado Shine Light on Power of Sun
Bright Spots in U.S. Solar Industry Growth
Michael Gorton | Principal Solar
There is, perhaps, no hotter topic under the sun today than solar energy. In every state from coast to coast, people are looking at solar in a new light.
In comparison to conventional hydrocarbon fuels, such as coal or oil in generating electricity, the cost to manufacture solar energy has traditionally been higher. However, great strides have been made to improve the technological and financial profile of solar energy production by reducing the cost to manufacture photovoltaic (PV) systems, qualifying "grid parity" – the point where PV electricity is as cheap as conventional electric power – to become a sooner-than-expected reality, probably within five years.
However, cost can also vary depending on the technology being used and the geographical location where it is being installed. That said, it should come as no shock that the Great American West, where the sun shines abundantly, has – at least to date – a greater potential for solar energy use than say, the Northeast or Pacific Northwest. But that, too, is changing as one of the smallest states in the nation on the East Coast is also boasting solar energy leadership.
To level the playing field for further output, a number of states have crafted policies that use rebates, tax incentives and other financing options that have dramatically pushed solar energy to the forefront of the American mindset.
By 2010, 16 states had each installed more than 10 MW of PV, up from only four in 2007. Among those, the evolving agenda shined most brightly on California, New Jersey, Nevada, Arizona, Colorado, Pennsylvania, New Mexico, Florida, North Carolina and Texas, which were ranked among the leading PV installers.
The majority of market share for solar electricity will continue to be determined by a combination of these state and/or local incentives and policies rather than by available sun. All of the top states – among them California, New Jersey, Colorado and Hawaii – have a Renewable Energy Portfolio Standards (RPS) policy and solar mandate.
Bright Spots
In some states like Hawaii, where there is an abundance of sun and a lack of locally available coal or natural gas, solar energy has already fallen below grid parity and is cheaper than conventional forms of power.
Hawaii, which has the highest electricity rates in the country, is a national hotbed for solar energy, partly because 90 percent of the state's power comes from imported petroleum.
The true reason behind Hawaii's solar power market success lies in the tremendous support of the state government, which has implemented a number of rebates and financial incentives including a public benefit fund that offers residential discounts of $750 for installing solar water heaters. No wonder Hawaii is today the largest state market for water heaters and, prior to 2006, had installed about half of the units sold in the U.S.
Additionally, Hawaii has adopted a strong tax credit incentive to help people afford the cost of different solar products for their home or business. These state credits can also be used in conjunction with federal incentives toward solar panel and thermal systems.
In Southern California and other parts of the Southwest faced with peak energy demand, solar is already at grid parity, as well. Vast open desserts and limitless exposure to sunlight have industry champions basking in the potential for even further expansion of renewable energy generation, particularly in California, where experts have hailed the movement as the state's second Gold Rush.
California is already host to a number of new programs spawned under an ambitious 10-year, $3 billion "Go Solar Campaign." Launched in 2007, the pioneering endeavor created the California Solar Initiative, which has, since 2009, shelled out more than $264 million in rebates and performance-based incentives for customers serviced by the state's three investor-owned utilities – Pacific Gas & Electric, Southern California Edison, and San Diego Gas & Electric – while establishing more than 155 MW of PV.
Beginning in 2008, California required that municipal utilities offer incentives to seed solar projects and many of these landscapes requiring months of labor-intensive research and studies are finally beginning to blossom.
Since last year, the California Energy Commission and federal Department of the Interior have approved eight major solar projects in Southern California, including seven in the desserts north and east of the Coachella Valley. All but two of the approved projects utilize largely undeveloped public land managed by the federal Bureau of Land Management where the approval of environmentalists and Native Americans are crucial to the process.
The projects are expected to generate nearly 3,600 MW of non-carbon emitting electricity -- or enough power to satisfy 1.8 million homes -- some 5,500 jobs during construction, nearly 1,100 long-term operational positions and more than $15.2 million in annual property taxes as well as hundreds of millions more in sales assessments as plans proceed.
Taxpayer and ratepayer dollars invested in the solar industry are also powering the generation of much needed jobs in New Jersey -- a most unlikely geographical player -- where, in 2009, the State Legislature mandated that electricity driven companies, such as Jersey Central Power and Light and Public Service Electric and Gas, must obtain about 20 percent of their power from solar sources. Companies that are unable to fulfill the requirement must make up the difference by purchasing Solar Renewable Energy Credits (SREC) from homeowners and commercial building owners with solar arrays.
Solar installations across the Garden State have been meeting RPS at a record pace, surpassing 300 MW across 8,000 projects statewide. As the SREC market continues to grow as expected, New Jersey will be on track to exceed the state's RPS goal in 2012.
Colorado, and the majestic Rocky Mountains, offers a natural terrain that has enabled the state to take a major role in U.S. solar industry circles. In 2004, Colorado's clean energy advocates were the first in the nation to pass a ballot initiative creating a statewide RPS, which after recent amendments requires Xcel Energy and the state's other investor-owned utilities to obtain at least 4 percent of their renewable power mix from solar.
That figure for investor-owned utilities is decreed to jump to 30 percent by 2020, establishing one of the most stringent mandates in the nation and fueling rise to an industry that has skyrocketed with a profusion of rebates and provocations.
Consumers can count the ways that earned Colorado an annual high ranking for "clean energy leadership" from the research firm Clean Edge, most directly through "net metering," where the utility stores any extra power generated from solar panels during the day. Colorado is one of the few states that require utilities to pay consumers for the net excess in power that solar panels yield over the course of the year.
The state also provides upfront municipal financing through a special property tax assessment, otherwise known as Property Assessed Clean Energy, to cover the added costs for consumers to make the move to solar installations
Solar Energy – Shine On
Rising prices at the pumps, the biggest oil spill in American history, unrest in the Middle East and a nuclear quagmire of epic proportions in Japan have made solar energy an appealing alternative for investors and consumers seeking renewable energy sources.
The U.S. solar industry is already coming off a banner year in 2010, when total market value rose by 67 percent from $3.6 billion in 2009 to $6 billion. Compared to the overall U.S. Gross Domestic Product growth of less than 3 percent, solar energy was one of the few bright spots in the national economy.
Solar is without a doubt the fastest growing industry in the U.S., creating tens of thousands of well-paying, stable jobs at small and large companies across the country. Fueled by tax incentives at the federal and state levels, declining technology costs and completion of utility scale projects, installations flourished at a record number, totaling 878 megawatts (MW) of PV capacity, or the ability to use solar cells or panels to convert light into electricity.
The solar industry abounds with energy and optimism today, partly because the sun is free and a virtually limitless source of clean power that can be used to challenge and overcome rising fuel costs, respond to consumer and governmental interests in green technologies and stimulate and sustain growth in federal and state economies while, at the same time, strengthening national security.
Sunny Forecast
The U.S. market for solar technology and products has diversified geographically in recent years, making investors giddy about the sunny prospects of renewable energy in states other than California, which represented about 80 percent of the PV business from 2004-2005, but last year accounted for less than 30 percent of exchanges.
Despite stiff challenges from China, much of the global PV industry is turning its eye to the U.S. market because of aggressive and proven acquisition approaches that have mobilized public consciousness and heightened political awareness to subsidize dramatic shifts toward the deployment of solar energy.
More investors will be needed with resources to fund larger projects in the United States, slash equipment costs and foster technical know-how to protect against foreign competition so that solar expenditures and proficiency will compete with and eventually become more attractive than traditional energy sources – once and for all shining a light on the power of the sun.
Michael Gorton, Chief Executive Officer and Chairman of Principal Solar, is a founding CEO of TelaDoc, the nation's leading telehealth company, where he pioneered a health care model in which members had access to telephonic physicians who could review medical records, treat, and prescribe medication that today supports the new paradigm in health care reform.
---
The content & opinions in this article are the author's and do not necessarily represent the views of AltEnergyMag
---
Comments (0)
This post does not have any comments. Be the first to leave a comment below.
---
Post A Comment
You must be logged in before you can post a comment. Login now.
Featured Product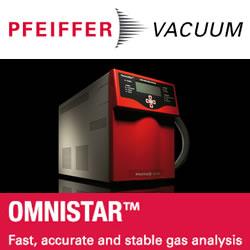 The Pfeiffer Vacuum OmniStar benchtop analysis system offers you a compact footprint, powerful software and Ethernet connectivity. It's the optimum solution for many real-time gas analysis applications. With the OmniStar, Pfeiffer Vacuum offers you a complete solution for gas analysis, in chemical processes, semiconductor industry, metallurgy, fermentation, catalysis, laser technology and environmental analysis. The turnkey OmniStar gas analysis system consists of heated, temperature-regulated gas inlet system, Quadrupole mass spectrometer, a dry diaphragm vacuum pump and HiPace turbopump. Unlike competing methods such as FTIR, OmniStar is suitable for qualitative and quantitative analysis of most gases.