Caught between strong utility-scale project demand, declining solar incentives in distributed generation applications, module over-supply, and significant policy uncertainty, the North American photovoltaic (PV) market is at a crossroads, according to the conclusions of the recently-released NPD Solarbuzz North America PV Markets Quarterly report.
North American Photovoltaic Market Set to Double Year over Year in Q4'11
Contributed by | SolarBuzz News
"PV is now positioned to take significant market share from other energy sources as it approaches grid parity in some regions. Downstream companies are facing enormous challenges to adapt to rapidly changing channel structure and business models in order to successfully participate in that opportunity," said Craig Stevens, President of NPD Solarbuzz.
In Q4'11, the North America photovoltaic market is forecast to grow 33% Q/Q and 101% Y/Y. Q4'11 installations of more than 0.8 GW of PV capacity are expected, resulting in a total demand of over 2.2 GW in 2011.
The United States will account for 84% of North American demand in Q4'11; Canada, dominated by Ontario, has the remaining 16%. When viewed at a state or provincial level, California remains the largest single market in Q4'11, with 21% of market share. Ontario is forecast to become the second-largest region (16%), followed by New Jersey (11%). Demand in the United States market has spread to many states beyond California, but in Canada, Ontario is 99% of the national market, which creates significant policy risk.
The primary driver in Ontario has been the feed-in tariff (FIT), while American states have been driven by a combination of policies and regulations at both state and federal levels. More recently, the US federal government played a critical role in the US solar marketplace, providing investment tax credits (ITC), cash grants, depreciation bonuses and loan guarantees as vehicles to make PV more financeable. By the end of Q3'11, the federal government cumulatively awarded over $1.4 billion in cash grants for solar systems, which is equivalent to 800 MW of installed capacity. The California Solar Initiative, the largest state-level incentive program in the US, has supported over 650 MW since its inception in 2007.
In Q4'11, ground-mount installations are forecast to have 38% of the market, followed by building-mount, non-residential systems (>100 kW), which will have 37% of the market. The ground-mount segment benefited from demand from Ontario and from large-scale installations in California and Arizona geared toward meeting the state RPS requirements.
Figure 1: North America Market Segmentation Q3'11 vs. Q4'11
Source: NPD Solarbuzz North America PV Markets Quarterly report
In Q3'11, the US PV market grew by 32% from Q2'11 and could reach 1.9 GW for the year, which would mean that the market has doubled in size for the second consecutive year. For large-scale non-residential and utility-scale projects in Q3'11 and Q4'11, the scheduled expiration of the US federal cash grant has encouraged progress to meet qualifying requirements; ongoing installation will continue throughout 2012, stimulated by the progress requirements for these cash grants.
The next four quarters carry significantly more downstream uncertainty than normal. The SolarWorld Chinese anti-dumping petition has split the US PV industry, with clear evidence that some Chinese manufacturers and project developers have already started to delay shipments and installations. Taken together with the expiration of the US federal cash grant, deferral of module supplies awaiting a price bottom will slow 2012 growth. The North American market, however, is still forecast to triple in size by 2015, with the ground-mount installations securing the largest market share of 42%.
The Canadian market is continuing its growth in Q4'11, and is projected to increase 35% Q/Q and 33% Y/Y, as utility-scale projects continue development, most under Ontario's previous incentive scheme. The province's current incentive program, a feed-in tariff, stimulated approximately 16 MW of residential installations during Q4'11 and will continue to be Canada's primary driver of PV uptake. In terms of policy developments, most attention is now focused on the FIT program's review, which is being conducted by the Ontario Power Authority. Expectations are that FIT rates will decline, but other aspects of the policy, such as local content requirements, will remain largely unchanged.
The NPD Solarbuzz North America PV Markets Quarterly report explores the opportunities and risks facing downstream companies in the North American region. Falling prices and new incentive programs are generating increased demand, but policy, regulatory, and corporate risks still exist. Understanding all elements of these markets is critical to succeeding in this highly competitive landscape.
The data-driven report brings together a comprehensive and detailed analysis of regional trends, major country market analysis, and developments in smaller country markets. PV market activity over the 12 quarters of 2010-2012 in Canada and US is covered in terms of market drivers and constraints, market segmentation, policy developments and their impact on the market, downstream trends, major project activity, installed system pricing, and PV project investment economics. The state/provincial-level analysis covers what is new and interesting in the past quarter in Ontario, California, New Jersey, Arizona, Colorado, Massachusetts, and New York. The new North America PV Markets Quarterly report includes a 150-page PowerPoint report, an Excel data summary, and PolicyTracker, a comprehensive Excel-based database showcasing each country's incentive policies.
For more information or to order NPD Solarbuzz regional reports, contact us at one of our seven global locations, email us at contact@solarbuzz.com, or call 1.516.625.2452.
About NPD Solarbuzz
NPD Solarbuzz is a globally recognized market research business focused on solar energy and photovoltaic industries. Since 2001, NPD Solarbuzz has grown its client base to include many of the largest global PV manufacturers, major investment banks, equipment manufacturers, materials suppliers, hedge fund companies, and a vast range of other multi-nationals. NPD Solarbuzz offers a wide array of reports, including Marketbuzz, an annual global PV industry report, and Solarbuzz® Quarterly, which details both historical and forecast data on the global PV supply chain. The company's research also provides annual downstream PV market reports by region for Europe, Asia Pacific and US markets. In addition, Solarbuzz.com is a recognized and respected online resource within the solar industry. For more information, visit www.solarbuzz.com or follow us on Twitter at @Solarbuzz.
About The NPD Group, Inc.
The NPD Group is the leading provider of reliable and comprehensive consumer and retail information for a wide range of industries. Today, more than 1,800 manufacturers, retailers, and service companies rely on NPD to help them drive critical business decisions at the global, national, and local market levels. NPD helps our clients to identify new business opportunities and guide product development, marketing, sales, merchandising, and other functions. Information is available for the following industry sectors: automotive, beauty, commercial technology, consumer technology, entertainment, fashion, food and beverage, foodservice, home, office supplies, software, sports, toys, and wireless. For more information, contact us or visit www.npd.com and www.npdgroupblog.com. Follow us on Twitter at @npdtech and @npdgroup.
Solarbuzz and Marketbuzz are registered trademarks of The NPD Group.
The content & opinions in this article are the author's and do not necessarily represent the views of AltEnergyMag
---
Comments (0)
This post does not have any comments. Be the first to leave a comment below.
---
Post A Comment
You must be logged in before you can post a comment. Login now.
Featured Product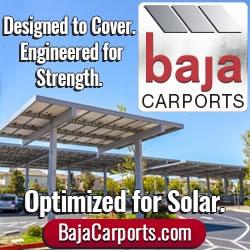 Baja Carports offers an extensive solar support system product line customized to customers' site specifications by in-house engineers, meeting their parking lot coverage, plus optimal PV production needs. Baja's Full Cantilever Tee is often paired with its Semi and Full Cantilever carports to meet live/loads up to 60psf and wind speeds to 160mph. All Baja products are pre-fabricated, bolted connections, pre-galvanized structural steel for fast on-site installation and project aesthetic requirements."