Selling PV modules in their product package of glass and fenestration products represent a very significant sales potential increase for glass and glazing subcontractors. On a related matter, many PV modules can be glazed directly into the fenestration products without any modification to either product.
Building Integrated Photovoltaics Impacts the Glass and Glazing Industry
Richard D. Voreis | Consulting Collaborative
Overview
One of the most promising renewable energy technologies is photovoltaics (PV). PV is truly a viable means of producing electricity on site, directly from the sun, without concern for energy supply or environmental harm. The solid-state PV modules simply make electricity out of sunlight, silently with no maintenance, no pollution and no depletion of materials. What is there not to like about PV?
Definition
Photovoltaics can be defined as the field of technology and research related to the application of converting solar energy (sunlight) directly into electricity. Because of the growing demand for renewable sources of energy, the manufacturing of photovoltaic solar cells and solar modules has advanced dramatically in recent years. Some of the newer advancements include thin-film applications on glass as well as other developing technologies involving glass.
Fenestration Applications
PV installations are ground mounted (aka Solar Fields and Solar Farms) or integrated into the walls and roofs of buildings, which is known as Building Integrated Photovoltaics (BIPV).
BIPV is a term for the design and integration of photovoltaics into the building envelope that typically replaces conventional building materials. This integration normally occurs in vertical facades replacing view glass, spandrel glass or other facade components in the building envelope.
BIPV generates energy at the point of consumption as an integral part of the building's façade in office buildings, hospitals, retail buildings, hotels, airports, educational facilities and more.
In the building envelope (aka facade), PV is a natural for fenestration applications; especially, thin-film modules and other new technologies replacing conventional glass with energy producing glass. The functionality of glass as a cost-effective building material is further enhanced by incorporating PV. While the addition of solar modules does add cost, it is still less costly than other building materials such as granite because it has the double function of generating electrical power.
Any conventional glass application can be replaced with BIPV modules having the same structural and thermal characteristics. This type of application can reduce the building's energy consumption down to net-zero which means the building can produce at least as much energy as it uses. More will be said later about net-zero energy buildings.
Building envelope installations include PV modules integrated into the following fenestration products:
BIPV fenestration applications are really beginning to grow in the United States.
Challenges
The greatest challenge the U.S. solar market faces is scaling up production, distribution and installation of solar energy technology to drive the total installed price down to be on par with traditional fossil fuel sources.
On a related matter, the industry experienced serious capacity constraints during 2010 and even though new capacity is coming on line, the constraints are continuing for many manufacturers in 2011.
The greatest challenge with respect to solar panels is the cost of installation and materials. Newer alternatives to standard crystalline silicon modules including casting wafers instead of sawing, thin-film and other developing technologies should make solar panels less costly; especially, as demand increases and as manufacturers increase production the cost is expected to drop significantly in the not too distant future.
Adoption Rates
The PV industry generated $82 billion in global revenues in 2010 representing a 105% increase over $40 billion in 2009. By comparison, during 2010 the PV industry in the United States grew by 96%.
In 2010, the top five countries by PV market size were Germany, Italy, United States, Japan and the Czech Republic representing over 80% of global demand. By the year 2015, it is projected the European market share will fall to between 45% and 54% as the North American and several Asian markets grow rapidly. The United States will be the fastest growing major market over this period.
Today, the glass and glazing industry is about to see BIPV really gain traction.
I've been researching the BIPV industry for over two years and I'm absolutely convinced it will be a major growth opportunity in the glass and glazing industry.
Grid Parity
Grid parity is the point at which photovoltaic electricity is equal to or cheaper than grid power from electric utilities. This has already been achieved in areas with abundant sun and high costs for electricity such as California and in Japan. Grid parity has also been reached in Hawaii and other islands that otherwise use fossil fuel to produce electricity. Most of the United States is expected to reach grid parity by 2015. That is when demand for BIPV will skyrocket. The glass and glazing better be ready!
Department of Energy (DOE)
DOE conducts fundamental and applied R&D on advanced materials and energy-efficient window components as well as curtain wall systems and has dedicated test facilities at Lawrence Berkeley National Laboratory. They are exploring new photovoltaics and daylighting technologies as well as high performance glass coatings and Electrochromic "smart" windows in existing and new buildings.
The Department of Energy has established a goal of having net-zero energy buildings for all new commercial buildings by 2025. Net-zero energy buildings means buildings must produce at least as much energy as they use.
Glass and fenestration building products are expected to contribute very significantly to achieving this goal.
Clearly, this will involve glass and glazing subcontractors.
Glass and Glazing Subcontractors
Earlier, I said the glass and glazing industry is about to see BIPV really gain traction and here's proof of that statement.
Recently, one glass and glazing subcontractor bid six BIPV projects in one month and this is only one example among thousands of glass and glazing subcontractor in the United States. The glass and glazing industy is very capable of handling a full range of applications from small and to large BIPV installations.
Selling PV modules in their product package of glass and fenestration products represent a very significant sales potential increase for glass and glazing subcontractors. On a related matter, many PV modules can be glazed directly into the fenestration products without any modification to either product.
While I'm convinced BIPV will be a very significant sales and profit growth opportunity for the glass and glazing industry, I've also found four reasons for serious concern.
The Building Integrated Photovoltaics segment of the photovoltaics industry appears to be disconnected with respect to the PV module manufacturers and the glass/fenestration products manufacturers. The integration of these product offerings seems to be a natural occurrence; however, each seems to be operating in disregard of the other when this should be a classic win/win situation.
Integrating PV modules into curtain walls, windows walls, skylights and other related products should be an easy undertaking; however, the PV industry knows very little about fenestration products and generally the glass/fenestration industry knows very little about PV modules.
When each industry is asked by an architect about "packaging" these products, both the PV manufacturers and the glass/fenestration manufacturers can often provide little direction with respect to how it can be accomplished. That needs to change!
Think about it, BIPV modules are useless without fenestration products just like glass is useless without being incorporated into fenestration products. So, it's very logical that photovoltaic modules become integrated into the glass and glazing industry segment. However, today it's a real challenge to make it happen even though the architects are pushing for it to happen.
Here's what is happening to address these concerns…..
The National Glass Association is recruiting BIPV manufacturers to exhibit at GlassBuild America and that is a big step in connecting them to glass and glazing subcontractors as well as fenestration building product manufacturers.
Future-focused glass and glazing subcontractors are proactively researching BIPV and becoming educated about this new opportunity.
I'm making my research report available to fenestration building product manufacturers and BIPV manufacturers to educate them, too.
To repeat for emphasis, the glass and glazing industry is about to see BIPV really gain traction. Will you be ready?
Biography
Richard D. Voreis, Consulting Collaborative
Richard D. Voreis is Chief Executive Officer of Consulting Collaborative, a management consulting firm specializing in the construction and building products industry with offices in Dallas, TX, Atlanta, GA, Los Angeles, CA, Nashville, TN, Pittsburgh, PA and Indianapolis, IN. Consulting Collaborative offers a wide array of in-depth consulting services backed by over three decades of solid experience gained from working with industry-leading companies. Clients include architects, general contractors, subcontractors, engineers, trade associations and building product manufacturers.
Year after year, Consulting Collaborative is in contact with dozens of clients, so they know what works and what doesn't work in today's challenging business environment. They provide clients with how "best of class" companies operate as well as "best practices" specific to their business and industry. Very few people have the opportunity to see what the firm will see on a continuing basis; thus, their clients always benefit from the newest and proven strategic advantages.
Domestic and international clients are primarily building product manufacturers or companies supporting that industry. Their annual sales range from about $2 million to over $20 billion.
Before founding Consulting Collaborative in 2000, Mr. Voreis was Chief Operating Officer of United States Aluminum Corporation near Dallas, TX, where he had full responsibility for their 16 operations throughout the United States and Canada.
At Hebel Building Systems in Atlanta, GA he served as President and CEO with full operating responsibilities for North America including the launch of their $40 million U.S. manufacturing facility.
During a very successful career at Kawneer Company in Norcross, GA Mr. Voreis was Vice President of Marketing and Sales where he was responsible for all marketing and sales related functions as well as training, research & development and engineering.
Richard Voreis was essentially born and raised in the construction industry. His father was a residential homebuilder and Richard worked his way through Indiana University building homes and graduated with a BS degree in Business Management. He has been active in many industry related activities including 15+ years on the Georgia Tech College of Architecture Advisory Board and recently completed his second term on the National Glass Association Board of Directors. Most recently, he was appointed to the Advisory Board of Pythagoras Solar an innovator in building integrated photovoltaics. Other business interests include being co-owner of a residential and commercial glass company in Dallas, TX.
Mr. Voreis has also been active for many years as a league director in youth competitive swimming and also served as a Texas High School Interscholastic Swim Meet Official. This involvement with competitive swimming continued while his son was in college as Chairperson of the NCAA Swim Team Parents Group at Denison University. Finally, he is a volunteer along with his son at Habitat for Humanity as well as a member of the Park Cities Historic & Preservation Society.
www.consulting-collaborative.com
3609 Potomac Avenue, Dallas, Texas 75205-2110, 214-361-2130
The content & opinions in this article are the author's and do not necessarily represent the views of AltEnergyMag
---
Comments (0)
This post does not have any comments. Be the first to leave a comment below.
---
Post A Comment
You must be logged in before you can post a comment. Login now.
Featured Product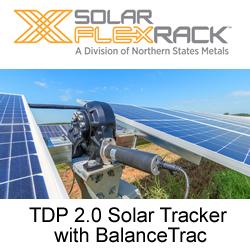 Solar FlexRack's latest solar tracker technology bundles an advanced tracker design with a full team of seasoned engineering and installation experts at your service. The next-generation solar tracker delivers a package of features that both enable increased energy yields for commercial and utility-scale solar installations, and significantly reduce project risks. That translates to smart installation cost-savings across your project budget.