The program's goals are nothing if not ambitious, as the government had initially hoped to boost the nation's solar capacity by the equivalent of about 18 nuclear power plants by 2022, a date that's now been brought forward by five years.
India Embraces Solar Power, Says Price Will Equal Thermal Power in Five Years
John C.K. Daly for | OilPrice.com
Economic South Asian superpower India has firmly embraced solar power, advancing the target date by five years for selling solar-generated electricity at the same rate as electricity generated by fossil fuel plants, from 2022 to 2017.

According to government officials, the reason for moving the date forward is plummeting tariffs in the latest solar development projects, a trend that they believe is likely to continue.

Ministry of New and Renewable Energy Joint Secretary Tarun Kapoor said, "The prices will come down further next year and will continue to fall. Earlier, our aim was that solar power will achieve grid-parity by 2022, but looking at the upbeat response from the industry, we have now reduced our target to 2017. Some big names from India have proved that a large investment will soon be possible in solar projects, as huge as 2,000 megawatts. There are other reasons as well. Internationally, the price of solar cells has come down and with improved technology, the cost of operation as a whole has been reduced, thereby increasing the efficiency."

All is not yet completely sunny for India's solar energy drive, however. Kapoor noted that several solar projects benefiting under a state program offering favorable tariffs to build 20,000 megawatts of capacity have already been delayed, adding that developers may lose contracts if deadlines are missed, commenting, "Two of the projects are behind schedule. In a few months, we should have a clear picture."

The pair of miscreants are Entegra Ltd., whose majority shareholder is MW Corp Pvt., which has yet to begin building a 10 megawatt solar-thermal plant in Rajasthan and Enterprise Business Solutions, cited for delays in an October deadline to build a 5 megawatt photovoltaic plant in Punjab.

Entegra Ltd. is disputing New Delhi's claims of sluggish performance, with its Chairman Mukul S. Kasliwal commenting that his firm faced problems raising financing for its $38 million development but that the company expects to complete the Rajasthan facility plant by its 2013 deadline. Shifting responsibility for delays to the Indian government, Kasliwal commented in an interview, "We haven't started because we're not going to do something that doesn't make sense financially. Had we been allowed to function as an SPV (special purpose vehicle), then we would've finished financing long ago."

Despite the travails of Entegra Ltd and Enterprise Business Solutions, other members of India's burgeoning solar energy community are optimistic about the government's latest pronouncements. Azure Power CEO Inderpreet Wadhwa, whose company has secured government contracts to establish solar projects to generate up to 35 megawatts said, "Solar has the same potential as personal computers had in 1970's. Technology innovations and improvements in manufacturing would drive down costs further."

Support for India's solar ambitions comes from some heavyweight fiscal analytical groups. Ernest and Young partner Sanjay Chakrabarti observed, "The extent of price reduction since 2008 has been very sharp. Although solar prices will continue to drop the fall in future may not be so sharp."

Kapoor is under no illusions however as to why foreign companies are closely following India's interest in solar energy, noting wryly, "The only reason is that India is an emerging market and one of the few countries where solar energy is encouraged at such a massive level."

And that emerging market is potentially lucrative indeed, as last year the Indian government launched its "National Solar Mission," whose objective is to establish India as a global leader in solar energy, by creating the policy conditions for its diffusion across the country as quickly as possible.

The program's goals are nothing if not ambitious, as the government had initially hoped to boost the nation's solar capacity by the equivalent of about 18 nuclear power plants by 2022, a date that's now been brought forward by five years.
Investors, anyone?
The content & opinions in this article are the author's and do not necessarily represent the views of AltEnergyMag
---
Comments (0)
This post does not have any comments. Be the first to leave a comment below.
---
Post A Comment
You must be logged in before you can post a comment. Login now.
Featured Product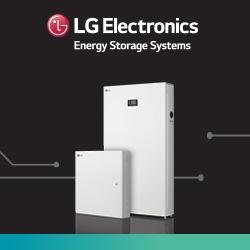 LG Solar is transforming today's solar landscape, offering precision-manufactured and high-efficiency solar panels for homeowners who demand high performance, reliability and consistently strong energy yield from a brand they can trust. LG modules feature outstanding durability, appealing aesthetics and high-efficiency technology, backed by a limited 25-year product, performance and labor (up to $450) warranty. Homeowners who purchase LG Solar modules know they're protected by a diversified global brand.