The Department of Energy's intention behind the showcase project is to have leading companies create "blueprints" of their energy saving tactics that are actionable by a broader set of US companies. By creating an aggressive goal for a single facility, it affords a focused experience of what it takes to achieve that goal. We plan to be transparent in our actions in order to create these repeatable solutions for other companies.
Better Buildings, Better Plants
Susan Rochford, Vice President, Energy Efficiency, Sustainability & Public Policy | Legrand NA
Why did Legrand join the Better Buildings, Better Plants presidential leadership initiative?
The Better Buildings, Better Plants Challenge is a powerful motivator and opportunity to take action on energy efficiency as a company. We believe this initiative will create American jobs by demonstrating the economic and competitive value of investing in energy saving solutions. Implementing energy saving solutions in the manufacturing sector will in turn boost productivity and free up capital for other purposes. Legrand's investments will not only impact our local contractors and engineers, but offer an example that will disperse among other mid-size manufacturers throughout the country. Our participation in this initiative allows us to demonstrate leadership in energy management -- a cornerstone of our overall commitment to integrating sustainability in the way we do business.
How does this initiative benefit your customers?
We believe this initiative is beneficial for our customers for several reasons. First, if we push ourselves to do better, then our customers have the opportunity to follow suit. By demonstrating the energy savings we can achieve in our facilities, we are providing a potent example to our distribution partners. This example equips them to better support their customers to do the same. By replicating or adapting our approach they can improve their own companies and communities. It is a positive ripple effect.
What is the concept behind the showcase project?
The Department of Energy's intention behind the showcase project is to have leading companies create "blueprints" of their energy saving tactics that are actionable by a broader set of US companies. By creating an aggressive goal for a single facility, it affords a focused experience of what it takes to achieve that goal. We plan to be transparent in our actions in order to create these repeatable solutions for other companies.
Explain what you have done in the past to curb energy consumption.
We see energy management at Legrand as a mix of people, process and technology. One recent example of our energy conservations efforts dates to late 2010 when our West Hartford headquarters site enrolled in the DOE sponsored Green Collar Champions program. This program engaged Legrand employees directly in identifying and implementing a range of energy saving projects. As a result, manufacturing efficiencies totaled a yearly savings of 22,300 Ccf of natural gas and 935,748 gallons of water. Additionally, weatherization and insulation projects have saved an estimated 10,200 Ccf of natural gas annually.
How do your sustainability efforts impact the daily practices of Legrand employees?
To achieve the goals we have set for ourselves in the Better Buildings, Better Plants Challenge we will need the support of the entire organization. We are working to ensure our commitment to this Challenge is made visible throughout our company. Prior to making this commitment, we have had a multi-year effort underway to earn ISO 14001 certification in many of our facilities. This involves the efforts of many employees across our sites. ISO 14001 entails prevention of pollution, compliance to all regulatory requirements and continuous improvement in our environmental management practices.
To raise awareness on sustainability last year we ran a two-part Eco Challenge for our employees that highlighted activities employees could do while at work and at home to reduce their energy consumption. These suggestions included recycling, commuting, updating to programmable thermostats, etc. Prizes were given to challenge winners to help motivate our employees to do more of the suggested activities.
Finally, we have an internal sustainability site, which provides employees with tools to assess their personal sustainability while also providing visibility for success stories of individuals and groups across Legrand, North America that are making strides toward more sustainable workplaces. Having a place to go and understand our sustainable practices helps employees better understand our commitment not only to energy saving practices, but to sustainability as a whole.
Why did you choose the West Hartford facility for your showcase project?
Our West Hartford facility is our North American headquarters, so it made sense to choose this location for our showcase project. We truly want to walk the talk, and we believe driving sustainability starts from the top.
In choosing our West Hartford facility we came across a few interesting challenges that included the age of the building and the mixed use space between office and manufacturing. The mixed space allows for us to show sustainable changes in both areas, meaning we can learn about both scenarios and share our information with a broader group of people.
Can you tell us specifically what you plan to do with the showcase project and how much will be saved?
Right now, it's clear that the goal of the showcase project is to reduce our energy intensity by 10% in two years. We are currently putting our plan together by looking at different technologies and innovations, such as lighting controls and metering. We are planning to announce the full details of the showcase project later this year.
Do you see opportunities for Legrand to benefit by developing new products that would assist others in achieving energy savings with this program?
We're always seeking to innovate in new product creation because there is a benefit for everyone. We see this challenge as a learning opportunity that will help us directly, while providing further insights on how to best support our customers in their energy efficiency goals.
That being said, we believe there are products available today that people can use right now to achieve significant energy savings. While our company focus is always moving toward innovation, our present focus in this program is to take current technologies and show people how they can use them to save energy now
Susan Rochford
Vice President, Energy Efficiency, Sustainability and Public Policy, Legrand.
Susan Rochford is the Vice President, Energy Efficiency, Sustainability and Public Policy for Legrand North America. Rochford is responsible for advancing Legrand North America's progress in setting and achieving sustainability goals and commitments, as an organization and in the marketplace. She works closely with all the Legrand North America entities to identify, design and deliver sustainable products and solutions to meet the needs of the customers they serve.
Prior to joining Legrand North America, Rochford was the Senior Vice President at the Council on Competitiveness, where she launched and led the flagship project: the Energy Security, Innovation & Sustainability (ESIS) Initiative. Guided by a 42 member Steering Committee composed of chief executives from industry, higher education, organized labor and directors of U.S. national laboratories, Rochford spearheaded the development of a comprehensive roadmap to achieve U.S. energy security, sustainability and competitiveness. DRIVE. Private Sector Demand for Sustainable Energy Solutions was released in September 2009 at the National Energy Summit & International Dialogue, a convening of over 500 private and public sector leaders from around the globe, including four members of President Obama's Cabinet.
Rochford has operated at the nexus of business and government for over twenty years. She served as Vice President, Government, Regulatory & Industry Affairs for Underwriters Laboratories Inc. where she directed the Washington, D.C. office, developed the organization's government and regulatory affairs strategies and managed UL's industry association relations. At the behest of UL's CEO, Rochford organized and led a Corporate Social Responsibility (CSR) executive team which developed a comprehensive road-map for improving UL's CSR performance and identifying opportunities to support customer CSR objectives.
Before joining UL in 2002, Rochford served for over ten years as the Director of International Affairs for Honeywell Inc. where she led the development of the company's global trade and investment policy agenda, implemented related advocacy strategies and served as the company's expert and leader on global corporate social responsibility initiatives. While at Honeywell, Rochford created and directed the Trade Finance & Business Development Program, which provided government financial and advocacy support to Honeywell global affiliates working to deliver energy efficiency solutions within Eastern Europe, the Former Soviet Union and China.
Rochford was appointed as Senior Advisor on Trade Policy to the Under Secretary of Commerce for International Trade in the first Bush Administration. She was recruited to the Commerce Department from the U.S.-Japan Business Council, a CEO membership organization, where she served as Executive Director and the organization's Treasurer and Secretary. Her career began on Capitol Hill as Assistant Director of the New England Congressional Institute.
Rochford holds a Bachelor of Arts in Political Science from the University of Connecticut and a master's degree in International Management from Thunderbird, The Garvin School of International Management. She is currently a member of the Environmental Advisory Committee to the National Recreation and Parks Association. She has served on the boards of several non-profit professional trade organizations, and as an appointed federal industry advisor to the U.S Trade Representative and Secretary of Commerce. Rochford has served as a consultant and advisor to non-profit organizations and non-governmental organizations on CSR issues and organizational strategy.
The content & opinions in this article are the author's and do not necessarily represent the views of AltEnergyMag
---
Comments (0)
This post does not have any comments. Be the first to leave a comment below.
---
Post A Comment
You must be logged in before you can post a comment. Login now.
Featured Product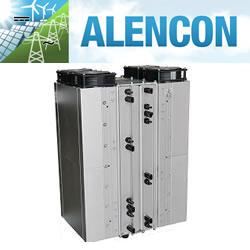 Alencon Systems is the premier manufacturer of high power, high voltage DC:DC optimizers for alternative energy applications including solar, battery energy storage, Microgrids, Fuel Cells and Electric Vehicle charging. Alencon's DC:DC converter offerings include the SPOT, BOSS and CUBE series DC:DC converters. The SPOT is a modular, uni-directional DC:DC solution ideal for solar applications. The BOSS is a modular, bi-directional unit for use with battery energy storage. The CUBE is a monolithic DC:DC converter which is available in both uni-directional and bi-directional modalities. Pictured above, is the Alencon SPOT.