The rapidly growing demand for alternative energy production and energy storage systems has created an important need for high-performance lithium-ion batteries.
Lithium Ion Battery Technology
David Klanecky | Dow Energy Materials
What misconceptions are out there about batteries and components?
I would say that there are challenges, rather than misconceptions, with the battery and energy storage industry. Batteries must meet several performance goals at a lower cost. The most significant contributions to costs are associated with battery materials. Dow Energy Materials is addressing this challenge through our integrated portfolio approach that optimizes synergies between the battery components. This approach allows us to reduce cost through our application engineering and process manufacturing capabilities to produce high performance materials with longer life cycles.
What is special about anodes, cathodes and electrolytes from Dow Energy Materials? Do these products help battery makers offer higher energy/higher power choices to vehicle designers?
Harnessing The Dow Chemical Company's innovation engine, global supply chain and expertise with material science, Dow Energy Materials enables batteries with extended run times, increased power and operational life, with equal or enhanced safety performance compared with others on the market. Our anodes and cathodes have a special blend of coatings to enhance battery performance. Dow Energy Materials is focused on the development of next-generation battery materials, offering an integrated portfolio of lithium-ion battery components, including anodes, cathodes and formulated electrolytes, for the global energy storage market.
Dow Energy Materials is committed to driving performance of lithium-ion batteries higher and the cost of manufacturing processes lower.
Are these components suitable for the many different types of lithium batteries? Please explain.
Yes, Dow Energy Materials will be producing materials for advanced lithium ion batteries that are used in consumer electronic products, electric vehicles, the defense industry and power generation applications. We have the ability to supply all battery cell manufacturers in the energy storage market and will be working in close partnership with manufacturers to ensure we are meeting the needs of the application.
How fast is the lithium-ion market growing? (total kWh or number of cells year over year)
The rapidly growing demand for alternative energy production and energy storage systems has created an important need for high-performance lithium-ion batteries. Between 2001 and 2010, the worldwide volume for lithium-ion batteries has grown at a rate of 27 percent (Compound Annual Growth Rate). This rate compares favorably to other rechargeable batteries, such as Ni-CD and Ni-Mh.
What are the main applications now and which applications are growing and expected to grow the fastest in the near future?
The energy storage industry is expected to increase from $24 billion in 2010 to $74 billion in 2020 – led by six primary markets, including automotive (electric and hybrid electric vehicles), power generation, defense, industrial, power tools and portable electronics.
The automotive and power generation sectors, including renewable and alternative energy sources, will account for almost half of the energy storage market in 2020. The automotive industry alone is expected to grow from $1.3 billion in 2010 to $28 billion in 2020, and the utility market is expected to nearly triple by 2020.
What are the next generation batteries, such as what is in store for lithium-ion batteries? What trends are you seeing in this market?
Lithium-ion batteries already provide a major advantage over traditional technologies because they can store a lot of energy in a small size, and be recharged thousands of times without a loss of performance. They also have significant potential to achieve cost reductions, more so than other batteries. All next generation battery technologies will continue to focus on improving cost, performance and safety.
New advancements with materials science will also lead to application-specific improvements for lithium-ion batteries. For example, some batteries will be quite smaller or more light-weight. The adoption of lithium-ion polymer construction will lead to greater application of batteries for more portable and more rugged use, such as for phones, computers, cameras and power tools.
How do Dow Energy Materials' lithium-ion batteries drive down the cost of manufacturing?
Dow Energy Materials' integrated approach to processing and manufacturing enables battery manufacturers to produce batteries at a lower cost per kilowatt hour. Dow Energy Materials offers three of the four lithium-ion battery components - including anodes, cathodes and formulated electrolytes –to produce batteries with extended run times, increased power and operational life, with equal or enhanced safety performance than what is commercially available today.
Manufacturers that harness this integrated approach can benefit through reduced battery costs, customized solutions and a faster time to market. Dow Energy Materials is working with cell manufacturers to provide a differentiated solution for battery cycle life improvements that result in a lower cost per kilowatt hour. For example, the company is producing a coated graphite anode material that, when used in combination with a proprietary coated cathode, enhances cycle life increased charge and discharge rates (up to >2x) compared with conventional uncoated systems.
Where are these batteries manufactured and where will the main thrust of future expansion take place?
In Michigan alone, nearly $6 billion of investments have been made by over 30 companies in the advanced battery industry. And in Midland, Michigan, Dow Energy Materials has completed construction of a manufacturing facility that is able to produce over 2,500 metric tons of anode and 2,000 metric tons of cathode material annually. Plus we are investing in 5,000 metric tons per year of formulated electrolyte capacity as well.
What is the future of lithium-ion in terms of cost and performance?
The United States Advanced Battery Consortium (USABC) has outlined goals in terms of dollars per kilowatt-hour that battery technology must reach to make various electrified vehicles commercially viable. The goal is approximately $200-$300/kWh (compared to current costs of $750-$1,000/kWh).
In terms of performance, the industry is currently working on graphite-based coated materials for electrodes. As the performance attributes improve with these new materials, scientists will be working on the next technological evolution of lithium based materials, including phosphate, silicon and lithium-metal materials.
David Klanecky. Senior Business Director
Dow Energy Materials
David Klanecky is the senior business director for Dow Energy Materials for The Dow Chemical Company. Helping launch Dow Energy Materials in 2010, Klanecky has built a team of top technical experts and also oversees construction of the new plant in Midland, Michigan. As part of his role, Klanecky negotiated strategic venture capital investments, licensed and acquired technology companies. He has also developed a number of key relationships with industry, academics, and government agencies, such as the U.S. Department of Energy, Argonne National Labs, and the U.S. Department of Defense.
Previously, Klanecky served as Director of Global Research and Development (R&D) for Dow Water and Process Solutions. In that role, he successfully integrated two large acquisitions into the R&D function and launched seven applications teams across the business unit, globally aligning Marketing and Research. As part of the business management team, he helped to develop a 10-year R&D strategy around breakthrough research and development, ensuring Dow maintains its leadership in Membranes and Ion Exchange Resin technologies.
Klanecky joined Dow in 1993 as a Research Engineer in Freeport, Texas, and he held a number of engineering and leadership roles, from recycled polyethylene grocery sacks to capillary microfiltration, and from gas-treating technology to adhesive polymers. In 2000, he moved to Tarragona, Spain, as a Six Sigma Black Belt Project Leader for the Polyolefins R&D group where he successfully developed and commercialized numerous polyolefin materials. Two years later, he moved to Horgen, Switzerland, where he spent four years as Technical Service & Development Group Leader for Wire & Cable, Extrusion Profiles and Films & Fibers market segments. While there, he managed diverse teams of technical people from all over the world and launched a number of key product development programs across the various applications.
In 2006, Klanecky's career took him to Shanghai, China, where he served as Senior R&D Leader for the Designed Polymers Business Group, which consisted of Water, Cellulosic Materials – Pharma/Construction, Microbial Control, Personal Care, and Fuel Additives. His organization grew from five to 65 PhD professionals and under his leadership a new customer application development laboratory for Asia-Pacific was built. He also worked with HR to develop the Learning and Development Strategies for both new and experienced hires. In 2008, after eight years abroad, Klanecky returned to the U.S.
Klanecky received a Bachelor of Science in Chemical Engineering, graduating with Highest Distinction, from the University of Nebraska. He resides in Midland, Michigan
The content & opinions in this article are the author's and do not necessarily represent the views of AltEnergyMag
---
Comments (0)
This post does not have any comments. Be the first to leave a comment below.
---
Post A Comment
You must be logged in before you can post a comment. Login now.
Featured Product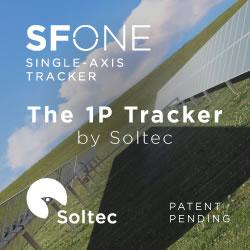 SFOne is the 1P single-axis tracker by Soltec. This tracker combines the mechanical simplicity with the extraordinary expertise of Soltec for more than 18 years. Specially designed for larger 72 an 78 cell modules, this tracker is self-powered thanks to its dedicated module, which results into a lower cost-operational power supply. The SFOne has a 5% less piles than standard competitor, what reduces a 75% the labor time.