Innotech Solar optimizes off-spec cells
Solar cell therapy: transforming second-rate goods into first-class products
Contributed by | Innotech Solar
The photovoltaic industry has reached a new record: whilst 2010 saw the worldwide manufacture of solar cells with a total output of more than 27 gigawatts, production in 2011 reached over 50 gigawatts. Unfortunately, between around three and five percent of these cells are immediately rejected after manufacture because they do not pass the visual checks or do not work to their full capacity. Had they been in perfect condition, these cells would have been able to provide electricity to more than 500,000 households. Norwegian company Innotech Solar (ITS) has developed a groundbreaking process to return rejected solar cells to their full performance capacity, ensuring that even imperfect cells can be used in photovoltaic modules to produce electricity. In addition to undergoing the most stringent of tests the industry has to offer and having a very high power output, these modules are reasonably priced, thanks to the fact that the solar cells do not need to be manufactured from new.
"Optimizing solar cells requires significantly less energy than melting them down and recycling them. Putting 100 percent of the solar cells produced worldwide into actual use would make the manufacturing process both more economical and more environmentally sound," states Dr. Thomas Hillig, Director of Sales & Marketing for EMEA. Manufacturers reject cells on the basis of visual flaws such as marks, a lower electrical output or simply as a result of technically imprecise performance measurements. It took two years for Innotech Solar to develop a process for treating under-performing cells. The defective areas are identified using an infrared camera, before being automatically isolated using a special laser. The result: the cells are returned to their full capacity. The isolated area is so small that a difference in output in comparison to conventional cells is no longer discernible following the treatment. "This may sound easy. But the challenge is that the process must be easily adaptable to different cell materials and thicknesses," explains Hillig. However, Innotech Solar is not just limiting its optimization process to correcting minor cell defects: "We are also able to isolate larger impure zones: a laser separates unusable areas of the cell, leaving us with a half or third of a cell, which are then integrated into modules for off-grid power supplies."
| | |
| --- | --- |
| | |

Quality certified by test institutes
To prove just how effective the processed cells really are, Innotech Solar has sent them for analysis to independent test institutes such as TÜV, Fraunhofer Institute and Max Planck Institute, who have certified the quality of the ITS modules. Experts at the Photovoltaik-Institut Berlin have tested the modules according to IEC 61730 and IEC 61215 standards, and have been unable to find any differences between ITS modules and modules with conventional cells produced by other manufacturers. "Innotech Solar is one of the few manufacturers known to us who carry out tests such as the hot-spot risk test," explained an expert from the Photovoltaik-Institut. ITS modules show a significantly reduced risk of hot spots - these are defective areas on the cell's surface which can lead to over-heating, damage to the module and, in rare cases, fire.
Independent test institute SGS Germany GmbH subjected the modules to an additional durability test by carrying out salt mist testing to determine the effects that long-term exposure to sea air has on the modules. Ammonia resistance testing, also performed by the institute, simulated conditions representing a minimum of 20 years' use installed on livestock buildings. Neither of the tests found any impairment in the mechanical or electrical quality of the modules, even once stringent test cycles had been completed. The test results confirm that the modules are excellently suited to coastal and agricultural use.
In line with other suppliers, Innotech Solar provides its modules with a ten-year warranty on an output of 90 percent and a 25-year warranty on an output of 80 percent. The product guarantee for standard modules lasts for ten years.
Customers invest in green returns
Innotech Solar is in a position to offer its modules at an excellent price-performance ratio: The Norwegian company purchases off-spec cells for a favorable price and, at the same time, producing modules with optimized cells requires around 90 percent less energy than needed to produce standard crystalline modules.
Over the past three years, ITS modules have been used in solar projects in 17 countries. More often than not, these projects have multiple megawatt outputs. In addition to the reasonable price, the low carbon footprint plays an important role for customers. Green City Energy is a company that puts a lot of value on sustainability when selecting its suppliers: "Our more than 2,800 investors do not only wish to see a favorable and stable return; they also want to use their investment to make an active contribution towards protecting the environment. Therefore ITS modules suit our company's ideals perfectly," claims Thomas Prudlo, Chief Executive of Green City Energy AG in Munich.
Manufacturers profit from a reliable distribution channel
Why do manufacturers sell their rejects to Innotech Solar? The low quantity of rejects means that processing the cells themselves is, in most cases, simply not worth their while. Selling their cells to Innotech Solar, however, provides them with a reliable distribution channel with guaranteed prices. Innotech Solar only buys cells from leading manufacturers and resells the modules under its own brand.
About Innotech Solar
Innotech Solar currently has a cell production capacity of more than 160 megawatts. The company's original production line is in Narvik, Norway, where the parent company's headquarters are located. Since June 2011, they have also been optimizing cells in a new factory in Halle an der Saale, Germany. The company produces a large proportion of its modules in a former REC solar factory in Glava, Sweden. With its fully automated production lines, it is one of Europe's most modern production plants. The various module series are sold via subsidiaries in Munich, California and Shanghai.

The content & opinions in this article are the author's and do not necessarily represent the views of AltEnergyMag
---
Comments (0)
This post does not have any comments. Be the first to leave a comment below.
---
Post A Comment
You must be logged in before you can post a comment. Login now.
Featured Product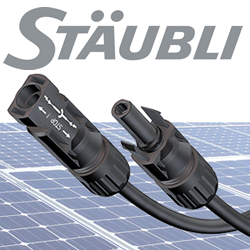 ​Stäubli Electrical Connectors are used on more than 300 GW, over 50% of the PV capacity worldwide. The MC4 family of UL and TUV listed products include connectors, in-line fuses, branch connectors, cable assembly and more.