With the Developing economies having realized the advantage of Wind Power, we see maximum growth coming from the Emerging Economies in this sector. Latin America, India, South East Europe to name a few.
TE Energy and the Wind Industry
Fayaz M.P. | TE - Energy
1. Tell us a little more about TE - Energy, and the products and services that it offers.
TE Energy is a part of TE Connectivity, a $ 14Bil company that designs and manufactures over 500,000 products that connect and protect the flow of power and data inside products that touch every aspect of our lives. TE Energy Division is a global supplier to power utilities, power industry customers & equipment manufacturers with 4,000 employees worldwide.
Our product range includes: Cable accessories, Connectors and fittings, Insulators, Surge arresters, Power measurement and control, Switching and protection & Street lighting control systems. With 18 scientific and engineering research facilities and 25 manufacturing locations across 5 continents, we strive to bring advantage to our customers in the Electrical Networks, Industrial & construction and Infrastructure markets.
2. How does the product portfolio fit in to the Wind Industry?
Our Engineered solutions include product portfolio for the Wind Industry with applications from Blade to the Grid. Low and Medium voltage products such as Heat Shrink tubings, Flexible Bus bars, Molded parts, cable breakouts, electrical connectors & Power Measurement equipment find their application within the Nacelle. Cable Interconnects, Heat and cold shrinkable joints & Cable Risers are used extensively within the Turbine Towers for safe and reliable transmission of power. Cable Terminations, Switchgear Connects, Duct Sealing systems & Surge Arrestors are typically used at the base of the tower.
A wide range of our products and technologies are then further put to use for the Turbine Array and Grid Connections on the Medium voltage side. Further our high voltage solutions are used extensively at the Substations where this power is integrated with the national grid.
3. What advantage does TE Energy bring to the end customers in this sector?
We work close together with our customers to overcome the unique challenges in this industry which in turn result in to a wide range of products with unique combination of properties such as - Excellent resistance to surface electrical activity, Excellent resistance to thermal aging and UV light, Insulation thickness memory, Shape Memory, Moisture Blocking, Electrical Stress Control, Reduced contact resistance etc. These material expertise combined with Engineering and Application expertise at TE Energy bring unique solutions to address customer specific problems. For our customers this means Fewer Components to work with, Simplified cable Preparation, faster installations, safe for the installers and high reliability components with qualifications to international specifications such as IEC, CENELEC, IEEE & GOST. Leveraging our expertise within TE Connectivity, we are able to offer a wide range of products & solutions across Electrical, Electronics, Fiber Optics and Telecom Connectivity in this sector.
4. Where do you see most growth in the Wind Energy market?
With the Developing economies having realized the advantage of Wind Power, we see maximum growth coming from the Emerging Economies in this sector. Latin America, India, South East Europe to name a few. China and the US would continue to dominate the sector. With a projected installed capacity of 40 GW by 2020, OffShore Wind continues to be the growth engine for Europe. Short term however, with the continued pressure on cost, we see reduction in total installation time as a growth area with our products and solutions.
5. How do you ensure product and application support for the customers at remote locations?
TE Energy has been working with the global customer base for over 30 years. We have an excellent network of Sales representatives in more than 80 Countries. We ensure Literature and installation instructions in local language, provide the possibility of multilingual contract negotiations, assistance in custom clearance & certification and a single point customer contact. This coupled with the regular seminars, workshops and installation trainings we ensure that our customers at these locations have everything and more to execute their projects safely and on time.
6. Is TE Energy involved in other alternative energy sectors? Please tell us a bit about it?
TE Connectivity is also a leading manufacturer of electronic components and solutions for solar energy market. Our UL and TUV approved SOLARLOK product portfolio delivers a flexible solution for easy and reliable interconnections of solar thermal and photovoltaic applications, including crystalline modules, thin-film modules, shingle/tile, BIPV and the balance of system (BOS). You can find more about these products at our website - http://www.te.com/en/industries/solar.html
7. How do you fit into the implementation of Smart Grid projects across the country?
With our monitoring & automation products we help consumers to manage, control and optimize their energy usage all along the power line.Our Condition monitoring product range enables utilities and operators of renewable generation to monitor health of generation, transmission and distribution assets in real time and to optimally manage these assets. Further our wide range of analogue and multi-function digital meters, protectors and transducers coverall monitoring needs from process industrial applications to kWh consumption.
8. How does TE determine the energy markets and products that it will pursue over the coming years?
At TE Energy we have a deeply ingrained culture of innovation, creating new ways in Development, Engineering and Manufacturing leading to over 1000 globally filed patents. At the heart of these innovations is our continuous desire to offer an advantage to the customers through our products and services. We follow the LEANPD process defining opportunity, conceptualizing and following it through to the production phase. A comprehensive set of Systems and tools help us in aligning our resources with the business strategy and resulting markets and products being pursued over the coming years.
9. Are there any new technology or product announcements that you can hint about for the near future?
Although we are not at liberty to talk of specific programs or projects, we would be pleased to know of your specific objectives and challenges in this field and bring our innovative technologies to work for your advantage.
Profile:
Fayaz M.P. is the Market Manger - Power Generation with TE Connectivity - Energy Division. He is responsible for the development activities with the Wind Turbine OEMs and Grid Connection players in this field. He has over 15 years of experience in the Industrial and Infrastructure area with special focus on the Emerging Economies and Industries. Before joining TE Connectivity, he worked on new product development with Thermax Surface Coatings Ltd in India. Fayaz holds a Bachelor's degree in Electrical Engineering, a Master's degree in Business Administration from University of Poona and a Diploma in International Business from Symbiosis Institute of Foreign Trade - Pune.
The content & opinions in this article are the author's and do not necessarily represent the views of AltEnergyMag
---
Comments (0)
This post does not have any comments. Be the first to leave a comment below.
---
Post A Comment
You must be logged in before you can post a comment. Login now.
Featured Product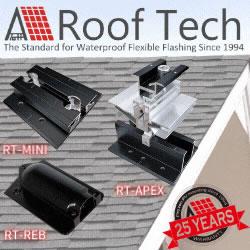 Now Roof Tech brings you the most innovative, watertight mounting systems ever developed for solar photovoltaic systems. Designed and manufactured exclusively for us by Japan's longtime leader in roofing technologies, Roof Tech products are 100% code-compliant and offer fast, simple installation and huge savings on shipping costs due to their compact, rail-less design. Learn more about our full line of versatile PV mounting solutions now available for residential installations. The next generation in rooftop solar mounting solutions."