The WBUGP provides financial support to projects ( up to a maximum of $250,000) that responsibly use woody biomass to produce energy. It also supports projects that seek to remove economic and market barriers that restrict the use of woody biomass as a source of renewable bio-energy.
Woody Biomass: An Emerging Bio-Energy
Imogen Reed
The USA is a major producer of electricity from Biomass, with over half the world's installed capacity. Therefore, it is perhaps unsurprising that interest in woody biomass is increasing.
Tom Vilsack, US Secretary of State For Agriculture recently stated, 'We are moving away from a reliance on corn, so we are now working to promote bio-refineries that will use woody biomass, municipal waste, switch grass-- a whole series of alternatives.'
The US Forest Service has pledged to 'coordinate to improve the use of woody biomass in tandem with forest management activities on public and private lands,' and, in March, applications for the '2012 Hazardous Fuels – Woody Biomass Utilization Grant Program (WBUGP)' closed.
This $3 million grant program was launched in a bid to meet the goals of both the 'Public Law Food, Conservation and Energy Act 2008', and the anticipated 'Department of the Interior, Environment and Related Agencies Appropriation Act 2012'.
Grant Synopsis
The WBUGP provides financial support to projects ( up to a maximum of $250,000) that responsibly use woody biomass to produce energy. It also supports projects that seek to remove economic and market barriers that restrict the use of woody biomass as a source of renewable bio-energy. Applications were accepted from multiple organisations. Examples included small businesses, educational institutions, non-profit organisations and state governments.
It is hoped that grant support will reduce public spend on forest restoration and increase business investment in woody biomass by increasing the value of biomass and other forest products. In particular, the grant is aimed at forest products generated from hazardous fuels reduction.
Woody Biomass as an Energy Source
Woody biomass products are the trees, woody parts, needles and limbs that constitute the by-products of forest management. As sources of woody biomass are wide ranging, they are usually relatively easy to obtain. They can be harvested and sold or used to produce bio-energy. Woody Biomass fuels generally have low contents of sulphur, nitrogen and sodium. Additionally, content of ash is often low in woody biomass, although this is strongly dependent upon the individual biomass product.
Woody Biomass bio-energy is usually created using a Biomass Boiler. These boilers work by burning logs, wood pellets or woodchips in order to generate heat energy. In recent years they have undergone significant technical advancement and are now relatively easy to maintain. They are automatic, modulating, self-lighting and self-cleaning. Most can also extract ash, which can be used or sold as fertiliser.
When correctly managed, woody biomass can be generated from fully sustainable resources and constitutes an eco-friendly alternative to energy generated from fossil fuels. It can support the environment by generating bio-energy from hazardous forest by-products and can reduce carbon footprint as emissions from wood burning can be matched against the carbon uptake that occurs during tree growth. The quantity of atmospheric pollutant released by woody biomass is comparatively low.
Utilising woody biomass locally supports the development of local industry by bringing employment to local areas, which are often rural and remote. Local production also increases a community's self-sufficiency by creating a continuous provision for sustainable energy.
Finally, material used for the production of woody biomass energy generation no longer constitutes arboricultural waste. Thus, pressure is eased on landfill sites, and costs and emissions associated with waste haulage are reduced.
Inherent risks associated with Woody Biomass Energy Production
There are multiple risks associated with the harvesting of woody biomass bio-energy products, and grant beneficiaries are required to comply with Occupational Health Safety and Health Administration Standards.
Those harvesting biomass products are vulnerable to injuries commonly associated both with logging and agriculture. Logging has been identified as the second most dangerous occupation within the United States and job specific risks include being struck by falling trees and incurring injury when operating logging machinery
Risk of injury is also high within agricultural industries. Examples include, entrapment by machinery, exposure to hazardous animals or chemicals and hearing loss. The development of respiratory disease is also common, and arises as a result of exposure to organic and inorganic dust.
Forestry Services and landowners should therefore ensure that they have comprehensive insurance in place when harvesting woody biomass products. Insurance should relate to vehicles, including insuring a 4x4, land, property and personal injury.
The content & opinions in this article are the author's and do not necessarily represent the views of AltEnergyMag
---
Comments (0)
This post does not have any comments. Be the first to leave a comment below.
---
Post A Comment
You must be logged in before you can post a comment. Login now.
Featured Product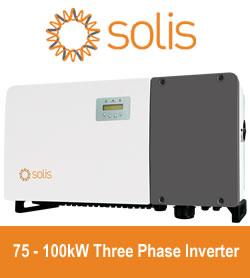 Solis75kW - 100kW series high-power string inverters are widely used in industrial and commercial rooftops. Solis's new three-phase string inverter is the first choice for industrial and commercial photovoltaics. 75-100kW three phase series string inverter have Maximum 28 strings input, support "Y" type connection in DC side. Maximum string input current 13A, support bifacial modules access.Supports anti-PID function to improve system efficiency.