Solar Developers are finding that land use considerations add a level of complexity unrelated to their experience with installations of building mounted solar PV systems. Delays may result from a lack of understanding of land use considerations and can cost the project proponent unanticipated time and money.
The Solar Gold Rush
Donald E. Bowen, Jr., PLS and Jonathan J. Markey, PE | Meridian Associates, Inc.
Massachusetts is the new hot bed of ground based solar PV projects in the Northeast. The recent SolarREC carve out from the already aggressive Renewable Portfolio Standards, along with Municipal Net Metering, has created an all out sprint to the finish line of 400MW of solar. The value of the auction floor of SolarRECs at $0.30 kWh has spurred unprecedented growth in the PV marketplace.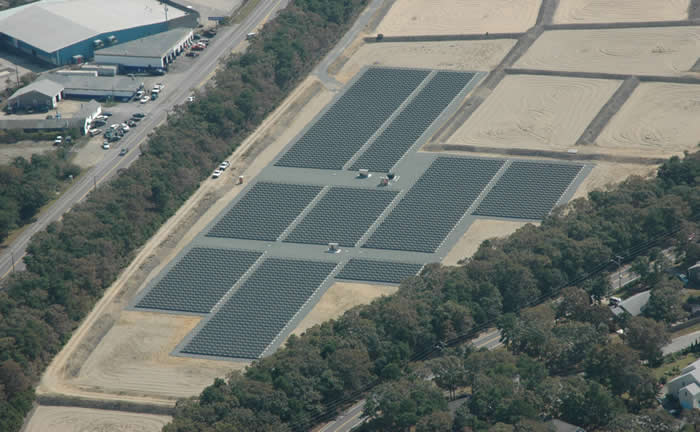 The town of Barnstable was chosen to participate in the MaSS Solar Stimulus project. This solar array system for the Barnstable Water Pollution Division incorporated two ground-based solar PV arrays, totaling 830 kilowatts.
Photo provided courtesy of Nexamp, Inc. and PanelClaw, Inc.
Solar Developers throughout the US and some foreign countries are getting in on the action for the new wave of Renewable Energy – Commercial Scale Ground Based Solar. Almost every municipality in the Commonwealth appears interested in ground mounted solar PV, and many are entertaining the option of Power Purchase Agreements (PPA) to limit risk while avoiding capital investments. Development of large scale renewable energy projects, including solar PV, is assisting municipalities by reducing their annual energy expenses and serving as a hedge against continued volatility in the energy sector.
Before a PPA can be finalized or construction may begin, regulatory permits must be secured and the design finalized. The importance of these steps are often underestimated or in some cases, completely overlooked. Regional Planning commissions are receiving inquiries from member communities and have started analyzing the benefits and optimization of an aggregated approach.
Similar studies have been performed by Meridian Associates, Inc. for regional planners such as Merrimack Valley Planning Commission and the Metropolitan Area Planning Council on a regional basis to maximum potential for ground-mount solar photovoltaics and wind power. "As civil engineers, we deal with land use and permitting daily, it is necessary and appropriate to perform due diligence to identify potential fatal flaws for any given use, including solar" according to Meridian Associates Principal Richard Waitt, Jr., PE.
Solar Developers are finding that land use considerations add a level of complexity unrelated to their experience with installations of building mounted solar PV systems. Delays may result from a lack of understanding of land use considerations and can cost the project proponent unanticipated time and money.
Permitting a commercial scale system requires the expertise of land use professionals. Land use restrictions require research and experience to determine potential impacts on the development and grid connection of a solar array. Such restrictions include easements, deed restrictions, hidden subsurface utilities, stormwater surface runoff and flood plains, use restrictions, grid interconnection/access, title ownership, zoning restrictions and other regulatory controls.
Title and ownership issues must be vetted prior to design to ensure that there is clear title to the land, and that the parcel is not subject to easements or other encumbrances that may interfere with construction or long term operation. Rick Waitt states that "Potential land use restrictions should be evaluated to insure compliance with regulating limitations and to avoid conflicts with ownership or deed restrictions."
Environmental regulations require protection of natural resources such as wetlands and endangered species habitats, which may preclude any development on the site. Flood Zones, drainage design, access to the site including roadways and utility infrastructure, require design calculations to ensure that the removal of vegetation and the introduction of impervious surfaces will not create a burden to abutting or downstream properties. Securing regulatory permits may be as challenging as other commercial land developments.
Many ground based projects in the Commonwealth have never reached the construction phase because of inadequate due-diligence, design or the permitting process. Maintenance, insurance and risk must be factored into the project pro-forma prior to submission to ensure a PPA that will work for both parties.
Donald Bowen, Jr., PLS is one of the founding Principals at Meridian Associates, Inc., established in 1990. He has conducted numerous boundary investigations, title insurance surveys, Land Court surveys, site detail/topographic surveys, and overseen large scale mappings utilizing aerial LiDAR technology and photogrammetry. Mr. Bowen has also represented clients at local, state and federal levels in many aspects of the regulatory permitting processes. His experience encompasses innovative management techniques, expert witness testimony, site evaluation and strategic planning. Mr. Bowen has applied land use rights expertise toward the development of renewable energy.
Jonathan Markey, PE is a Senior Project Manager at Meridian Associates, Inc. and is responsible for managing Feasibility and Design Consultation services for renewable energy projects. Mr. Markey has provided technical support for the development of approximately 7MW of installed wind power in Massachusetts, and has completed or nearing the completion of an estimated 37MW of future capacity in Solar Photovoltaic renewable energy.
Meridian Associates will provide value through consensus building, teamwork, innovative designs, and client satisfaction.
Project diversification and regional coverage will stabilize work flow and promote greater flexibility. Expanding technologies will be used to maximize efficiency and outpace the competition. Our goal is to be the most respected and admired civil engineering and land surveying firm in Massachusetts. Meridian is a mature business that has established credibility and continues to evaluate new options geographically.
The content & opinions in this article are the author's and do not necessarily represent the views of AltEnergyMag
---
Comments (0)
This post does not have any comments. Be the first to leave a comment below.
---
Post A Comment
You must be logged in before you can post a comment. Login now.
Featured Product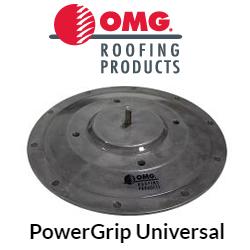 Eliminate Solar Rack Ballast and Reduce Rooftop Material Handling. PowerGrip™ Universal (PGU) is a commercial roof mount system designed to secure solar racks and other equipment to any type of commercial roofing system. PGU provides a secure connection directly to the roof deck or structural members and is designed to reduce or eliminate ballast in solar racking systems, so there's less weight on the roof and less material handling. Made of heavy-duty cast aluminum, PGU units include a base ring which is secured through the roofing cover and into the structural roof deck, and a waterproof top plate.