Standards-based solutions were instrumental in the exponential growth of the Internet. For the Smart City, public electrical infrastructure ecosystem to expand, development, application and worker training of interoperability standards is an important strategic foundation from which to grow. This convergence of intelligent transportation systems with the Smart Grid, is allowing the Smart City concept to gain hold in many areas of the US and around the world.

Contributed by | Gridaptive
Smart Cities, Intelligent Transportation and The Smart Grid
Smart Cities is a vendor / city term commonly used to refer to the creation of knowledge infrastructure. Smart City, in everyday use, is inclusive of terms such as 'digital city' or 'connected cities'. Smart Cities as an applied technology term often refers to smart grids, smart meters, and other infrastructure for distribution and metering of power and water supply as well as the waste management system.
As Hans Schaffers, Nicos Komninos, Marc Pallot, Brigitte Trousse, Michael Nilsson, and Alvaro Oliveira write in "Smart Cities and the Future Internet: Towards Cooperation Frameworks for Open Innovation":
In the early 1990s the phrase "smart city" was coined to signify how urban development was turning towards technology, innovation and globalization The World Foundation for Smart Communities advocated the use of information technology to meet the challenges of cities within a global knowledge economy. However, the more recent interest in smart cities can be attributed to the strong concern for sustainability, and to the rise of new Internet technologies, such as mobile devices (e.g. smart phones), the semantic web, cloud computing, and the Internet of Things (IoT) promoting real world user interfaces.
The concept of smart cities seen from the perspective of technologies and components has some specific properties within the wider cyber, digital, smart, intelligent cities literatures. It focuses on the latest advancements in mobile and pervasive computing, wireless networks, middleware and agent technologies as they become embedded into the physical spaces of cities. The emphasis on smart embedded devices represents a distinctive characteristic of smart cities compared to intelligent cities, which create territorial innovation systems combining knowledge-intensive activities, institutions for cooperation and learning, and web-based applications of collective intelligence."
The existing base of decades-old technology, the dramatically falling cost of control and communications infrastructure, and national standards initiatives are driving the public electrical infrastructure of the United States to a "Smart City" industry inflection point, allowing open protocol, "plug and play" components and systems. Today, increased safety, reliability and saving resources of money, labor and energy is occurring through harnessing of microprocessor and communications technologies compliant with Federal standards.
Microprocessor-driven, interoperable communications networks are not new. Open protocols and interoperability standards were a prerequisite for mass acceptance and growth of many networked systems, including the original plain old telephone system (POTS), cellular communications networks, and the Internet. A similar evolution of technology is now creating a revolution, driving a convergence of the public electrical infrastructure marketplace and the electrical distribution network. This market is poised for explosive growth due to the coupling of these technologies with standards efforts by the United States Department of Transportation (DOT) and Department of Energy (DOE). The US DOT contributes to this effort through their National Transportation Communications for Intelligent Transport Systems Protocol (NTCIP) standards effort, particularly in the area of Electrical and Lighting Management Systems (ELMS), while the US DOE is driving electrical distribution standards through the National Institute of Standards and Technology's (NIST) Smart Grid Interoperability Program (SGIP).
Multiple factors are driving governmental entities to find solutions that reduce their roadway lighting and electrical infrastructure costs while improving lighting efficiency and safety. Cities, counties and states now have a compelling case for implementation of solutions to measure, analyze and reduce electricity use in order to reduce energy spending, decrease maintenance costs, challenge their electricity providers, create safer roads for both drivers and pedestrians, and contribute to the reduction of CO2 emissions.
Controlled and monitored roadway electrical and lighting systems are the next wave in the public electrical infrastructure market.
A number of drivers are causing cities, counties and states to better control their electrical and lighting networks:
The environmental and energy situation of the planet
The rapidly increasing price of electricity
The need for more security and safety
The need to efficiently manage budgets
The need for smart grid integration
The need to support electric vehicles
The need for adaptive roadway lighting and traffic signal control
One area of great impact of technology application is the roadway lighting system resident on public roads . The 4,424,361 streetlights in our nation's ten largest metropolitan statistical areas use an estimated 2,988,500,000 kilowatt‐hours (kWh) per year of electricity annually producing the equivalent of 2.3 million metric tons of CO2. A 50 percent reduction in kWh used would result in savings of 1,494,250,000 kWh and 1,161,716 metric tons of CO2. The nation's streets and highways are a major source of greenhouse gases from vehicles and from the lighting and related electrical infrastructure. The lamps that light the way for those vehicles consume 52.8 terawatt‐hours per year. By switching to more efficient controllable lighting for these roads, the ten largest metropolitan areas could reduce annual carbon dioxide emissions by 1.2 million metric tons — the equivalent of taking 212,000 vehicles off the road — and save $90 million a year.
The Clinton Climate Initiative (CCI) states that the application of controls can save an additional 29 percent of energy per year. As CCI states, "In a pilot project with remotely controlled LED roadway lights in Los Angeles, California, it is estimated that CO2 emissions will be reduced by 40,500 tons and $10 million will be saved annually, through reduced maintenance costs and 40 percent energy savings."
The marketing research firm BCC Research projects the total global market for ITS devices to increase from $17.4 billion in 2009 to nearly $24 billion in 2010 and $65.4 billion in 2015, a compound annual growth rate of 22.2 percent over the 5-year period. An important portion of this total is the management of electrical power usage and the electrical infrastructure. Similarly, the research firm ZPryme stated that: "The US market for Smart Grid solutions will grow from $25.7 billion in 2010 to $42.8 billion in 2014."
Standards Development Organizations (SDOs) are developing many standards and training components that are involved in the convergence of intelligent transportation systems and the Smart Grid. They include:
ITS JPO, (ITE, AASHTO & NEMA)
IES Roadway Lighting Energy Management Committee
IEEE P2030.1 Working Group
IMSA ‐ International Municipal Signal Association
US DOE Municipal Solid State Lighting Consortium
US DOT FHWA Adaptive Lighting Initiatives
US DOT FHWA Adaptive Traffic Signal Initiatives
US DOE NIST Smart Grid Interoperability Panel
These varied initiatives being developed by the entities above as well as many others complement one another to form the foundation of Smart City standards, as described in the figure that follows:
The hierarchical pyramid of ITS and Smart Grid standards impacting the public electrical infrastructure
We will be examining each of these initiatives and their interdependence in the following chapters.
The US Department of Energy Municipal Solid State Lighting Consortium Controls Specification
The Department of Energy's Municipal Solid State Lighting Consortium (MSSLC) is poised to release a draft guide for controls of municipal lighting and other electrical loads for street and roadway applications.
Background as described by the MSSLC:
The MSSLC shares technical information and experiences related to LED street and area lighting demonstrations. The Consortium also serves as an objective resource for evaluating new products on the market intended for street and area lighting applications.
Cities, power providers, and others who invest in street and area lighting are invited to join the Consortium and share their experiences. The goal is to build a repository of valuable field experience and data that will significantly accelerate the learning curve for buying and implementing high quality, energy-efficient LED street and area lighting.
The DOE MSSLC has published version 1.0 of their new Model Specification for LED Roadway Luminaires. This document was developed by Consortium members with input from a manufacturer's working group. The Model Specification provides guidance to utilities, municipalities, energy service contracting organizations (ESCOs) and other local agencies regarding specifications for LED roadway luminaires. It can be used as a "check list" of specifications to consider giving users guidance when considering their design criteria. Users modify the specifications and values to fit their LED roadway lighting needs; hidden notes are included to provide further guidance.
The DOE MSSLC task force is developing a model specification that municipalities and communities can utilize in specifying control systems. The document will be very similar in concept to the Model Luminaires Specification that the MSSLC released in draft form earlier this year and that is due for final release imminently. The controls specification, including a discussion of applicable standards will be released in beta form later this year for review. A final version is due next year.
On/off, dimming, and scheduled-based control are widely desired by consortium members. The members also want diagnostic capabilities, energy measurement for billing purposes, and automation of the work-order process for repairs. The membership is universal in wanting to own and control the data in-house as opposed to solutions where data is hosted off site by a third party provider.
Michael Poplawski, Senior Lighting Engineer at the US DOE Pacific Northwest National Laboratory and a MSSLC task force member, discussed the lack of network standards that can be used in a wireless network. He notes that Zigbee is a possibility but that Zigbee technology does not include the definition of a complete protocol stack or an application layer specific to the lighting application. Poplawski also noted that work needs to be done to ensure that different luminaires operate similarly when dimmed. He added that operation could be normalized with standardization.
Members of the MSSLC have discussed a three tier model, comprised of the MSSLC controls specification, the Illuminating Engineering Society Roadway Lighting Controls Guide, and the US DOT ITS Electrical and Lighting Management Systems standard. In this hierarchical model, the MSSLC controls specification serves as a requisitioning template for cities, states and counties, the IES Guide for Selection and Application of Roadway Lighting Controls is utilized by lighting designers responding to projects generated by the MSSLC specification, while the ITS ELMS standard defines communications and functionality standards in order to guarantee interoperability, address vendor obsolescence and achieve the full suite of benefits attained by support of ITS and Smart Grid standards.
For more information:
The ITS Professional Capacity Building Program
As expressed by the ITS PCB:
The ITS Professional Capacity Building (PCB) Program provides comprehensive, accessible, and flexible ITS learning for the transportation industry. By using the program, public agencies can build and sustain a capable and technically proficient ITS workforce, and transportation professionals can develop their knowledge, skills, and abilities while furthering their career paths.
The ITS PCB Program offers free training on ITS standards in the areas of evaluation, procurement, and implementation, including for electrical and lighting systems. The 18-module series is aimed at practitioners in state and local highway agencies and transit agencies who seek the skills needed to procure, implement, and operate ITS standards-based devices and equipment. Consultants, system designers and integrators, and system testers will also find the training informative and are welcome to view the modules. Modules are free and can be viewed anytime on the ITS PCB website.
Current training courses include the following modules
In mid 2012, the ITS PCB program will release a second group of ITS training programs including those that support ITS NTCIP sub-systems including electrical lighting and management systems
To download these courses, visit:
The IES Roadway Lighting Committee Educational Initiatives
As stated by The Illuminating Engineering Society (IES),
The IES seeks to improve the lighted environment by bringing together those with lighting knowledge and by translating that knowledge into actions that benefit the public. The IES builds upon a century of excellence to create the premier lighting community dedicated to promoting the art and science of quality lighting to its members, allied professional organizations, and the public.
The IES Roadway Lighting Committee establishes the scientific principles underlying roadway lighting; collects data on the results of the application of such principles to actual practice; and prepares reports, including design guides and recommended practice documents to assist those charged with safety on roadways in minimizing the hazards of night operating conditions.
The IES Roadway Lighting Committee Educational Sub-committee develops training and educational materials to support design guides and recommended practice documents. In the next year, a number of training resources are expected to be released including those that support the IES Design Guide 28, "The Design Guide for Selection and Application of Roadway Lighting Control Systems."
For more information on the IES please visit;
The IMSA Roadway Lighting Technician Courses
As described by The International Municipal Signal Association (IMSA):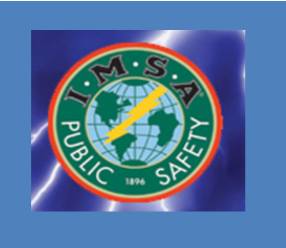 IMSA offers educational and certification programs in traffic signals, signs and markings, work zone traffic control, municipal and interior fire alarm systems, public safety dispatcher and flagging.
To assist the governmental agencies in lowering the likelihood of unnecessary legal actions and to increase the quality of public safety personnel, it is the deep conviction of IMSA that a certification program is warranted in each area of public safety operations.

The IMSA Certification Programs are primarily concerned with the evaluation of expertise. However, IMSA realizes that not all agencies have access to standardized training materials and therefore make available Certification Review Programs for its level examinations.
These Review Programs are not intended to teach an individual all that he/she needs to know in order to pass a particular examination. They are intended to present the fundamentals of particular areas and overview of subjects that participants should already be familiar with based on national standards and regulations.US Federal Highway Adaptive Lighting Policies.
IMSA's new roadway lighting technician courses have been under development since 2010. They contain significant NTCIP 1213 content regarding maintenance of electrical loads on the street and highway systems of the US, including electrical leakage and stray voltage conditions. They are expected to be released later this year.
The Roadway Lighting 1 Certification course is designed to aid individuals in the understanding fundamental aspects of Roadway Lighting. Review material addresses electrical safety and codes, basic electricity and laws, and basic construction and maintenance.
The principal objectives of the course are to:
Develop a good working knowledge of electrical safety and safe equipment operation
Develop a good working knowledge of electrical laws and electric codes
Introduce basic maintenance and construction concepts for roadway lighting components
Provide an introduction to roadway lighting and the necessary basis to help the participant's readiness for the examination which follows
At the conclusion of each of the seminar sections, the participant will be exposed to questions representative of the type contained in the certification examination.
The Roadway Lighting Level 2 Certification course is designed to continue the knowledge and understanding of the fundamental aspects of Roadway Lighting.
The following topics and their significance to day-to-day field work are covered:
Safety and Qualifications
Lamp and Luminaire Components
Electrical Service, Poles and Highmast Components
Basic Lighting Design Fundamentals
Lighting Applications
Maintenance of Systems
Reference Documents
Testing, Investigation and Troubleshooting
At the conclusion of each of the seminar sections, the participant will be exposed to questions representative of the type contained in the certification examination.
For more information, please visit:
The US FHWA Adaptive Lighting Design Guidelines

The United States Federal Highway Administration (FHWA), is an agency within the US DOT that supports state and local governments in order to improve mobility on our Nation's highways through national leadership, innovation, and program delivery
The FHWA is currently surveying ambient light levels on thousands of miles of public roadways as a basis for setting adaptive lighting level standards in the future. In a parallel initiative, FHWA is examining adaptive traffic signal technologies. Both of these efforts include support of vehicle to grid (V2G) communications applications.
Dynamic adaptive roadway lighting levels will be achieved through application of the IES Guide for Selection of Roadway Lighting Controls, using the protocols and methodologies described in the US DOT ITS NTCIP 1213 standard for Electrical and Lighting Management Systems (ELMS).
For more information, please visit:
The IES Design Guide for Roadway Lighting Controls
The Illuminating Engineering Society's Roadway Lighting Committee is developing Design Guide 28 - The Guide for Selection and Application of Roadway Lighting Controls. This draft document contains significant NTCIP 1213 content regarding control and monitoring of electrical loads on the street and highway systems of the US, including electrical leakage and stray voltage conditions.
Content includes:
Design Goals and Best Practices
Components

Networked and standalone unitary (non-networked)

Controls Technologies

Benefits of Open and Proprietary Protocols

Features

Dimming,
Ground faults and electrical leakage
Mapping capabilities,
Scheduling capabilities
Logging capabilities
V2G,
ESI
Alarming and exception reporting
Work order management
Asset tracking

Implementation
Operations and Maintenance
Project Viability and Economics

Breakeven, payback and related design considerations

State and Federal Issues

Existing DOT Intelligent Transportation & DOE / NIST Smart Grid Standards
For more information, please visit:

The US DOT Intelligent Transportation Systems Standards
Implementation of adaptive roadway lighting and related traffic signal control requires integration between mobile infrastructure (vehicles, pedestrians and smart phones) and fixed infrastructure. This section examines the basics of ITS standards, developments in Vehicle to Grid (V2G) also known as Vehicle to Infrastructure(V2I) communication as well as the continuing evolution of the ITS standard for Electrical and Lighting Management Systems - NTCIP 1213.
The National ITS Architecture and the Role of ITS Standards
As stated by the US DOT,
The National ITS Architecture Program is a critical, cross-cutting effort that enables coordinated national adoption of ITS technologies. The National ITS Architecture is a framework around which different ITS implementations can be built. In particular, the National ITS Architecture defines the components and connections that comprise ITS without unduly restricting the specific technologies used to implement them. Transportation agencies and other stakeholders can then use the National ITS Architecture as a guide while tailoring the implementation to their specific needs. The National ITS Architecture defines the following:
Functions (e.g., gathering traffic information or requesting a route) that must be performed to implement a given ITS application.
Physical entities or subsystems where these functions reside (e.g., the roadside or the vehicle).
Interfaces and information flows between the physical subsystems and the communication requirements for those information flows (e.g., wireline or wireless).
The figure below illustrates the subsystems and interfaces in the National ITS Architecture.
Figure courtesy ITS JPO
There are 22 subsystems ranging from different types of vehicles to different transit management centers. The black lines represent possible data connections between subsystems. The pink ovals represent the four different types of communication methods (wireless, wireline, broadcast, or point-to-point) that may be used to make those connections. More detailed descriptions of ITS applications and functions are available at the ITS Program's website.
The ITS Electrical and Lighting Systems Standard - NTCIP 1213
The ITS Electrical and Lighting Systems Standard formally known as "The National Transportation Communications for ITS Protocol Object Definitions for Electrical and Lighting Management Systems (ELMS) Standard NTCIP 1213: A Joint Standard of AASHTO, ITE, and NEMA version 2.20"
The NTCIP standards effort, including NTCIP 1213, is supported by the ITS Joint Program Office comprised of the American Association of State and Highway Transportation Officials (AASHTO), the Institute of Transportation Engineers (ITE) and the National Electrical Manufacturer's Association (NEMA). Each NTCIP standard is approved by a vote of the full memberships of AASHTO, ITE and NEMA.
NTCIP 1213 v02 defines the generic reference model and conformance requirements for Traffic Management Centers (TMCs) that wish to provide interfaces to external centers. NTCIP 1213 v02 defines requirements that are applicable to all NTCIP TMCs, and contains optional and conditional sections that are applicable to specific environments for which they are intended.
NTCIP 1213 v02 defines the ELMS data element objects that are supported by the NTCIP. An ELMS is defined as any system capable of monitoring, controlling and communicating certain electrical and lighting system parameters using NTCIP. The effort to develop an NTCIP ELMS standard began with the International Technology Exchange Program's European Road Lighting Technologies scan tour in April of 2001 (Report FHWA-PL-01-034 dated September 2001). This technology and implementation plan was further developed by the AASHTO Task Force for Highway Lighting and is being implemented as the Master Lighting Plan in the AASHTO publication entitled Roadway Lighting Design Guide. The Task Force's original desire was to define the features, functionality, and point of interoperability for ELMS equipment.
Background
In September 1996, an agreement was executed among AASHTO, ITE, and NEMA to jointly develop, approve, and maintain the NTCIP standards. In 2002, the Joint Committee on the NTCIP accepted the invitation from Karl Burkett (Texas DOT) to transfer the initial work of an ad-hoc committee of the Illuminating Engineering Society of North America (IESNA), and formed the NTCIP ELMS Working Group to further develop the control objects based on NTCIP. Communication between an ITS Management Center or portable computer and an ELMS is accomplished by using the NTCIP Application Layer services to convey requests to access or modify values of ELMS data elements resident in the device via an NTCIP network.
In 2002, the Joint Committee on the NTCIP approved forming the Electrical and Lighting Management Systems Working Group, to continue developing an ELMS standard from a sub‐committee of the IES. The draft was converted from XML to ASN. Object Macro format to form the basis of NTCIP 1213.
ELMS equipment is a telemetry‐based remote monitoring and control system for highway lighting. ELMS can be a tool for lowering costs, improving maintenance management, implementing lighting curfews and increasing safety.
Although different providers of ELMS equipment have their own sets of features and interfaces, the NTCIP 1213 standard creates a common set of features and functionality, and defines the points of interoperability.
Version 2.0 ‐‐ The version 1.0 was incremented to 2.0 when the draft included systems engineering content. In 2004, the Joint Committee accepted NTCIP 1213 as a User Comment Draft. In 2005, the NTCIP Joint Committee accepted 1213 v02.19 as a Recommended Standard. In 2006, Standards Bulletin B0111 sent 1213 v02.19d to the SDOs for ballot and approval.
Approvals ‐‐ In September 2008, NTCIP 1213 was Jointly Approved. AASHTO approved in September 2008; ITE approved in March 2008; NEMA approved in June 2007. Publication was held pending the approval of normative references included in 1213, and correction of MIB syntax. In 2010, the ELMS working group agreed to additional object revisions for Astronomical Clock values, and included a separate annex
In March 2011, NTCIP 1213 v02.20 was published.
A description of the standard:
What is this standard for?
This standard, NTCIP 1213 ‐ Object Definitions for Electrical and Lighting Management Systems (ELMS), provides the vocabulary (commands, responses and information) necessary for traffic management center's central computer to control, manage, and monitor electrical and lighting management systems. This standard includes a concept of operations that includes a set of user needs and a description of ELMS configurations. It also includes a set of requirements for ELMS depending on the user needs selected for implementation, and a matching set of dialogs that describe data exchanges meeting those requirements. Additionally, this standard contains the object definitions used within those data exchanges, and a requirements traceability matrix showing traceability throughout the standard.
Who uses it?
This ELMS standard should be used by transportation and traffic engineers and managers involved with the design, specification, selection, procurement and installation, operation, and maintenance of electrical and lighting management systems. ITS product hardware and software designers and application (computer program) developers should find this standard especially relevant to their efforts.
How is it used?
This ELMS standard defines a concept of operations for how ELMS will be implemented, tying user needs to requirements for potential configurations, and establishing a language of messages implemented using a vocabulary of "objects", all to assure that the transportation management center computer‐based devices, and ELMS devices "speak" a common language. A message must be understood by the device it was intended for, and equally important, it must not be misunderstood or misinterpreted by another device on the same network. Object definitions unambiguously define the content, terminology, units and format of commands, responses and information affecting communications with electrical and lighting management systems.
This standard must be used with one of the NTCIP communications profiles (see related NTCIP documents), which provide the communications channel for information transfer between devices. It must be used with the NTCIP Global Object Definitions (NTCIP 1201), which provides the glossary of common object definitions used by multiple NTCIP devices.
Scope
Implementation of centrally controlled electrical and lighting management systems are accomplished by using the objects and management structure defined in the ELMS NTCIP 1213 standard. Communications between ELMS field devices and transportation management centers' central computer are accomplished using the messaging structure and objects defined in this standard. These objects define the information, commands and responses that must be understood by the devices at both ends of the communications channel. This standard was developed using an established systems engineering process and includes the concept of operations, functional requirements, interface specifications and a requirements traceability matrix.
What's Next?
Version 3.0 -- A number of major enhancements are currently under development, including:
Support for Vehicle to Grid (V2G) communications used for adaptive roadway lighting and adaptive traffic signalization. Dedicated short-range communication (DSRC) technology is expected to eventually revolutionize the driving experience through broader deployment of vehicle-to-infrastructure (V2I) communication.
Support for Electric Vehicle Service Equipment (EVSE) including wind and photovoltaic power. This technology is expected to contribute to the electrification of driving with vehicle-to-grid applications (V2G) for power management and charging. V2G systems allow electric vehicles to communicate with the power grids and sell the excess vehicle energy or provide regulation services when they are parked. Developed in conjunction with the Society of Automotive Engineers (SAE).
A Smart Grid compliant Energy Services Interface (ESI) a special class of device. It is network-centric and can also be thought of as a gateway. It provides security, and often, coordination functions that enable secure interactions between relevant local area network devices and the electric utility. It permits applications such as remote load control, monitoring and control of distributed generation, local display of customer usage, reading of non-energy meters, and integration with facility management systems. It also provides auditing/logging functions that record transactions to and from local area networking devices.
Adaptive Lighting Driven by V2G and ELMS Technology
Adaptive roadway lighting requires real-time information from both mobile and fixed infrastructure. For this application to achieve ubiquity, ELMS technology as described in the preceding section must be coupled with V2G technology. The US DOT describes V2G (alternately known as V2I) as follows:
Over the next four years, the ITS-JPO and its partners will pursue an expansive research program intended to bring transformative change to transportation through the application of advanced wireless technologies. The vision: a national, multi-modal surface transportation system that features a connected transportation environment around vehicles of all types, the infrastructure, and devices to serve the public good by leveraging technology to maximize safety, mobility, and environmental performance.
Achieving this vision of a national fully connected and interoperable system demands a robust set of stable standards. As a critical component of this research effort, the USDOT's ITS Standards Program will collaboratively develop the required suite of mature, complete, and correct standards and, when in the public interest, internationally harmonize the standards. In addition, the program will support the maintenance of these standards either directly or indirectly. Finally, the Program supports training of the stakeholder community and ITS workforce in deploying standards-conformant ITS devices.
A significant amount of this work has already been completed.
Since 1991, the program and its partners have developed approximately 100 standards and supporting white papers. In addition, the USDOT's ITS Standards Program has developed a tailored systems engineering process for ITS standards developers, methodologies for ITS standards deployers to verify conformance and support interoperability, and procurement guides and procedures to assist in wide-scale deployment of particular ITS standards. Finally, there are training and technical assistance programs to support ITS professionals and FHWA field personnel in the use of ITS standards, but much work remains.
Through 2014, the USDOT's ITS Standards Program will build on the achievements of the program to date to support the deployment of a fully interoperable, connected transportation environment and will deliver a robust set of V2x cooperative system and ITS infrastructure standards in alignment with the needs of the ITS Program's research agenda.
As a result of ITS program activities, significant ITS infrastructure capabilities have been defined and deployed. V2I deployment activities must ensure effective interaction with these capabilities.
The USDOT's ITS Standards Program will evaluate the current ITS infrastructure to identify interface requirements with the ITS Program. Where appropriate, the program will launch new standards development efforts to support these interfaces.
In 2010, the ITS-JPO's System Engineering team launched the development of a core system concept of operations (ConOps). The ConOps identifies user needs and allows for a logical development of a system architecture which will form the revisions and expansion of the National ITS Architecture.
Future standards will be identified in at least two ways: by identifying new core system interfaces; and by evaluating the technical research roadmaps that guide development of V2V and V2I capabilities, and which may reveal the need for a new standard or modification of an existing one.
The technical research roadmaps include:
Safety Applications. Intended to accelerate deployment of cooperative safety systems that make use of the ability of V2V and V2I to connect vehicles to other vehicles as well as to infrastructure. There are two technical program roadmaps:
Vehicle-to-Vehicle (V2V) safety applications. Focused on safety applications that make particular use of vehicle-to-vehicle data and interactions.
Vehicle-to-Infrastructure (V2I) safety applications. Focused on safety applications that rely on communication with the infrastructure to enhance both standalone vehicle safety as well as the safety of vehicle-to-vehicle interactions. This initiative includes adaptive control applications for roadway lighting and traffic signals.
A figure describing the communications modes, standards and representative applications is below:
Figure © ITS JPO
The following is a table of ITS V2x Cooperative System Standards
| | | |
| --- | --- | --- |
| Standard | Description | Current Status |
| IEEE 802.11p™ | This amendment specifies the extensions to IEEE Standard 802.11 for wireless local area networks (WLANs) providing wireless communications while in a vehicular environment. | Finalized and published. |
| IEEE P1609.0 | Draft Standard for Wireless Access in Vehicular Environments (WAVE)—Architecture. This standard describes the WAVE architecture and services necessary for multi-channel DSRC/WAVE devices to communicate in a mobile vehicular environment. | Draft Standard. |
| IEEE P1609.1 | Draft Standard for Wireless Access in Vehicular Environments (WAVE)—Remote Management Services. WAVE Remote Management Services provides interoperable services to manage WAVE devices that support being managed over the air. | Draft Standard. Version 2 is under development. |
| IEEE P1609.2 | Draft Standard for Wireless Access in Vehicular Environments (WAVE)—Security Services for Applications and Management Messages. This draft standard defines secure message formats and processing. This standard also defines the circumstances for using secure message exchanges and how those messages should be processed based upon the purpose of the exchange. | Draft Standard. Version 2 is under development. |
| IEEE P1609.3 | IEEE Standard for Wireless Access in Vehicular Environments (WAVE)—Networking Services. This published standard defines network and transport layer services, including addressing and routing, in support of secure WAVE data exchange. It also defines WAVE Short Messages, providing an efficient WAVE-specific alternative to IPv6 (Internet Protocol version 6) that can be directly supported by applications. Further, this standard defines the Management Information Base (MIB) for the WAVE protocol stack. | Finalized and published. |
| IEEE P1609.4 | IEEE Standard for Wireless Access in Vehicular Environments (WAVE)—Multi-Channel Operations. This published standard provides enhancements to the IEEE 802.11 Media Access Control (MAC) to support WAVE operations. | Finalized and published. |
| IEEE P1609.11 | IEEE Standard for Wireless Access in Vehicular Environments (WAVE)—Over-the-Air Electronic Payment Data Exchange Protocol for Intelligent Transportation Systems. This published standard defines the services and secure message formats necessary to support secure electronic payments. | Finalized and published. |
| IEEE P1609.12™/D0.2 | Draft Standard for Wireless Access in Vehicular Environments (WAVE)—Provider Service Identifier (PSID) Allocations. This draft standard records PSID allocation decisions and is limited to the specification of allocations of PSID values defined in the IEEE 1609 series of standards. | Draft Standard, first version. |
| SAE J2735, Version 2 | Defines the data dictionary and message sets to be used for communicating information in a connected vehicle environment. | Revision planned to apply SEP |
while the primary focus of the USDOT's ITS Standards program is shifting to vehicular connectivity within the context of the current ITS research agenda, the program will not neglect work begun in the past and still underway. This section describes the activities for both categories of standards—ITS V2x cooperative system standards and ITS infrastructure standards. It also outlines the transition of support for the future enhancements of these standards—should it be required—to the appropriate offices within the USDOT, to external Standards Development Organizations (SDOs), or to other partners.
For details on the ITS standards including ELMS, V2G and their convergence, please visit:

Gridaptive Technologies (GT) is a consulting organization to the Intelligent Transportation Systems and Smart Grid technology market sectors. Services include market analysis and strategies, sales channel training, and project management. Products include standards-based, open-protocol components and integrated systems that allow "plug and play" integration into the rapidly developing, interoperable transportation and power systems of the US, while ensuring compliance with Federal US Department of Transportation ITS and Department of Energy Smart Grid standards.
For more information, please contact:
Jim Frazer
jfrazer@gridaptive.com
954 309 9514
The content & opinions in this article are the author's and do not necessarily represent the views of AltEnergyMag
---
Comments (0)
This post does not have any comments. Be the first to leave a comment below.
---
Post A Comment
You must be logged in before you can post a comment. Login now.
Featured Product
Morningstar's TriStar MPPT 600V charge controller leverages Morningstar's innovative TrakStar™ MPPT technology and our more than twenty-five years of power electronics engineering excellence, to enable the widest input operating voltage range available from a solar array, wind turbine or hydro input. This controller's standard and DB versions are for off-grid applications, and the TR versions were developed to enable retrofitting grid-tied systems with battery backup.