Several new mounting systems have been developed that utilize polymers to enable cost reductions. Polymers are also roof friendly and non-corrosive, making this material a more attractive alternative to metal on flat roofs.
Recent Cost Reductions Driven By Racking Innovation
Dylan Drugan for | Ecolibrium Solar
Cost reduction is of utmost importance to the solar industry. That is no mystery. Solar will become more mainstream as it becomes more affordable. Integrators and developers are looking for ways to maintain margins while staying competitive. Being current with new technologies is an important part of this strategy.
While module price reductions are slowing after a 40 percent year-over-year decline in 2011[1] and a 76 percent overall drop since 1998[2], focus is turning to BOS to deliver additional cost reductions. Mounting systems has received much of this attention since racking impacts direct material and labor cost, and overhead costs with respect to design, ordering, warehousing, and shipping. Also note that commercial installations are proving to be the most economical application of PV, as evidence in a 127 percent growth rate in 2011[3]. Therefore, innovation in flat roof mounting systems is a key component of cost reduction.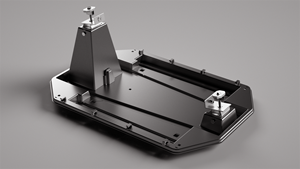 Several new mounting systems have been developed that utilize polymers to enable cost reductions. Polymers are also roof friendly and non-corrosive, making this material a more attractive alternative to metal on flat roofs.
One company which has benefited from polymer based racking hardware is Munro Distributing. Munro has been in business for six decades with offices across the US, including California and New Jersey. Within the last two years, Munro has been utilizing a polymer based racking product, named Ecofoot, which is manufactured by Ohio based Ecolibrium Solar.
According to Glenn Maltais, VP of Renewables with Munro, Ecolibrium's Ecofoot and Ecofoot 2 are simple and cost effective products. "Both designs incorporate key features we covet, quality materials, roof friendly design, stackable, and a strong price point. Ecolibrium's products help distinguish our offering while providing healthy margins to our customers."
Polymer based mounting systems are gaining market share, enabling projects to pencil out while protecting integrator margins. The cost advantages can be significant, and may be the next step towards grid parity.
About Ecolibrium
Ecolibrium Solar is committed to revolutionizing the solar power market. We design simple, cost effective and ecologically sound products that maximize efficiency and minimize costs – making it easier to implement clean energy technology. After more than year of extensive research and development, what began with a clean sheet of paper evolved into a reinvention of the mounting system. Our research team combines the expertise from the automotive, polymer, construction, and solar industries to create a next-generation family of products that are making solar energy more user-friendly and accessible. Reducing the duration and complexity of solar projects in turn promotes economic advantages and ROI. The skillful design of our products is a progressive step towards reaching our overall goal of grid parity.
References
1 "U.S. Solar Market Insight Report: 2011 Year-In-Review." Solar Energy Industries Association. Solar Energy Industries Association, 13 Mar 2012. Web. 13 Aug 2012. .
2 Barbose, Galen, Naiim Darghouth, Ryan Wiser, and Joachim Seel. "Tracking the Sun IV An Historical Summary of the Installed Cost of Photovoltaics in the United States from 1998 to 2010." Lawrence Berkeley National Laboratory. (2011)
3 "U.S. Solar Market Insight Report"
The content & opinions in this article are the author's and do not necessarily represent the views of AltEnergyMag
---
Comments (0)
This post does not have any comments. Be the first to leave a comment below.
---
Post A Comment
You must be logged in before you can post a comment. Login now.
Featured Product
Sonnen's mission is to provide clean and affordable energy for all. As the first mainstream grid tied residential energy storage company in the world and with 24,000 sonnenBatterie systems installed worldwide, sonnen is a proven global leader in intelligent energy management solutions. The all-in-one sonnenBatterie smart energy storage solution easily integrates with new and existing solar installations to help homes manage their energy throughout the day-saving money, providing backup power, and maximizing the effective use of solar power day and night. Sonnen has won several awards for its energy innovations, including the 2017 Zayed Future Energy Prize, MIT's Technology Review's 50 Smartest Companies in 2016, Global Cleantech 100 for 2015-2017, Greentech Media's 2016 Grid Edge Award for Innovation, and Cleantech's 2015 Company of the Year Award in both Israel and Europe.