Storage should be a net cost savings. For example, the cost of frequency regulation is less (on margin) using storage than using a thermal plant. The PJM Performance-Based Regulation market, operational since October 1, 2012, has demonstrated that using fast and accurate energy storage resources has and will lower the total need for frequency regulation, in which should result in overall lower costs to consumers.
Grid Energy Storage Solutions
Chris Campbell | A123 Systems
Can you provide an overview of A123's grid energy storage products, target applications and some customer projects?
A123 is the world's leading provider of lithium ion battery technology for grid energy storage applications. Our highly versatile megawatt-scale Grid Storage Solution (GSS) provides utilities and independent power producers with a robust, turnkey grid energy storage system that can be deployed for renewable energy integration, fast-response frequency regulation, spinning reserve, peak-load shifting and/or a number of other valuable grid services.
A123's GSS leverages our proprietary Nanophosphate® lithium ion battery chemistry and A123's deep systems integration expertise to deliver a flexible and fully integrated lithium ion energy storage system with a grid-ready design that can be rapidly deployed today to reduce costs and increase plant efficiency. With High-Rate (HR) and Long-Duration (LD) options ranging from kilowatt-scale to hundreds of megawatts, A123's GSS lithium ion energy storage system can be easily configured to meet customers' exact power and energy requirements.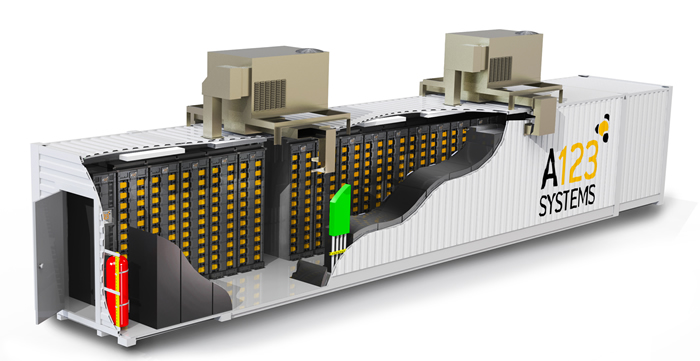 A123 has shipped more than 90MW of grid energy storage systems to date. Operational projects include a 32MW system at the AES Laurel Mountain wind farm in West Virginia (providing frequency regulation and wind ramp management) and a 20MW system at the AES Gener Angamos power plant and a 12MW system at the AES Gener Los Andes substation (both in Northern Chile, providing reserve capacity to an important mining region). A123 also has projects under contract with Sempra Generation (a 12MW system at a wind farm in Hawaii), Northern Powergrid in the U.K. (a 2.85MW system used for peak-load shifting) and others with Maui Electric, Vestas in Denmark and Red Electrica in Spain.
How can energy storage help wind and solar power scale?
Energy storage can help facilitate the increased penetration of renewable energy sources to the grid by addressing the inherent variability of wind and solar. With increasing renewable generation, the grid is experiencing a shift from predictable, dispatchable generation to variable, non-dispatchable generation. This adds a new level of uncertainty and volatility to the grid that can cause an array of problems as the relative proportion of variable generation versus traditional dispatchable generation increases. Since generation from renewable sources is difficult to predict, it becomes challenging to schedule and manage traditional generation assets to compensate. Renewable sources also tend to be geographically concentrated and isolated, causing problems related to transmission constraints.
Grid and renewable operators are struggling to respond to these changes. Options such as adding additional gas turbines to compensate for the variability of renewables are being discussed, but these are imperfect solutions given that they essentially counteract the benefits and purpose of deploying renewable sources. Wind farm operators can curtail their output to reduce the impact, but doing so forgoes generation and reduces the value of wind output.
Energy storage solutions can be used to address the unpredictability of renewable generation, and meet operational performance standards being established to mitigate the effects of increased amounts of variable generation. Short-term, fast-response storage has already been demonstrated as a viable means of managing grid imbalances and volatility through the regulation service, and storage can be deployed to shift energy in time to "smooth" the output of renewable generation or reduce the peak load on constrained transmission assets.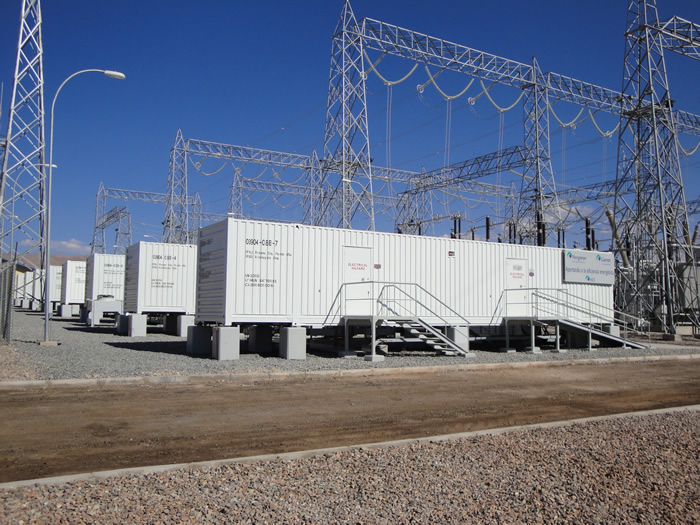 What are the performance advantages of A123's lithium ion energy storage solution over other types of energy storage technologies?
The advantages of A123's grid energy storage solutions including the benefits of our core Nanophosphate lithium ion battery technology, our systems engineering capabilities, the versatility and flexibility of our systems and the fact that our products are field-proven.
First, A123's Nanophosphate delivers a unique combination of high power by weight or volume, exceptional safety, long calendar and cycle life with consistent performance, and higher usable energy for greater battery utilization, all of which provides customers with a superior core chemistry on which to base their energy storage system.
In addition, the grid-ready design of A123's GSS provide a turnkey solution that can be integrated seamlessly into existing grid infrastructure. The GSS is equipped with A123's Energy Response Operating System (AEROS™), our proprietary software that delivers full command and control functionality for integration with utility systems. A123's products are also versatile in that a single system can be used for a number of different applications, including integrating renewable power sources, providing ancillary services and other functions. The GSS is also highly flexible and can be rapidly deployed to enable generators, utilities and grid operators to reduce costs and increase plant efficiency. The modular design of the GSS system is highly portable, easy to site and permit and can be configured to fit in spaces that cannot accommodate traditional generation assets.
Finally, as discussed previously, A123's solutions are proven in the field, which is an important distinction for global utilities that rely on real-world performance data when evaluating technology. We have more than 90MW shipped to date and have had systems in continuous operation since 2009.
What percentage of the output of a typical facility is the optimum for the storage component?
In A123's experience, no two facilities are alike. Considerations such as wind or solar availability, the resiliency of the host grid and market rules vary from location to location. A123 has developed extensive modeling and analysis tools that incorporate everything from wind speeds to upcoming policy changes, and uses these tools collaboratively with our customers to optimize a storage system for their needs.
What are the maintenance requirements of a lithium ion storage solution?
Similar to the lithium ion batteries in portable electronic devices such as smartphones or notebook computers, there is no need to perform regular maintenance on the batteries. However, the cooling systems for A123's lithium ion battery storage solution, like most cooling systems, do require maintenance typically related to air filters and periodic checkups. Generally speaking, however, one of the advantages of A123's grid energy storage systems are that they require little maintenance.
What is the added cost of implementing energy storage in a typical facility and how much will it raise utility rates on average?
Storage should be a net cost savings. For example, the cost of frequency regulation is less (on margin) using storage than using a thermal plant. The PJM Performance-Based Regulation market, operational since October 1, 2012, has demonstrated that using fast and accurate energy storage resources has and will lower the total need for frequency regulation, in which should result in overall lower costs to consumers.
The grid will have a need for traditional solutions such as thermal generators and transmission lines for the foreseeable future, but storage will have a role where its flexibility and minimal environmental footprint result in a lower cost solution than the next-best available technology.
Are there any relevant policies that will promote or encourage the deployment of energy storage for renewables?
There are a number of policies and rules (in the U.S. especially) at the federal and state level that should help to promote the adoption of grid energy storage.
For example, in October 2011, the Federal Energy Regulatory Commission (FERC) announced Order 755, which established a pay-for-performance compensation model for frequency regulation to recognize the value of the speed, accuracy and controllability advantages of grid energy storage as a fast-response frequency regulation asset. New rules are being adopted in each regional market in the U.S. to comply with Order 755, starting with the PJM Interconnection which went live with its pay-for-performance compensation structure in October 2012. The other markets are making progress with their rules, and when they are enacted, we expect that the payment structure will demonstrate fast-response frequency regulation as another revenue-generating service provided by grid energy storage.
In addition, the Electric Reliability Council of Texas (ERCOT) recently presented details about an upcoming pilot project called Fast Responding Regulation Service, which is an ancillary service similar to frequency regulation. This pilot is expected to assist ERCOT in developing market rules and settlement systems similar to the pay-for-performance rules in other regional transmission organization.
There is also California's Assembly Bill 2514, which was signed into law in 2010. That is an example of a deliberative, merit-based effort to establish rules that will allow all technologies, including energy storage, to compete in an open electricity market.
Earlier this year, the Storage Technology for Renewable and Green Energy (STORAGE) Act of 2012 was introduced. If passed, the STORAGE Act would provide a 20 percent tax credit for grid-connected energy storage investment, so long as the resource has a power and energy capacity of at least 1MW/1MWh.
Aside from the U.S., what other global markets are you targeting for storage for renewable integration?
A123 is targeting global markets for its grid energy storage systems, including in Europe and Asia. Generally speaking, any region with well-defined electricity markets with a need for reliability or environmentally friendly capacity is likely a target market for grid energy storage.
Chris Campbell, vice president of marketing & business development, Energy Solutions Group, with A123 Systems (www.a123systems.com), a leading provider of advanced Nanophosphate® lithium ion batteries and energy storage solutions for the electric grid, transportation and commercial markets.
The content & opinions in this article are the author's and do not necessarily represent the views of AltEnergyMag
---
Comments (0)
This post does not have any comments. Be the first to leave a comment below.
---
Post A Comment
You must be logged in before you can post a comment. Login now.
Featured Product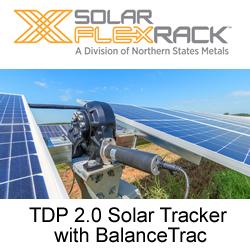 Solar FlexRack's latest solar tracker technology bundles an advanced tracker design with a full team of seasoned engineering and installation experts at your service. The next-generation solar tracker delivers a package of features that both enable increased energy yields for commercial and utility-scale solar installations, and significantly reduce project risks. That translates to smart installation cost-savings across your project budget.