SGB's crop improvement platform is highlighted by aggressive breeding and selection via the largest, most diverse library of Jatropha genetic material in the world, and supported by the application of sophisticated genotyping and molecular breeding tools designed to shorten breeding cycles.
Jatropha 2.0 - Biofuel Breakthrough
Kirk Haney | SG Biofuels
Who is SGB and what exactly do you do?
SG Biofuels (SGB) is an energy crop company developing and delivering high performance bioenergy solutions for the renewable fuel, biomass and chemical markets. SGB is using its global breeding and genomics platforms to advance a non-edible, subtropical plant called Jatropha as a new feedstock for biodiesel and bio jet fuel. Drawing from the largest and most diverse library of Jatropha genetic material and advanced molecular breeding tools, the company has developed hundreds of elite Jatropha hybrids with significantly greater yields, profitability and scalability.
What is the history of Jatropha and what is "Jatropha 2.0"?
Jatropha curcas ("Jatropha") is a non-edible, subtropical crop that produces oil bearing seeds, which can be used for a wide variety of bio-based materials including biodiesel, bio jet fuel and specialty chemicals.
Jatropha is native to Central America and is believed to have been distributed by Portuguese sailors three centuries ago to its colonies in the Cape Verde Islands and Guinea Bissau, and from there to South America, Africa and Asia. The spread of a few Jatropha cultivars from the center of origin to foreign subtropical and tropical regions effectively created a "genetic bottleneck" in the diversity of Jatropha found outside the center of origin, limiting the success of those attempting genetic improvement through traditional breeding.
Several years ago, governments, investors and multinational enterprises began to adopt Jatropha with hopes of addressing climate change, energy security and rural development. Unfortunately, the crop had not yet undergone professional domestication, agronomic best practices were not properly developed, and many early projects failed to produce expected yields. Sources of commercial Jatropha seed were limited and many plantations used the available but undomesticated material. As a result, most projects failed.
While this ad hoc approach to Jatropha commercialization was going through the painful process of trial and error, SGB instead set out on an aggressive crop improvement program to domesticate the crop.
Today, through an advanced global breeding, plant biotechnology and genomics platform, and the introduction of hybrid seed production technology, SGB has developed elite Jatropha hybrids with significantly higher yields and reduced production costs. SGB's crop improvement platform is highlighted by aggressive breeding and selection via the largest, most diverse library of Jatropha genetic material in the world, and supported by the application of sophisticated genotyping and molecular breeding tools designed to shorten breeding cycles.
How has SGB used biotechnology and hybrid breeding to solve key issues plaguing Jatropha?
The foundation of any successful breeding program is germplasm diversity. This is true with corn, rubber, tomatoes and the vast majority of domesticated crops we use every day. SGB currently possesses over 12,000 genotypes of Jatropha representing approximately 600 accession families. SGB's research centers have been established in distinct micro climates within Guatemala, India and Brazil. The centers serve as the foundation of SGB's Jatropha breeding program and allow the company's scientists to identify accessions that display traits that are important for plant domestication resulting in an economically viable crop.
From outcrosses to combine economically important traits and inbreeding to improve uniformity, considerable advancements have been achieved. SGB's breeders and agronomists are addressing issues related to plagues and diseases through the development of pest and pathogen resistant plants and improvements in molecular agronomy that take into account soil structure and nutritional factors. SGB is also exploring the use of plant-growth-promoting micro-organisms to improve nutrient assimilation and combat bacterial and fungal pathogens.
In parallel and in support of the breeding activities, SGB is applying sophisticated genotyping and molecular breeding tools designed to shorten the breeding cycle and accelerate the time to marketplace of elite planting material.
SGB is now advancing hundreds of high-performing, Jatropha hybrids at its field trials in India, Brazil and Guatemala. These hybrids are significantly outperforming existing commercial varieties of the crop, with yields consistently in excess of 250% of competing varieties.
How does the cost of producing fuel from Jatropha 2.0 compare with other biofuels and with conventional carbon fuel?
Due to higher yields and lower input costs, SGB's elite hybrid Jatropha can produce sustainable plant oil for less than $99 per barrel. This compares favorably to other feedstocks, which can typically range in excess of $150 per gallon. A February 2012 report by Bloomberg New Energy Finance found that bio jet fuel produced from Jatropha was likely to be the first to achieve cost-parity with petroleum based jet fuel, as soon as 2018.
Are any industries currently using Jatropha-based oil?
The aviation industry and major energy companies are both actively engaged in a range of programs to both test and incorporate Jatropha-based fuels into their energy portfolios. A major breakthrough occurred in 2011 when bio jet fuel became certified for use on commercial passenger planes. Lufthansa recently completed a series of commercial flights in Europe utilizing a Jatropha-based bio jet fuel blend. AeroMexico, InterJet, TAM, Air China, Air Japan and Air New Zealand have all flown flights using Jatropha-based bio jet fuel.
But lack of supply continues to be the major obstacle standing in the way of large scale commercial adoption. Lufthansa curtailed its commercial flights due to a lack of supply. This is the challenge that SGB is working to overcome through the development of its elite, high-yielding hybrids of Jatropha with vastly superior economics.
What industries do you think would most benefit from the use of Jatropha-based fuels?
Global biofuel blending mandates and carbon tax liabilities are increasing the demand among energy and transportation companies for energy crops around the world. These mandates are increasing the percentage of total biofuels that must be blended with petroleum fuels for the next 10-20 years. This has resulted in increased interest by energy companies in the biofuels sector in their search for raw material.
The International Air Transport Association (IATA) has introduced a framework that includes a commitment to make industry growth carbon-neutral by 2021 and reduce overall emissions by 50% by 2050, relative to 2005 levels.
A key component of the industry's ability to meet these targets is the identification and production of large-scale volumes of renewable jet fuel that not only reduces carbon emissions, but operates more effectively than traditional kerosene-based fuels.
The natural characteristics of crude Jatropha oil (CJO) provide improved sustainability and efficiencies for biodiesel and bio jet fuel.
CJO has a high level of oxidative stability – a necessary factor for biodiesel. CJO also maintains a low cloudpoint of 3 degrees Celsius allowing the fuel to function effectively at cold temperatures required by aviation use. The oil burns hotter and produces more energy than traditional kerosene, improving overall fuel efficiency.
CJO has also been validated as an efficient source for electric power generation via industrial furnaces. Independent testing by Brookhaven National Laboratory of Jatropha oil provided by SGB confirms the performance and emissions benefits of using Jatropha oil as a drop-in replacement for diesel fuel in industrial furnaces used for electric power generation and industrial heating. Testing revealed that crude Jatropha oil can be blended with residual oil without any problems in separation or modifications to existing burners. Testing also revealed that crude Jatropha oil has less than 3 percent of the sulfur content of typical heating oil, resulting in significant reductions in sulfur dioxide emissions– a major contributor to acid rain-related environmental impacts - and a 50 percent reduction in nitrogen oxide emissions.
What's next for SGB?
As of October 2012, SGB has expanded its global network of hybrid trial and agronomic research sites to 13 with the addition of eight new JMax™ Knowledge Centers located in Guatemala, Brazil and India. JMax Knowledge Centers™ are professionally managed trials using experimental design and statistical analysis to evaluate hundreds of hybrids in a range of environmental and agronomic conditions. The centers serve as outdoor classrooms where SGB agronomists and technical teams conduct training and field tours with customers and growers, develop localized agronomic studies and recommendations while advancing the top performing Jatropha hybrids for commercial deployment.
SGB is now moving forward with the process of selecting the top performing hybrids for deployment in large-scale commercial projects in each country. This includes a project working with JETBIO, leader of a multi-stakeholder initiative including Airbus, the Inter-American Development Bank, Bioventures Brasil, Rio Pardo Bioenergia, Air BP and TAM Airlines, to accelerate the production of crude Jatropha oil as a source for aviation bio jet fuel in Brazil.
SGB is working with Bioventures Brasil, an energy crop project developer, and other program partners on a multi-phased program leading to the deployment of 75,000 acres of intercropped Jatropha plantations in the Central-west region of Brazil. The crude Jatropha oil produced will be converted into biokerosene to supply customer airlines.
SGB is also deploying a 25,000 acre commercial project in Guatemala utilizing its improved hybrid Jatropha.
Kirk Haney
Kirk Haney is the president and CEO of SG Biofuels, a leading energy crop company developing and delivering high performance bioenergy solutions for the renewable fuel, biomass and chemical markets. Through its proprietary technologies, genetics and traits, the company is enabling the production of large volumes of sustainable plant oil and biomass at significantly lower costs. Under Haney's leadership over the past five years, SGB has raised more than $27 million and has become the global leader in the development of Jatropha as a leading source for sustainable plant oil.
For more information visit http://www.sgbiofuels.com/.
The content & opinions in this article are the author's and do not necessarily represent the views of AltEnergyMag
---
Comments (0)
This post does not have any comments. Be the first to leave a comment below.
---
Post A Comment
You must be logged in before you can post a comment. Login now.
Featured Product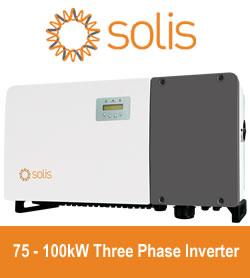 Solis75kW - 100kW series high-power string inverters are widely used in industrial and commercial rooftops. Solis's new three-phase string inverter is the first choice for industrial and commercial photovoltaics. 75-100kW three phase series string inverter have Maximum 28 strings input, support "Y" type connection in DC side. Maximum string input current 13A, support bifacial modules access.Supports anti-PID function to improve system efficiency.