Europe still leads all geographies in terms of overall deals completed. However, the U.S. has been gaining traction and represented a much greater percentage of the total transactions completed in the third quarter of 2012 than it has historically.

Chaim Lubin | Lincoln International
What is the current market climate for the renewable energy industry?
In general, the overall market for renewable energy seems relatively stable. Post-election, the general outlook is that there could be some positive momentum regarding policy; however, nothing substantial has occurred just yet, likely due to the greater economic uncertainty.
What are the main influencers on today's market activity?
Policy is still a major influence on today's market; however, the significant reduction in system costs has been a positive driver globally. Demand has flourished, even in markets such as Germany, which implemented policy to limit solar. If more beneficial policies were implemented in the U.S., one could expect to see a significant uptick in demand.
How does the re-election of President Obama affect the market climate for the next four years?
The expectation is that the President Obama's re-election will have a positive impact on the industry. However, this is still an assumption at this point, as no definitive policy has been implemented. Additionally, as mentioned previously, there is a greater level of uncertainty given the current overall economic discussions.
Regionally, where are most of the solar deals from 2012 taking place?
Europe still leads all geographies in terms of overall deals completed. However, the U.S. has been gaining traction and represented a much greater percentage of the total transactions completed in the third quarter of 2012 than it has historically.
What are your expectations for M&A activity in Q4 2012 and 2013?
Transactions of solar projects should continue to be robust, as companies and investors are still pushing to consolidate portfolios of solar projects. In addition, consolidation of other sectors continues to be the major driver of M&A activity as there still exists significant fragmentation in the industry.
Is there a trend towards consolidation in the industry or are there still many start-ups and new technology developments?
Consolidation does continue to be a trend. In particular, it has been more difficult for new technology to arise given the cost competitiveness earlier in the supply chain. There are developments in the integration and solar project development sectors; however, these seem to be less technology related and more focused on financing and process improvements or strategies.
Which renewable energy sectors are leading the pack as far as growth and market potential?
The entire industry has slowed from a growth perspective, but certain areas are looking more positive than others. At the beginning of the supply chain the Wafer/Ingot companies are still exhibiting high margins and at the end of the supply chain the Integrators/Developers are also exhibiting positive financial characteristics. The Cell/Module and vertically integrated companies are getting squeezed by price competition and have seen margins decline as a result.
Do you see any new sectors that may come into play over the next 5 years or so?
It is difficult to forecast a new sector, especially in this dynamic and constantly developing industry. However, it does seem more likely that over the next five years, the market will consolidate further providing a more mature industry. In addition, there are ample opportunities within the highly-fragmented integrator/developer sector as companies try and perfect their business models on successfully completing solar projects.
Chaim Lubin
Role at Lincoln International
Chaim leads or assists in leading deal teams and is active in marketing the services of Lincoln International. Chaim is a key member of the firm's Electronics and Renewable Energy groups and is heavily involved in executing transactions for these groups.
Advisory Expertise
Chaim has experience in advising companies on mergers and acquisitions, restructuring, fairness opinions, and other strategic matters. His experience includes transactions and advisory services for private equity, Fortune 500, and private company clients. Chaim also has cross-border transaction experience, providing advisory services for transactions involving companies in geographies across Asia and Europe.
Industry Expertise
Chaim specializes in the electronics and renewable energy industries, though he has also been actively involved with companies in the industrial technology, building products, chemicals, office products, and manufacturing & distribution industries. He has relationships with leaders in the renewable energy industry and active acquirers in the electronics industry as well as with contacts throughout the private equity community. Chaim has a strong understanding of the dynamics in the rapidly growing solar industry, and a keen sense of what makes companies and projects attractive and how best to position these to potential partners.
Past Affiliations
Prior to joining Lincoln International, Chaim worked in public accounting for Feeley and Driscoll, P.C. in Boston. Chaim advised and worked with companies in the technology, construction, healthcare, legal, and manufacturing & distribution industries. Chaim is a licensed CPA.
Academic Credentials
Chaim earned a Master of Business Administration degree from the Kellogg School of Management at Northwestern University, a Master of Engineering Management from the McCormick School of Engineering and Applied Science at Northwestern University, and a Bachelor of Science degree from Boston University with Honors.
The content & opinions in this article are the author's and do not necessarily represent the views of AltEnergyMag
---
Comments (0)
This post does not have any comments. Be the first to leave a comment below.
---
Post A Comment
You must be logged in before you can post a comment. Login now.
Featured Product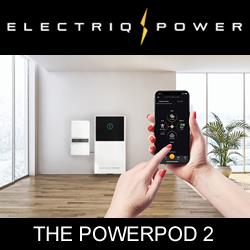 The Electriq PowerPod 2 is a fully-integrated home energy storage, management, and monitoring system powered by LFP batteries. The high-performance, cobalt-free product includes a hybrid solar/battery inverter controlled by intelligent software. The PowerPod 2 provides backup power and can self-consume or export excess power back to the grid.