By investing in the right risk management solutions, owners and operators can reduce their potential long-term costs as well as protect against business disruptions.
Are Operators Ready to Meet the Alternative Energy Risks?
Interview with | Travelers Insurance
What are some of the top risk exposure trends facing wind and solar operators (respectively)?
While every renewable energy operation has its own specific risks, wind and solar farm operators share many of the same exposures. These operations are consistently facing risks associated with theft, proper maintenance and transporting goods.
Theft: Solar and wind farm operators work with materials and equipment that are extremely valuable, making them a natural target for theft. Solar panel systems can be valued at hundreds of thousands of dollars between panels and converters alone, and even household-size solar power systems can be valued at up to $25,000. Wind turbine gearboxes can fetch up to $600,000.
Maintenance: Performing timely equipment updates can help wind and solar farm operators avoid replacing their entire systems. Owners and operators often rely on the manufacturer's warranty guarantee to cover their equipment should it need an update. However, warranties rarely cover all issues and incidents and many times equipment can outlive the warranty and will be more costly to repair if not properly maintained.
Transportation: As these businesses grow, so do the number and frequency of goods being transported. While expanding a business' geographic footprint can drive sales, it also creates additional risk. Moving a costly and oversized solar panel, 50-ton wind turbine, or a 150-foot blade is not a simple undertaking. In fact, according to an industry report by the University of California Irvine*, turbine transportation costs account for 20% of a project's total cost. Don't let the risk of improper transportation safety measures impact the continued growth of your business.
What risk management tactics can solar and wind farm operators employ to mitigate risks and how does that help them to be successful?
Guard Against Theft: There are some simple best practices that can be employed by wind and solar farm owners and operators to help mitigate theft. Etching equipment and materials with identification codes, connecting solar panels to alarm systems and simply keeping equipment in a safe, secure location can help deter criminal activity. Operators should also consult risk management professionals with resources to help provide best practices, identify risks and assist with the recovery of stolen equipment and materials.
Keep Up With Maintenance: Regularly completing diagnostic tests as part of a maintenance schedule is critical. Wind farm owners and operators should complete battery load tests, oil analysis, vibration analysis and boroscope inspections regularly. Similarly, solar farm owners and operators should ensure trusted technicians have access to the panels and components to perform maintenance checks, as electrical connections need to be monitored and kept tight to avoid equipment breakdown.
Safely Transport Goods: Operators should remain informed about the best ways to secure and package equipment and goods for transportation. Engaging a risk management professional who works with an insurance provider who specializes in wind or solar transportation may greatly improve your risk management program by ensuring that the plan includes specific elements to address transportation risks.
When choosing an insurer and coverage, what should solar and wind operators keep in mind?
Solar and wind farm operators should work with an insurer that offers benefits beyond just the insurance coverage itself. Carriers like Travelers offer ongoing support long after the policy is purchased, such as working with insureds to help them institute maintenance plans and completing risk mitigation reviews. These value-added services can make a significant difference in operator confidence as well as the business' ultimate success.
Given the increased interest in renewable energy demonstrated by the Gallup poll and industry data, what should operators who might be expanding keep in mind?
Increased demand for renewable energy options presents a significant growth opportunity for solar and wind power operators. By investing in the right risk management solutions, owners and operators can reduce their potential long-term costs as well as protect against business disruptions. It's important to find insurance solutions that offer a holistic approach to risk management paired with the flexibility to grow as the industry evolves. Travelers WindPak®and SolarPak® products, for example, are designed to meet the specific needs of wind and solar farm operators.
Also, as a wind or solar business evolves, the need for more land is often necessary. Many solar and wind farm operators fail to recognize that such farms are sometimes built on what is largely unusable property for other purposes because of flood exposure or other potential hazards. Developers should be consulting with their design team and their insurance carrier's risk control team to review the site and the unique exposures that the site may present, and then proactively addressing any exposures identified. For example, if a farm is located in a flood plain, the electrical junction boxes and inverters should be elevated above historical flood water levels. This simple step may minimize an operator's potential loss, and, as a result may make their operation more profitable.
* Dedrick, J., Kraeme, K. L., & Linden, G. (n.d.). Should the u.s. support the wind energy industry?. Retrieved from http://pcic.merage.uci.edu/papers/2012/WindEnergyIndustry.pdf
---
Comments (0)
This post does not have any comments. Be the first to leave a comment below.
---
Post A Comment
You must be logged in before you can post a comment. Login now.
Featured Product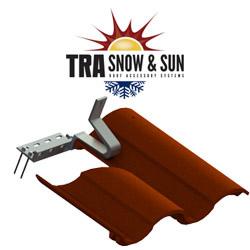 You haven't installed a tile mount that is easier to install than the Solar Tile Mount manufactured by TRA Snow and Sun. Solar Tile Mount is used on all tile roof profiles: flat, mid, and high. It is made in the USA of aluminum alloy for strength and excellent corrosion resistance. Solar Tile Mount is built to allow more ease in installation with more rise from the tile surface to the rail for better air flow below panels. The adjustable base is longer than most allowing attachment 6" to the left or right to have the bracket in the base of the pan of the tile and still fasten to the rafter. Solar Tile Mount is adjustable for counter batten systems from ¾" to 3". The horizontal rail is directly above base fasteners giving greater uplift resistance than any other system. For superior waterproofing apply TRA Snow and Sun's butyl backed VersaFlash aluminum flashing. No tile flashing is needed on top of the tile for greater labor and material cost savings.