AltEnergyMag.com has once again partnered with Intersolar to bring all the industry news and exciting new products to help our readers make sense of this key tradeshow. Here we have compiled a list of some product releases from this years show.

Brandon Hetherington | AltEnergyMag.com
This years show took place July 7-10, 2014, at the Moscone Center in San Francisco, California. Over 19,000 visitors attend to learn about the latest technology innovations, financing models, business best practices and policy and incentive programs that are contributing to the growth of the U.S. solar industry. Products from nearly 600 exhibitors from 22 countries were on display on all three levels of Moscone West, representing the entire system of solar technology and showcasing advances in solar cell and module technology, balance of system components, solar heating and cooling and energy storage.
As a media partner AltEnergyMag.com will be covering Intersolar and bringing all the industry news and exciting new products to our eMagazine to help our readers make sense of the massive event. Make sure to check out our special Intersolar 2014 Newspage for Exhibitor news.
---
Some Highlights from Intersolar North America 2014.
STANDING OVATION AT THE OPENING CEREMONY
California Gov. Edmund G. Brown Jr. was met with a standing ovation as he delivered the keynote remarks at Intersolar North America's Opening Ceremony. Throughout his speech the governor emphasized how far the solar industry has come, and also how far the industry still needs to go. The governor drew upon California's history of innovation, a place where people traveled from across the world to mine for gold. The Governor stated that there is a real mining of the imagination even more powerful than the mining of the Sierras for gold. He said, "We have to invent not just gadgets, but keep our eye on the big goal. The big goal is to build a more equitable and just society… and that's why solar is so important."
---
Crowd packed energy storage sessions

A standing-room only crowd packed Intersolar North America's energy storage sessions today, and listened to industry experts and executives from leading energy storage companies discuss the market landscape and technology breakthroughs during four panel discussions. At the first session, "Energy Storage: Market Prospects and Policies," conversation focused on the number of state programs in place that incentivize storage, which has increased the amount of commercial-scale energy storage projects online. Due in part to the passage of California's AB 2514, the state is now set to be the largest storage market in the world, and is currently home to 119 of the 330 energy storage projects online in the United States.
---
Solar professionals gathered at first-ever Contractor Day organized by CALSEIA
Intersolar North America hosted the first-ever Contractor Day in partnership with CALSEIA. Sessions were held throughout the day that highlighted topics from how to sell solar to how to integrate energy efficiency into a contractor's offering. Speakers discussed best practices in solar PV and thermal installations, and provided tips for to contractors looking to enter the solar market from other markets, such as HVAC, remodelers, and plumbers to help them get into the solar market.
---
Here we have compiled a list of some product releases from this years show.
EcoFasten Solar - Flat, W and S Tile Flashing Systems
Aluminum flashing replaces one complete tile
No cutting, drilling, grinding or replacement of tile required
Embossed cone shape stamped into flashing is fitted with an EPDM rubber bushing, creating a watertight seal when paired with an EcoFasten Solar® compression bracket
Attaches to roof deck with as little as 2 lag bolts
A 2nd flashing at the roof deck is optional for jurisdictions that demand
Compatible with a variety of EcoFasten compression brackets
3rd party tested for pullout and shear
Faster, easier install than tile hook systems
Patent Pending
Made in the USA
---
Outback - Next Generation Grid/Hybrid Solar
OutBack Power's newest additions to the award-winning Radian family feature GridZero technology and Advanced Battery Charging for compatibility with any utility energy scenario. The new Radians enable homeowners to "zero out" their grid usage and bank solar-generated electricity surplus for future use.

OPTICS RE is a cloud-based application that provides installers and owners of OutBack systems the ability to easily monitor photovoltaic (PV) system operation, performance and output via an intuitive dashboard from any Internet-enabled device. By keeping installers connected to their systems, OPTICS RE reduces system downtime and service calls, demonstrates the benefits of renewable energy, and provides users with higher satisfaction with their solar investment.
---
Adapts easily to any kind of installation: deck or rafter (P.E. reports available)
Minimal impact on roof due to thermal expansion and contraction of the array
Eliminates need for rails
Substantially reduces installation time and labor costs
Cuts shipping costs by 60% over rail systems
Aesthetically pleasing appearance: skirt option available for RT-[E] Mount Air™
Uses fewer materials to minimize environmental impact
Lower cost than traditional mounting solutions
Manufactured with highest quality materials: anodized & coated aluminum alloy with stainless steel hardware
Includes wire management
Allows roofing nails to remain intact to protect integrity of roofing paper
Fully waterproofed
Compliance with 2012, 2009 and 2006 International Building Code® (IBC)
Compliance with 2012, 2009 and 2006 International Residential Code® (IRC)
ICC (International Code Council) evaluation (Durability and Water Resistance) report section: 07 65 00 –Flexible Flashing
---
Pansonic - End-to-End Solar Solutions

Sunlight is plentiful. Funding for solar projects: less so. Yet the need for clean, renewable energy persists. Panasonic Eco Solutions has joined forces with Coronal to deliver the first truly comprehensive end-to-end solution to facilitate the development and commercialization of solar PV projects in the commercial, industrial, municipal and small utility markets.
The Panasonic/Coronal model delivers a simple, streamlined solution ensuring attractive and reliable benefits in the near term and for decades to come.
The integrated platform offers an efficient and reliable solution to those companies, communities and institutions looking for alternatives to lower their energy costs, while also reducing their carbon footprint.
---
LG - High performance module Mono X™ NeoN
The Mono X™ Neon module is primarily characterised by efficiency levels of over 18 per cent and a capacity of up to 300 watts per module. The panel also offers great robustness at a low weight and an elegant glossy finish. The bi-facial cell captures the light reflected from the back sheet onto the cell back side, resulting in increased light yield and greater energy and financial return for the solar power user.

Installers are pleased with the fact that the product is so lightweight, weighing only 18.2 kilograms. The new cable management systems make it even simpler to connect all of the modules. LG Solar provides a 10-year product guarantee and a 25-year linear performance guarantee for all of its solar modules.
---
Rolls Battery Engineering - Redesigned 2 Volt & 6 Volt L-16 Deep-Cycle Batteries
Rolls Battery presents its new 4000 Series 2-Volt & 6 Volt L-16 Batteries—the new 2 Volt S-1450, S-1660 & S-1860, as well as the 6 Volt S-480 & S-550, have been redesigned to provide increased amp-hour capacity over previous models in an even more durable, heavy-duty case design. As part of the full range of popular and reliable flooded deep-cycle batteries for off-grid and grid-tied applications, the new 4000 Series L-16 options are backed by an industry leading warranty, offering customers a broad selection of long-term, dependable power storage options.
---
SMA-America - Sunny Boy 3800TL-US / 6000TL-US – New for 2014

The Sunny Boy TL-US series with Secure Power Supply represents the next generation of smart inverters. The TL-US features multiple MPP trackers for increased energy production, OptiTrac Global Peak to mitigate the effect of shade, and the industry's only Secure Power Supply feature capable of providing up to 1,500 W of daytime standby power in the event of a grid outage without the need of additional, costly batteries.
In 2014, SMA released the 3800TL-US specially configured for homes with 100-amp electrical service eliminating the need to upgrade to 200 amps. SMA also met the needs of larger residential PV systems with the Sunny Boy 6000TL-US. Additional TL-US features include a transformerless design that ensures high efficiency, integrated AFCI, and the optional plug-and-play Webconnect data module for easy system monitoring. All these features and more, make the TL-US series the first choice among solar professionals.
---
Solar FlexRack - FlexRack Series G3L
The FlexRack Series G3L is the latest fixed tilt racking system from Solar FlexRack. This system offers the speed and ease of installation unlike any on the market today. The system ships in a pre-assembled folded position and is simply unfolded and set into place on the jobsite. The speed of installation for the FlexRack Series G3L has been verified by a third party, Industrial Timestudy Institute, Inc. The FlexRack Series G3L offers unique module mounting options which allow the installer to use clips, direct bolt, or a combination of both for a flexible module mounting solution. The FlexRack Series G3L also offers integrated bonding and wire management options.
---
Array Technologies, Inc. - DuraTrack™ HZ single-axis solar tracker
With more than 2 gigawatts shipped around the world and 20+ years of experience, Array Technologies, Inc. (ATI) ensures value, reliability, and bankability for your solar project through its proven ground mount tracking and racking solutions. ATI's leading product, the DuraTrack HZ single-axis horizontal solar tracker, combines a minimization of materials with rugged reliability to promote rapid installation times and project longevity. From the frozen tundra of Alaska to the deserts of Chile, the DuraTrack HZ provides peace of mind wherever you break ground. Packaged with industry-leading engineering and project management support, the DuraTrack HZ offers value you will not find anywhere else.
---
RBI Solar - Ground Mount Solar Racking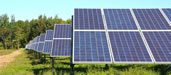 RBI ground mount solar systems are designed and engineered for each customer's site specific conditions to minimize the field installation labor and require no field welding, drilling or other on-site fabrication. Our meticulous project planning and precise execution combine to provide you with solar racking solutions that are tailored to the unique conditions of your location. RBI provides a wide range of PV mounting systems in various sizes to offer freedom and flexibility to support every type of PV module.
RBI Solar ground mount system is a perfect utility scale solar racking solution with two models classified by Intertek to UL subject 2703. ETL Classified systems include proven models GM-I and GM-T which have been used on many large commercial and utility scale solar racking projects across the country.
---
AET - RAYPORT I - Inverter Mounting Kit
AET's RAYPORT · I is the first product of its kind, providing installers with a secure, ballasted mounting solution for storing and positioning inverters on solar installation sites.
Fits most string inverters on the market today
Both 15 and 30 degree tilts available
Quick and easy installation
No roof penetration
Compact packaging reduces shipping costs
Lightweight for easy handling on the job site
All components are stainless steel
Available for immediate shipment
---
GameChange Racking - Pour-in-Place™ Ballasted Ground System
GC Pour-in-PlaceTM Ballasted Ground System
Self-leveling system for landfill and rocky sites which utilizes concrete pouring forms, substantially reducing install time and cost
Features:
Self-leveling technology: 68% faster install than precast
Large ballast footprint reduces landfill cap loading
Leave-behind patent-pending recycled HMWPE plastic Pour-in-Place™ forms
Custom tables available for extreme slopes up to 30% utilizing rail supports of varying heights
Available in both 1 and 2 panels up in portrait
Substantial labor savings by eliminating moving and shimming heavy, precast blocks
Five slots enables additional vertical adjustability, up to total of 10"
Just place Pour-in-Place™ forms, place supports, bolt on and level rails, pour concrete, mount panels
Panels rapidly mount using T-bolts and top mount clamps into slots on robust aluminum rails
Integrated wire management
5 to 35° tilt with multiple inter-row spacing options
Integrated grounding
Full layout and engineering analysis for every project
51% overall lower cost than competitors
Made in the U.S.A.
---
SolarEdge - Smart Energy Management

Increasing demand from utilities to introduce regulations and limit the amount of feed-in power and the transition to home energy management and storage solutions has led to the development of the SolarEdge Smart Energy Management (SEM) solution. The SEM, integrated into SolarEdge inverters, reads the home power consumption and dynamically adjusts the PV power production to maximize self-consumption and ensure that feed-in power does not exceed a preconfigured limit. If power reduction is needed to ensure that the feed-in limit will not be exceeded and self-consumption is fully met, then the inverter will limit energy harvested from the modules. The SEM is particularly important in the German PV market, which only allows 70% of a system's maximum power to be fed into the grid, and for the Netherland PV market, which has a maximum system capacity due to the electrical limitations. The SolarEdge SEM allows full power production while also accounting for self-consumption and not only power production.
The SEM connects to the SolarEdge server to allow system users and home owners to view power consumption as well as power generation and self-consumption rate.
---
ModSolar - Operating System for the Solar Industry

ModSolar's software enables solar providers to produce solar proposals and contracts in less than five minutes, including the placement of panels on an image of the prospect's roof, as well as the calculation of the return on their solar investment. ModSolar's software dramatically reduces the "soft costs" involved in solar sales, solar system design, production of high-quality solar proposals, and all the paperwork surrounding solar installations.

Hundreds of ModSolar users produce over 1,500 solar proposals each week. ModSolar's corporate clients include SunEdison, Enphase Energy, GAF, Hudson Solar and Southern Energy Management. And the numbers are growing every day.
---
SolarBridge Technologies - TrueAC Module Line
The SolarBridge TrueAC System includes a fully integrated AC module, assembled in the United States, with a SolarBridge Pantheon microinverter. The solution also includes the SolarBridge Management System — an onsite Power Manager and web-based Power Portal — for 24/7 monitoring of the TrueAC system. TrueAC modules are CSA-certified to both UL 1703 for AC modules and 1741 for inverters and come with a standard, 25-year power and product warranty, backed by the superior service and support of SolarBridge.
---
HellermannTyton - Solar Label Convenience Packs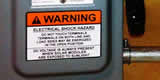 Solar Label Convenience Packs contain the same code compliant labels as HellermannTyton's popular Pre-Printed Solar Label rolls, but in smaller packs of ten. Each Solar Label Convenience Pack contains ten pre-printed and pre-cut solar labels designed to meet NEC 2014 requisites for the labeling of solar electrical equipment. All of HellermannTyton's Solar Labels are designed to meet specific NEC codes, to help installers minimize installation time, and pass inspection the first time.

Offered in 19 different labels, these convenience packs are a great option for smaller installers who want high-quality, code-compliant labels, but don't need a large quantity.
---
Conergy - Conergy Residential Finance Loan, Lease and PPA Programs
Solar installation projects are expensive, and although customers want to make the investment today, they simply don't have the means to do so. Conergy's residential lease, power purchase agreement (PPA) and new loan programs enable integrators, installers and sales originators to change the conversation from "where are we going to find the money," to "when can we start?" Homeowners are not looking for one-size-fits-all financing, either. In order to capture each opportunity, you need to cater to each scenario. This is why Conergy's lease, PPA and loan choices include options that enable you to tailor the financing to each unique homeowner; such as zero down, partial down, and full prepayment. No matter which option you sell, the fact remains – each system you build will save a homeowner money.
---
Advanced Energy - 1000 Series Three-Phase String Inverter For Commercial Projects
The AE 3TL 1000 series features 1000 VDC input, versatile monitoring options and peak efficiency greater than 98 percent. The power range of the AE 3TL is 12 to 23.2 kW, serving installations both large and small. The 1000 VDC input enables a reduction of balance of system (BoS) costs due to longer strings, fewer home runs and lower resistive losses. The inverter is NEC 690.16b compliant for fuse servicing and weighs just over 100 pounds, making it ideal for rooftops or other small spaces.

In addition to the AE 3TL series, Advanced Energy will showcase its large commercial and utility-scale AE 1000NX inverter that offers comprehensive support for grid integration, enables reduced balance of system costs and maximizes energy harvest.
---
The content & opinions in this article are the author's and do not necessarily represent the views of AltEnergyMag
---
Comments (0)
This post does not have any comments. Be the first to leave a comment below.
---
Post A Comment
You must be logged in before you can post a comment. Login now.
Featured Product
GenStar MPPT is the industry's first fully integrated solar DC charging system, an all-new design with "lithium DNA" from the leader in charge controllers. Out of the box, GenStar is an overachiever-delivering legendary Morningstar quality, efficiency, power and reliability along with the latest in advanced communications and control technologies. All the most installer-requested features are on-board; additional features can be easily added via Morningstar's ReadyBlock expansion technology, with snap-in blocks that provide battery metering and monitoring, signaling and load control, and lithium battery communications/control