System optimized for maximum power output and lifetime with DuPont™ Tedlar® polyvinyl fluoride filmbased backsheets and DuPont™ Solamet® photovoltaic metallization pastes
Solar Plant in Cernay Powers Up With DuPont Photovoltaic Solutions
Contributed by | Dupont
Background
Solar energy is a growing focus for companies and countries around the world. At the DuPont facility in Cernay, France, corporate, entrepreneurial and civic interests have aligned in a solar power project that will generate enough electricity each year to power 2,000 local homes.

The 5 million kilowatt hours of electricity generated by the solar plant each year will be sold to energy provider Eléctricité Réseau Distribution France, under the terms of a twenty-year power pur­chase agreement. After that time, the electricity could be utilized by the Cernay manufacturing site.
The project supports Cernay's federation of municipalities in efforts to develop economic activities, while preserving resources, improving energy efficiency and limiting the environmental footprint. At the national level, the development of solar and other renewable energy sources are expected to grow in France's overall energy mix, with a target of 20% of renewable energy by 2020.
For DuPont, the new solar installation – now the largest solar plant on DuPont land in the world – is part of its effort to address the growing demand for energy and helping to reduce the global dependence on fossil fuels, not only by developing enabling mate­rials for solar energy, but by deploying solar energy where feasible at its facilities.
About three years ago, DuPont identified some unused land at its Crop Protection production facility in Cernay as a possible location for a solar power plant. After a series of feasibility studies, DuPont partnered with Hanau Energies, a French project devel­oper and investor in solar installations, to execute the project.
Challenges
Three key challenges had to be addressed to make the project a success: close collaboration among multiple parties involved, the unique conditions created by the history of the region and the need to ensure that the solar panels would deliver optimal performance in terms of power output and lifetime, resulting in the strongest possible return on investment in the project.
The project required close collaboration between all the organiza­tions involved, including municipal and regional government, the federation of local communities, the panel manufacturer, the DuPont Cernay team, the project developer/ owner Hanau Energies and the utility company, Eléctricité Réseau Distribution France. Working together to obtain the appropriate approvals, permits, inspections, connections and specifications, the full team was able to move ahead on the project.
Because this part of Alsace saw heavy battles in World War One, it's not uncommon to find leftover ammunition. Bomb sweeping operations are therefore mandatory for all construction projects in the region. During the inspection an unexploded bomb was found from the Great War, and construction could continue only after a special mine and bomb removal team had safely removed the unexploded device from the site.
The technology used for the solar panels was central to the success of the project. The panels had to be reliable, durable, and highly efficient. Solar panels are expected to function – with minimum maintenance – for at least 25 years, so the specification of materials – particularly for the metallization of the solar cells and the back­sheet protection of the panel - that have been proven to perform well and reliably over time is key to achieve this result.
"We believe in doing projects the right way from the start," said Jean-Luc Westphal, President, Hanau Energies. "Specifying materials with proven durability up front, for example, is critical to help optimize the power output and lifetime of solar panels, and to protect the return on the system investment. Going back in to replace panels with the system downtime that entails is just not something any system owner wants to deal with. Based on careful material selection, we're confident this array will perform well and reliably for 25 years or longer."
Solution
Once all of the participants were aligned, the project moved very quickly. The team met with Jinko Solar, a global leader in the solar industry, to place an order for panels specifically made with DuPont™ Tedlar® polyvinyl fluoride film-based backsheets, which protect the panels from the environment and provide essential elec­trical insulation, and DuPont™ Solamet® photovoltaic metallization pastes, which help ensure reliable and efficient power output of the solar panels, during their expected lifetime.
The long-term protection offered by Tedlar® film-based backsheets is unique in the industry. With 30 years of proven performance in the field, no other backsheet material compares. Tedlar® film-based backsheets are durable, offer high UV resistance, superior water resistance, and are reflective to enhance the effectiveness of solar cells. Additionally, the high efficiency of Solamet® pastes means that more power can be generated from each panel, so fewer panels are required. This not only saves space and panels, it saves on system component parts such as inverters, and on labor, transportation, and other system costs that can quickly add up.
Within two months of the Jinko Solar panels being delivered, construction was completed. Spread over six hectares (about 15 acres), the Cernay site now features 18,400 polycrystalline silicon solar panels.
"For us, power output and lifetime are key drivers. We need to use the best materials in our projects – proven materials that will last at least 25 years," said Westphal. "We know we can count on this level of performance with time-tested materials from DuPont."
DuPont is the leading supplier of specialty materials to the solar industry with the broadest portfolio of products. More than half of the world's 400 million solar panels have DuPont materials in them. DuPont materials have been time tested in more than 5 trillion panel hours of outdoor solar field installations across the globe since 1975.
The Cernay site, now the largest solar plant of its kind in Alsace, started supplying power to the grid in March, 2014. It's expected to offset carbon emissions by 1,916 tons per year. A meter has been installed at the site with real-time readings of the amount of kilowatt hours of electricity produced and carbon emissions offset.
Tom Bollaert, DuPont Cernay site manager, said: "The new solar installation is a prime example of the business' continuing investment in developing sustainable technology and solutions in collaboration with customers, employees and society."
The content & opinions in this article are the author's and do not necessarily represent the views of AltEnergyMag
---
Comments (0)
This post does not have any comments. Be the first to leave a comment below.
---
Post A Comment
You must be logged in before you can post a comment. Login now.
Featured Product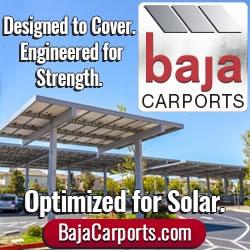 Baja Carports offers an extensive solar support system product line customized to customers' site specifications by in-house engineers, meeting their parking lot coverage, plus optimal PV production needs. Baja's Full Cantilever Tee is often paired with its Semi and Full Cantilever carports to meet live/loads up to 60psf and wind speeds to 160mph. All Baja products are pre-fabricated, bolted connections, pre-galvanized structural steel for fast on-site installation and project aesthetic requirements."