ITM Power, the energy storage and clean fuel company, is pleased to note that the world's largest carmaker, Toyota, announced that it will begin selling fuel-cell electric cars in Japan on 15 December, 2014, and in the US and Europe in mid-2015.
Toyota Launches the Mirai Fuel Cell Electric Car
Contributed by | ITM Power
The Toyota Mirai, which means Future in Japanese, is a ground breaking vehicle which has the cruising range of a conventional saloon, can be refuelled in less than five minutes and emits only water vapour. Hydrogen can be produced from a wide variety of primary energy sources including solar and wind power; it is easy to store; and when compressed it has a higher energy density than batteries.

Mirai uses the Toyota Fuel Cell System (TFCS), which brings together fuel cell and hybrid technologies. It includes Toyota's new proprietary fuel cell stack, which has a maximum power output of 153bhp (114kW), and high-pressure hydrogen tanks. The TFCS is more energy efficient than internal combustion engines and emits no CO2 or pollutants when the vehicle is driven.

The biggest hurdle for fuel-cell electric vehicles (FCEVs) is a lack of hydrogen refuelling stations. To support Mirai's introduction to the US in 2016, Toyota is to supply 12 state-of-the-art hydrogen stations in New York, New Jersey, Massachusetts, Connecticut and Rhode Island. The UK Government also announced last month that it is preparing the UK for the roll-out of hydrogen fuel-cell electric vehicles with up to £11m of funding to establish an initial network of up to 15 hydrogen refuelling stations by the end of 2015 and 65 refuelling stations soon after.

Toyota are also part of the HyFive project which sees ITM Power building three refuelling stations in London ready for refuelling in Q2 2015. The aim of the HyFive (Hydrogen for Innovative Vehicles) project is to speed up the introduction hydrogen-powered cars in Europe. The group is a partnership of 15 vehicle manufacturing and energy providing businesses who are joining forces to help ensure a co-ordinated deployment of fuel cell vehicles, in conjunction with establishment of the refuelling and fuel supply infrastructure they will require. Toyota, BMW, Daimler, Honda and Hyundai will be responsible for delivering a fleet of 110 vehicles to six European cities: Bolzano, Copenhagen, Innsbruck, London, Munich and Stuttgart.

Fuel-cell electric vehicles are an important contribution to the diversification of vehicle fuels. They emit no carbon dioxide or substances harmful to the environment when driven, but still offer the convenience associated with petrol-powered vehicles. Toyota believes this technology has great potential in the development of vehicles that are kinder to the environment and ideal for helping to deliver sustainable mobility.

A video of the launch is available here. In the video, Mitsuhisa Kato, Executive Vice President, Toyota Motor Cooperation makes the following points:

"Toyota does not intend to enter directly into hydrogen station on its own, but if there are any areas in which to cooperate in terms of operating such infrastructure we are willing to extend any cooperation we can."
"We would welcome good public discussion as to the best way of manufacturing hydrogen. We would welcome that very much given the depreciation of the Japanese Yen, it has caused oil to become very expensive."
"Energy policy is forcing us to look at alternative primary energy sources to produce hydrogen. So to trigger that discussion to take place more broadly we are making our own proposal, by introducing fuel cell vehicles to the market."
"We have to spend money outside Japan to buy in oil and energy which means we need to use it as efficiently as possible. We need to consider other fuels for automotive use. When we look at producing hydrogen from various primary energy sources we must be ready to embrace fuel cell vehicles."

Graham Cooley, CEO, ITM Power PLC, commented: "We are delighted see the world's largest car manufacturer committing to a clean energy future. Toyota also understands the importance of supporting the development of a new hydrogen infrastructure globally alongside the roll-out of their groundbreaking new vehicle. I believe that the hydrogen fuel-cell vehicles are now one step closer to becoming the mainstream."

Takeshi Uchiyamada, Chairman of Toyota, commented: "We are so focused on hydrogen because at its most simplistic oxygen and hydrogen makes water and power. The fuel cell vehicle is a social and economic gamechanger. Gasoline (petrol) has been the primary fuel of the first hundred years. Hydrogen will be the primary fuel game of the next hundred years. Our primary task is to provide our customers with fuel-cell cars at an affordable price."

Akio Toyoda's, CEO of Toyota Motor Corporation, said earlier: "Today we are at a turning point in automotive history. A turning point where people will embrace a new, environmentally-friendly car that is a pleasure to drive. A turning point where a four-door sedan can travel 300 miles on a single tank of hydrogen, can be refueled in under five minutes and emit only water vapour. We believe that behind the wheel of the Mirai, we can go places we have never been, to a world that is better, in a car that is better. For us, this isn't just another car. This is an opportunity – an opportunity to really make a difference. And making a difference is what Toyota is all about."


About ITM Power:
ITM Power manufactures integrated hydrogen energy solutions that are rapid response and high pressure that meet the requirements for grid balancing and energy storage services, and for the production of clean fuel for transport, renewable heat and chemicals. ITM Power currently has in build three refueling stations destined for deployment in London in 2015. The Company also now has £6.87m of projects under contract and £1.02m of new projects subject to final contract negotiation. The international demand for these solutions is increasing and the Company has been successful in developing strategic industry partnerships in the following projects:

The content & opinions in this article are the author's and do not necessarily represent the views of AltEnergyMag
---
Comments (0)
This post does not have any comments. Be the first to leave a comment below.
---
Post A Comment
You must be logged in before you can post a comment. Login now.
Featured Product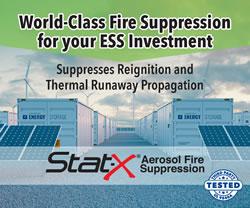 Stat-X® condensed aerosol fire suppression is a solution for energy storage systems (ESS) and battery energy storage systems (BESS) applications. Our Stat-X condensed aerosol fire extinguishing product was tested for efficacy in suppressing li-ion battery fires. It was found that the product successfully extinguished single and double cell battery fires. This testing was conducted in parallel with a large battery fire testing program on behalf of a large energy storage company.