With GIS, companies can view, understand, question, interpret and visualize data in many ways that reveal relationships, patterns and trends in the form of maps, globes, reports and charts.
Utilizing Geographical Information Systems (GIS) for Alternative Energy Projects
Dan Liggett | geoAMPS
Your alternative energy infrastructure projects are far too expensive to make random decisions on siting. For many reasons – not the least of which are cost, efficiency and productivity – siting should be as exact as the science behind alternative energy itself.
Visual assessments don't cut it. Paper maps aren't efficient. Most online maps don't offer the amount of information needed to make informed decisions.
Fortunately, technological tools have been developed to help alternative energy providers decide the best locations for their wind turbines, solar panel fields, geothermal plants or biomass facilities. These Web-based tools also are beneficial during construction of the project, as well as ongoing operation. Information is supplied quickly, sparing the energy company expensive, time-consuming field and document research.
A geographical information system (GIS) is one powerful, quickly developing technology that is making a major impact on renewable energy industries. GIS integrates hardware, software and data for capturing, managing, analyzing and displaying all forms of geographically referenced information.
With GIS, companies can view, understand, question, interpret and visualize data in many ways that reveal relationships, patterns and trends in the form of maps, globes, reports and charts.
It is considered the go-to technology for making the best decisions about siting. That is because of the abundance of information it provides about local land use, population density, existing infrastructure, proximity to the grid, natural resource extraction, environmental assessments and more. It helps the energy company understand what is happening, plus what is expected to happen, in a specific geographical space. That can reduce or eliminate major headaches for the company in the near term and long term.
Although the development of GIS dates back over several decades, the first desktop GIS product for the DOS operating system arrived in 1986. By the century's end, the rapid growth in various systems had been consolidated and standardized on relatively few platforms and users were beginning to view GIS data over the Internet. Increasingly, geospatial data and mapping applications are being made available over the Web and, with that availability, the capabilities of GIS systems are expanding.
When GIS is combined with project management tools in a Web-based system, the capabilities in developing, constructing and operating successful alternative energy projects increase dramatically.
Let's look at siting of a wind farm and wind turbines as an example. Web-based tools can be combined to learn the near optimal solution for siting a wind farm and the turbines within that space. In this automated approach to siting, software-generated algorithms automatically search the solution space and efficiently provide project planners with a near optimal solution that can be statistically guaranteed.
Areas of interest and project objectives are defined, and factors ranked on a weighted scale of importance. GIS data is included. In some locations, GIS mapping data can be applied to information from local agencies and third-party providers. Project planners learn quickly about zoning or government restrictions. They learn about environmental or wildlife impacts, topography, weather patterns, existing infrastructure, land use, population density and utilities. They gain valuable insights into trends for development at a certain location.
The software performs a directed search and determines several siting solutions, numbering them in the order of the best fit.
Through each stage of an alternative energy project, GIS and other Web-based tools enhance communication among teams, departments, professional fields, organizations and the public. They can be used to smooth the often time-consuming processes of obtaining lease and right of way agreements, and issuing payments to property owners based on those agreements. They are widely used to optimize maintenance schedules and daily fleet movements, which can mean greater operational efficiency. In addition, the improvements in recordkeeping can translate into substantial return on investment.
Organizations of all sizes and in nearly every industry are realizing the benefits possible through GIS. It is, however, a technology that is still relatively young. It will be fascinating to see the extent to which GIS capabilities grow and, along with it, its economic and strategic impact on alternative energy industries.
Dan Liggett is Communications and Public Relations Manager for geoAMPS, a technology company in the Columbus, OH area that specializes in software solutions to manage land rights and infrastructure assets. For more information, visit www.geoamps.com. Dan has an extensive background in the newspaper industry and in public relations for higher education and public transportation. He holds a bachelor's degree in journalism from Ohio University.
The content & opinions in this article are the author's and do not necessarily represent the views of AltEnergyMag
---
Comments (0)
This post does not have any comments. Be the first to leave a comment below.
---
Post A Comment
You must be logged in before you can post a comment. Login now.
Featured Product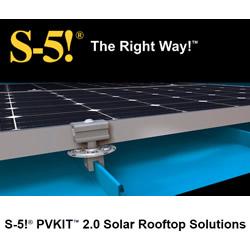 The concept of combining PV arrays with standing seam metal roofing is growing-for good reasons. Metal roofs have a life expectancy of more than 40 years. Shouldn't the mounting system last as long? With S-5! zero-penetration attachment technology and PVKIT 2.0, the solarized metal roof is the most sustainable system available -and without compromising roof warranties! PVKIT 2.0 is the also the best solution for attaching PV modules directly to any exposed fastener metal roof.