The marine power plant Deep Green has now been producing electricity for more than a year, and Minesto's founder and CEO Anders Jansson shares his experiences from the trials in this article.

Anders Jansson, CEO | Minesto
The renewable energy industry was excited late last year when marine energy technology company Minesto announced that it had successfully managed to produce electricity from low velocity currents off Northern Ireland, the first in the marine energy era. The marine power plant Deep Green has now been producing electricity for more than a year, and Minesto's founder and CEO Anders Jansson shares his experiences from the trials in this article.
The lush hills of Strangford Lough are truly a place of magic scenery. Portaferry, a small fishing village, is located one hour's drive from Belfast in Northern Ireland, and is today perhaps most famous for being close to the location where blockbuster Games of Thrones is filmed. In this idyllic fishing village, struggling with a high unemployment rate and a diminishing population, something new and prosperous is growing. Looking out over the calm waters of Strangford Lough, one could hardly believe that under the ocean surface – that electricity can be produced. In fact, as the sun starts to rise and another spring tide starts to take off, pushing massive amounts of water through the narrows, the 'underwater kite' called Deep Green initiates its electricity production. Strangford Lough has, due to its sheltered waters and good tidal conditions, become a popular area for the testing of tidal power plants; Siemens, Schottel, and Queens University of Belfast are all conducting their tests there.
Deep Green is a tidal and ocean current power plant, which actually looks like an underwater kite. It's there that the similarity ends. Deep Green can produce electricity from low velocity currents at a cost lower than fossil fuels and nuclear power. As such, Minesto's Deep Green kite has the potential to change the world.
The Deep Green technology was invented by the inquisitive engineer – Magnus Landberg, in 2001. Magnus was project manager for a wind turbine project at Swedish aircraft manufacturer Saab. The outcome was a compact, efficient, tidal power plant able to sweep large areas, much more efficient than rotors on static structures. The design offered a decrease in electricity generating cost. The company Minesto was spun-off from Saab, and has since then pushed Deep Green towards commercialisation with great focus on prototype testing in combination with business development on literally all continents. Today, large public and private investors, including the British Department of Energy and Climate Change, the Swedish Energy Agency and the EU, are all backing the development of Deep Green.
Deep Green consists of a wing (1), which carries a turbine (2) directly coupled to a generator in a nacelle (3). A rudder (4), a servo and control system steers the kite in an 8-shaped trajectory. The struts (5) are connected to the tether (6) which attaches the kite to a swivel fastened to a foundation on the seabed. The tether accommodates power and communication cables.
The wing is designed to generate a high lift force when hit by the ocean current. The wing requires a stiff and lightweight structure with sufficient fatigue and material properties for 20 years' service life. In addition the wing includes watertight compartments for buoyancy system, batteries and pressure sensors.
The tether is mainly a force bearer designed to take the high loads created by the wing, but it also accommodates power and signal cables. To improve performance the tether is designed considering hydrodynamic forces to reduce the drag and increase the electricity production.
The bottom joint mounted on the foundation is the anchoring point for the tether at the seabed and as such essential for the system assuring that the tether can move smoothly in all directions depending of the current velocity direction and the kite motions.
The power take-off system is where the electricity in Deep Green is produced. It consists of a generator driven by a tur­bine at the front of the nacelle. The electricity is transported from the generator, through the tether to the seafloor where it continues in a seafloor cable. Several power plants will be connected to each other in an array; a typical Deep Green array may consist of 100 devices supplying electricity for 33,000 households.
The fall of 2013 was the first time ever a marine power plant designed for low velocity currents were targeted to produce electricity at sea. It was a hectic time for the Minesto team, and also an important and critical step for the Deep Green technology. Even though there were big challenges and valuable insights before Deep Green was installed in the water and started to produce electricity, the ocean trials provided the Minesto team with even greater challenges, and in addition invaluable insights.
As expected, deployment of the power plant turned out to be a great challenge. From the desk top, it is almost impossible to foresee how the power plant could be handled in the unpredictable offshore environment with winds, waves and tidal currents causing forces and havoc in all directions. Initially, months were spent on constantly changing under-dimensioned mechanical components and searching for electrical insulation faults without gaining any useful test results. The cold, windy and always wet working environment fatigued the Minesto team, and the situation urged for alternative solutions.
The team took time out and gathered to develop a plan. This all resulted in a test set-up physically being turned upside down - with the power plant attached to a floating platform instead of to the seabed. The new set-up gave more control, and it was easier to access all subsystems. In addition to that, all mechanical and electrical components were thoroughly examined with great care. When the kite was re-launched and submerged in Strangford Lough, the pulse was high on all 25 Minesto employees watching as it disappeared beneath the surface. As soon as the kite started to make its first figure 8 – steered by a person in the offshore control room– they all knew that a successful launch was in hand.
The team now knew that they had taken a giant step closer to unlock the low velocity tidal and ocean currents as a source for renewable energy production. In October 2013, just a few weeks after the successful first flight, the initial use of an automatic control system took place. Since then, the quarter scale Deep Green has been operational and has produced electricity. The Minesto Deep Green power plant has now achieved performance comparable to producing electricity at the same cost as offshore wind. Furthermore, multiple improvements are targeted, without any significant design changes, with the power output expected to be doubled.
All of the power plant's functions have been verified, including the full control in all tidal velocities. An important milestone was reached the first time the power plant was automatically controlled and positioned in the middle of the water column during slack water and the turning of the tide. The quarter scale test platform has many times proven to be a cost efficient development environment. For example, when testing a new turbine design, 3D printing was used to produce a polymeric prototype at 1/5th of the cost and 1/10th of the time for an aluminium turbine.
Now the kite is mostly operated from the seabed foundation, and the possibility to connect it to the floating platform is still used when deploying new upgraded sub-systems. In the end, the challenges Minesto faces surprisingly continue to unlock opportunities. The solution of an upside down anchoring to a platform has doubled the market potential since it has turned out to enable full scale installations at larger depths than originally thought, such as in ocean currents. It is in fact ocean currents, which enable constant renewable electricity production, can be used as base load on the grid.
The next step for Deep Green is the installation of the first commercial scale, 0.5MW power plant off the coast of Wales in 2017. The installation in Wales will be successively extended to a 10MW array, which will have the potential to deliver power to over 8,000 Welsh households. The installation site is located off the Holyhead Island in Anglesey, Wales. For this, Minesto has been awarded an 'Agreement for Lease' by the Crown Estate, manager of the UK seabed, for the site and environmental investigations and detailed resource studies are far progressed. This on-going project to commercialise Deep Green in Wales underpins Minesto's position as the global leadership in renewable energy production from low flow tidal and ocean currents. For Wales, this project will lead to job creation, increased income and a more sustainable and diverse energy supply.
Development of new energy technologies require long-term political strategies and capital. However, the payback from a success story is significant for financial investors, and also in terms of societal benefits. If we want to enable our children to live as great lives as we have experienced (or better!), renewable and reliable energy is a must.
Scepticism has been expressed against marine energy for its long and costly development, but that should be set in relation to other technologies that we today depend on. Offshore wind hadn't been heard of in the mid 1990's whereas the growth during the 20th century has been phenomenal. Between 2010 and 2014, the market grew with 600% and is expected to grow with 2,300% until 2020. Today we depend on wind power which supplied electricity to more than 25% of the UK's households in 2014. The next industry to experience the same breakthrough is tidal and ocean current energy. Thanks to many enabling technologies, like sensors, materials and computer simulations, tidal energy technologies have made great advancements in few years' time. The tidal energy industry has done its homework to pass the early stages of technology development, and now it's time for politicians and investors to act to ensure the future European backbone industry to grow.
Anders​ Jansson CEO, Minesto
Anders Jansson is co-founder and CEO of Minesto, an energy technology company in the field of marine energy, with a patented and proven technology (Deep Green) to harvest energy from low velocity tidal and ocean currents. He has eight years of experience from developing and commercialising marine energy technology, both as an entrepreneur and business leader with a background from Chalmers University of Technology. See http://www.minesto.com/
The content & opinions in this article are the author's and do not necessarily represent the views of AltEnergyMag
---
Comments (0)
This post does not have any comments. Be the first to leave a comment below.
---
Post A Comment
You must be logged in before you can post a comment. Login now.
Featured Product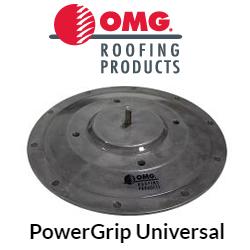 Eliminate Solar Rack Ballast and Reduce Rooftop Material Handling. PowerGrip™ Universal (PGU) is a commercial roof mount system designed to secure solar racks and other equipment to any type of commercial roofing system. PGU provides a secure connection directly to the roof deck or structural members and is designed to reduce or eliminate ballast in solar racking systems, so there's less weight on the roof and less material handling. Made of heavy-duty cast aluminum, PGU units include a base ring which is secured through the roofing cover and into the structural roof deck, and a waterproof top plate.