A sea change is gathering in India as the country contemplates embracing the promise of solar-powered electricity.
You can see it at the ballot box, through the prism of international diplomacy, and in the capital markets.
India, keep in mind, is among the top 10 economies in the world, is already the third largest electricity market globally and is second in population only to China. Its clean-energy growth potential is gigantic.
Grassroots support for energy reform is substantial, seen most recently—and in stunning fashion—last week in Aan Adani Party's win in the Delhi state elections. It wasn't just an unexpected setback for the ruling party but a jarring reminder that the masses of India have enormous clout. A central issue in the election was making electricity both more sustainable and more affordable for the poor. One way to do that: solar.
Investment in solar caught a wave in January when President Obama's presence at the annual Vibrant Gujarat Summit—which promotes investment in India's emerging economy— yielded the promise of $4 billion in U.S. government financing of India's electricity sector by the Import Export Bank of the United States, the U.S. Overseas Private Investment Corporation and the U.S. Trade and Development Agency. Most of that financing will go for developing India's electricity sector, primarily its renewable-energy sources.
I expect this theme of access to global capital for renewable infrastructure in India to play out as a key prerequisite for any emission-control pledges from India going into the U.N. Climate Change Conference this year in Paris. India's new renewable energy goal is ambitious, requiring upwards of $200 billion in financing.
Look for potential commitments here from the Asian Infrastructure and Investment Bank, KfW Development Bank, China Development Bank and the UNFCCC's Green Climate Fund as precursors to private global capital flows.
In the meantime, India's coal imports have slowed considerably in response to accelerating domestic self-sufficiency. Its appetite for coal imports rose only 3 percent year-over-year to 15.8 metric tonnes in January (down 21 percent from December), a significant drop relative to the double-digit growth evident over 2014. This is important in part because it calls into question one of the assumptions of foreign producers that are pushing their product on developing economies—that India needs more coal from Australia and the U.S.
In India, this assumption is being dismissed openly, as in a recently published interview with Energy Minister Piyush Goyal: "At no point of time do I feel that imported coal will work except at two or three plants that are in the coastal areas," Goyal said. "I did a study and found that there were very few plants dependent on imported coal or were situated on the coast."
This is all being said and done against the backdrop of a national solar-installation boom that is gaining momentum with a total of 160 gigawatts of projects on the drawing board by a multitude of companies. Plans include a 5-gigawatt project proposal by the Adani Group, following on their commitment last month with Sun Edison, the U.S. company, to invest an additional $4 billion in solar module manufacturing in Gujarat.
Political leadership is crucial, and Prime Minister Modi has shown he fits the bill. Modi has repeatedly and persuasively promoted solar as a solution to energy poverty.
He did it again this week.
"We are focusing on renewable energy not for laurels but to lighten homes of the poor and bring a change in their lives," Modi said. "We have ponds, can we think of solar panels on top of these ponds? We need to think of innovative ideas."
Tim Buckley is IEEFA's director of energy finance studies, Australasia.
The content & opinions in this article are the author's and do not necessarily represent the views of AltEnergyMag
---
Comments (0)
This post does not have any comments. Be the first to leave a comment below.
---
Post A Comment
You must be logged in before you can post a comment. Login now.
Featured Product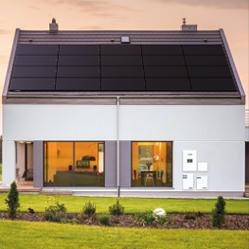 The Q.Home+ ESS HYB-G1 energy storage solution offers scalable storage capacity from 4.5 kWh up to 18.9 kWh and comes in a modular design for easy and fast installation. The system is offered in both DC-coupled and AC-coupled configurations and can connect up to 3 batteries in series using only one inverter and battery management system (BMS). The system includes an integrated backup power function for 100% of the rated inverter output to support critical loads in the event of power failure and offers remote monitoring using the QHOME+ web portal or QHOME+ ESS mobile app.