The Environmental Governance approach of Osaka is exemplary for the developing Asian cities who are trying to balance development and sustainability.
Osaka - The City of Green Technologies
Rajnish Ahuja, | Revolve
Osaka has been a port serving the purpose of international exchange for years and developed into a commercial and financial centre adding a boost to the economy of Japan. Osaka is known as "Aqua Metropolis" as it has plethora of tourism resources in the form of historical sites and cultural properties and is home to small and medium sized businesses that form the backbone of city's economy.
How Osaka keeps itself Green?
Osaka generates 10 % of its electricity from renewable energy sources and has stringent national emission regulations that keep the carbon-di-oxide levels in check. On the climate change front, Osaka conducts baseline review of greenhouse gas emissions and regularly monitors them. To reduce its CO2 footprint, the city floated a tender in 2010 as a PPP initiative to build a "Megasolar" power project on Ymeshima Island. The project has been named a Hikari-no-mori and will be established on Hokko Landfill site with a scale of generation of 10 MW.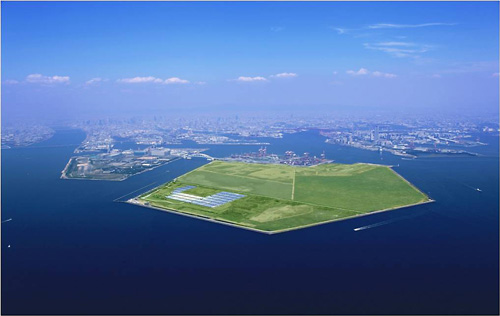 Source: Sumitomo Corporation, retrieved from http://www.sumitomocorp.co.jp/english/news/detail/id=25528
Green Initiatives:
Buildings:
The Comprehensive Assessment System for Building Environment Efficiency (CASBEE)-
The voluntary scheme was adopted in 2004 with an aim to provide advice on energy efficiency measures to developers at all stages of the process, from pre-design through to construction. One of the advantages to the developers who undergo the assessment is that they can market their "green" buildings to the buyers who are environmentally aware.
Electricity:
In the Morinomiya district of Osaka, the heat and energy generated from incineration and sewage plants provide power for nearby homes.
Transport:
Osaka has one of the finest transport networks in Japan with nicely articulated policies for mass transport and congestion reduction which include an integrated pricing system and "no-car days". To increase the share of low emission vehicles on the road, the city started introducing electric cars, natural gas-powered vehicles and hybrids for use by civil servants in April 2007.
Water:
Green initiatives in water sector include separate pipes for non-drinking water, grey water recycling, rainwater collection, strong water quality policies with strong codes and standards in place, including regularly publishing the results of monitoring to bring in transparency in governance. Osaka's waterworks bureau was the first public water supply body in the world to be certified with the international food safety administration standard ISO 22000 in December 2008. Osaka holds nearly 150 workshops every year to educate primary school children about the city's water system and the purification process and other measures that are taken to maintain good water quality.
Waste Management:
The city is efficient in terms of waste collection and disposal to an extent of 100%. The city recycles glass, organic waste, electrical waste, paper and plastic. The collections boxes for items like fluorescent lights, batteries and paper cartons have been placed at 300 public buildings and at 61 private facilities such as supermarkets in the city. To control the waste generation in the companies, an obligation to employ a waste management supervisor who would supervise and develop a waste reduction plan is an innovative approach adopted by the city of Osaka.
Combating the Urban Heat Island Effect:
The city has employed a concept of green 'curtains' and 'carpets' which could be used to plant vegetables such as bitter on roofs and walls of primary and middle schools, the city hall headquarters, ward offices and other public facilities to combat the heat island effect.
In conclusion, The Environmental Governance approach of Osaka is exemplary for the developing Asian cities who are trying to balance development and sustainability.
About Rajnish Ahuja
Rajnish Ahuja is Associate Fellow at Pahle India Foundation and Regional Manager for Revolve Magazine in India
The content & opinions in this article are the author's and do not necessarily represent the views of AltEnergyMag
---
Comments (0)
This post does not have any comments. Be the first to leave a comment below.
---
Post A Comment
You must be logged in before you can post a comment. Login now.
Featured Product
With Baja Carports 35 plus years in the industry installing our Solar Support Systems nationwide and whose founder Bob Hayworth was one of the first to use solar panels as the rooftops on commercial carports ~ is assurance that you will receive Baja expertise in all phases of installation. Our team's diligence makes the design-build process easy for customers. You don't need a set of architecture plans to begin talking to us about your project. Baja's in-house design engineers will work closely with you to meet your project specifications and city's criteria. You'll have our design team's years of experience applied to your plans. Our engineers will deliver a set of stamped plans, which maximize canopy coverage and details the most-effective layout for your business' parking lot.