Data analytics help fleet owners and operators reduce costs while improving system performance, thus accelerating the adoption of solar since it can better compete with other generation sources.
The Role of Data Analytics in Accelerating the Adoption of Solar
Michael Herzig | Locus Energy
Can you give us a short overview of what is meant by data analytics as it applies to the solar industry?
Data analytics helps provide insights into PV systems and is one of the keys to driving wider adoption of solar PV. The industry has grown in recent years to the point where owners and operators of large fleets spread across wide geographical areas are looking for clear, actionable data on which to base their operations and management (O&M) decisions. By evaluating data from a wide range of sources, monitoring and data analytics companies such as Locus Energy can provide system owners and operators with insight into whether or not a system is performing up to expectations and the causes behind a system's failure to perform. The access to such intelligence can boost energy output and save on O&M costs, resulting in a considerable increase in return on investment.
What data is collected and how is it analyzed?
As a provider of solar performance monitoring and fleet management software, Locus has access to vast amounts of data, which we have used to develop analytics capabilities that are unique in the industry. Our PVIQ data analytics suite consists of two main elements: the Virtual Irradiance (VI) tool and the Performance Waterfall report.
VI uses data from weather stations and satellite imagery to provide highly accurate, ground-level irradiance data for any location in the continental United States and Hawaii. When used with other modeling data — i.e., the type of panel or inverter — Locus' VI tool provides system stakeholders with an accurate assessment of how much energy their systems should be producing based on the amount of available sunlight. This functions in a similar manner to the gauge on a gas pump: Just as a driver needs to know how much fuel goes into the tank in order to calculate fuel efficiency, VI measures the "fuel" that goes into a solar system, allowing stakeholders to determine if a solar PV system is performing as it should.
VI is most often used in lieu of on-site sensors, which can be cost-prohibitive for small systems. In the case of systems where onsite sensors have already been installed, VI also serves to validate sensor data, which can become skewed due to factors such as soiling or miscalibration.
The second element of PVIQ, the Performance Waterfall, is unique in the industry. The Performance Waterfall algorithmically identifies the causes behind a system's failure to perform. These may include factors such as weather uncertainty, snow downtime, shading, equipment downtime, equipment degradation and inverter problems. The analysis provided by the Performance Waterfall enables a specific, detailed understanding of which factors are most affecting the performance of a solar PV system and how the causes of the underperformance can best be addressed.
PVIQ can be used as an add-on to SolarNOC, Locus' enterprise-grade, cloud-based asset management software, which allows fleet managers to set dynamic filters through a customized web-based dashboard interface. Users can then activate these filters to easily drill down into key performance and diagnostic data, segmenting project data by region, size, OEM, install date, installer, finance partner and many other criteria. An important feature of Locus' PVIQ suite, however, is that its open software platform allows it to be integrated with third-party applications and data sets.
How do data analytics accelerate the adoption of solar?
Data analytics help fleet owners and operators reduce costs while improving system performance, thus accelerating the adoption of solar since it can better compete with other generation sources. With solar PV assets spread over large geographical areas, aggregating information on performance for purposes of O&M and financial administration can be costly and time-consuming. With sophisticated fleet management and analytics software, problems can be diagnosed remotely, saving on truck rolls and engineering fees if the underperformance can be analyzed remotely.
Access to such tools also has other implications in terms of accelerating the adoption of solar, including in solar financing (helping investors to more accurately assess fleet value or to price power for power purchase agreements) and in solar forecasting, which will become increasingly important in integrating solar PV into the grid as solar makes up a larger portion of the electricity supply.
Is there potential for partnerships among software developers to combine services and integrate tools?
Absolutely. The rapid growth of solar PV has created demand for sophisticated O&M systems that allow owners and operators of large fleets to efficiently track factors such as field work projects, inventories and budgets. For example, opportunities exist to combine Locus' data analytics software with O&M ticketing software. With Locus' PVIQ, users can identify problems that lead to reduced performance, then create maintenance tickets through O&M software that define the most appropriate next steps, including activities such as ordering and stocking critical parts or tracking equipment repairs, materials and labor costs. The integration of Locus' analytics platform with O&M software enhances the ability to identify systems that aren't meeting performance expectations and to streamline O&M processes to improve workflow, minimize time and expense associated with addressing problems and reduce costly system downtime.
With solar financing in the spotlight, what role will data analytics play in increasing access to low-cost financing?
By advancing the industry's data analytics capabilities, we will be able to advance the financing of solar. More accurate and precise data about solar PV output will provide financial stakeholders with the opportunity to better understand solar performance risk and make smarter choices.
As solar PV continues to mature, Locus' VI tool will be critical to driving financial intelligence. VI provides solar investors with a more accurate measure of system performance – and therefore a more accurate picture of risk. Once they are able to accurately assess the risk associated with a particular system investors can better assess the quality of a solar PV asset or set of assets, thus assisting in securitization and reducing the cost of capital.
How can data help utilities integrate solar into the grid?
Because it produces energy from the sun, the output of solar PV is by its very nature intermittent. This can make it difficult to integrate solar PV power into the grid. While this is not yet a big problem in the United States due to the relatively low level of solar penetration, we can expect this problem to grow as penetration levels increase, creating a demand for more accurate estimates of future production.
Locus is very well positioned to build and deploy a solar PV production forecasting platform because of the specialized knowledge of our research and development team; our exclusive access to a rich, real-time dataset; and our experience in providing complex, highly reliable data services. We have collaborated with academic institutions, national laboratories, nonprofit research foundations and potential consumers to lay the ground work for forecasting that utilities can use to optimize production decisions and grid management.
What's on the horizon for Locus Energy? How do you see the company evolving its software offerings to meet future needs?
Locus has many exciting partnerships and opportunities for growth coming up. As the demand for analytics grows, so do the avenues for potential expansion.
Locus' goal is to drive the wide-scale adoption of distributed solar PV by providing fleet owners and operators with the real-time intelligence to optimize production at the point of use and to provide investors with the detailed data that they need to accurately assess the performance risk of a solar PV portfolio. One of our chief focuses will be the continued refinement of our algorithms and analytic tools. With nearly 70,000 systems under management, Locus collects more than 30 million data points daily, with a cumulative total of more than 35 billion data points collected to date. As a result of the growth in solar PV, we are constantly adding more data to our databank, which allows us to further refine our platform. Based on the most diverse data set in the industry, Locus' analytics can provide insight across the entire solar value chain.
About Michael Herzig, CEO and Founder of Locus Energy
Michael Herzig heads corporate development and company strategy. Prior to founding Locus Energy, Herzig was a partner and co-founder of the financial services industry IT consulting firm MPI Professionals, which was purchased by CGI. MPI served major financial institutions globally, and had offices in New York, Toronto, Sao Paulo and London. The firm grew from two founders to 100 employees. Before MPI, Herzig co-founded UConnections.com, a college-focused Internet company. He started his career at Andersen Consulting (now Accenture) in the Financial Services Group. He earned a bachelor's degree from Cornell University.
The content & opinions in this article are the author's and do not necessarily represent the views of AltEnergyMag
---
Comments (0)
This post does not have any comments. Be the first to leave a comment below.
---
Post A Comment
You must be logged in before you can post a comment. Login now.
Featured Product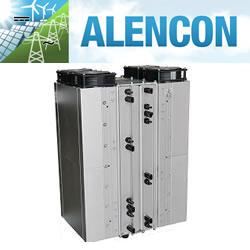 Alencon Systems is the premier manufacturer of high power, high voltage DC:DC optimizers for alternative energy applications including solar, battery energy storage, Microgrids, Fuel Cells and Electric Vehicle charging. Alencon's DC:DC converter offerings include the SPOT, BOSS and CUBE series DC:DC converters. The SPOT is a modular, uni-directional DC:DC solution ideal for solar applications. The BOSS is a modular, bi-directional unit for use with battery energy storage. The CUBE is a monolithic DC:DC converter which is available in both uni-directional and bi-directional modalities. Pictured above, is the Alencon SPOT.