As the demand for higher kVA capacities of solar inverters keeps expanding, higher switching currents need to be accommodated by relays used in these applications.

Joe Kiener | Zettler Group
Photovoltaic (PV) Power inverters are an integral part of solar energy systems, converting DC power output coming from solar panels into AC current that can be fed into a commercial electrical grid or into an off-grid local electrical network. In the interface to the power grid, electro mechanical AC relays play a critical role as switching devices and to provide necessary safety "circuit-break" functions.
As PV power applications continue to proliferate from micro to string inverters, to commercial and even utility-scale PV systems, manufactures of these critical components must focus on the changing landscape with appropriate engineering solutions.
Over a number of years, Zettler Group, a global manufacturer and distributor of electromagnetic and electronic components, has continually expanded its line of AC side Solar relays that spans across an extended range of quite compelling product characteristics:
covering PV inverter applications from under 20 kVA to over 100 kVA,
handling continuous currents from 10 A to as high as 200 A and
max. switching currents ranging from 12 A to 100 A, and
featuring min. contact gaps from 1.5 mm to 4.6 mm.
These solar relays have been successfully designed into inverter applications by market-leading manufacturers of PV systems.
Since early on, Zettler Europe was one of the first companies to have successfully developed and produced a 35 A and 50 A PCB solar relay ( AZSR235/250) with a small footprint of just 25mm X 40mm and the capability of handling 2 X 35A (50 A) at a holding power of only 80 mW.
As pertinent safety standards such as IEC 62109 and UL 62109 evolved and converged internationally, additional capabilities of relays deployed in solar inverter applications became necessary to fulfil ever higher isolation requirements, quickly raising the bar in design challenges - especially with respect to wider contact gaps. For example, in inverters deployed at altitudes of 3000 m to 5000 m above sea level, contact gaps of at least 2.22 mm became a standard requirement.
Equally important, as the demand for higher kVA capacities of solar inverters keeps expanding, higher switching currents need to be accommodated by relays used in these applications.
Zettler responded to these increasing demands, by developing a series of 80 A, 120 A and 200 A AC side solar relays, some of them in close cooperation with its inverter producing customers.
These developments often require rather innovative design approaches, as not all relays can be structurally modified to achieve widening contact gaps, while handling ever increasing current flows and also being able to accommodate demanding, inverter-design driven specifications with respect to physical size, energy efficiency and relay safety features.
Zettler's 200 A AZSR1200 solar relay is a perfect example.
In close cooperation with one of its leading PV inverter industry customers, and with a great amount of research and testing, Zettler has developed a patent-pending contact system that works without the otherwise usual contact springs and is able to effortlessly overcome the reset force of the contact spring, or to move it in the first place.
In the AZSR1200 the conventional contact spring was replaced by several highly flexible copper strands that are suspended from a 'gallow'- shaped device, requiring little to no initial spring tension. Only negligible amounts of friction and the elasticity forces of the copper strands have to be overcome to move the 200 A contact into its operating position.
Zettler AZSR1200 contact system (schematic)
This approach allows peak operating and holding power performances to be achieved; with a holding power of only 0.6 W (also suitable for PWM) and a contact gap of 4.6 mm, this 200 A PCB relay has entered a dimension that was hardly imaginable just a few years ago.
Another significant advantage of this contact configuration is the avoidance of contact welding risks that are often associated with short circuit currents in conventional contact spring solutions. The magnetic force between parallel contacts springs, created by short circuit currents, usually pushes the contacts apart and causes them to open which frequently leads to contact welding and relay damage.
With the AZSR1200 contact system the opposite occurs: the stronger the surge current, the more the contacts are pressed together. Even temporary short-circuit currents of up to 3000 A, therefore, would not pose any welding risks for the relay contacts.
An equally innovative engineering approach was applied in the development of AZSR180, a single pole AC side 80 A solar relay that features a thermally conductive copper bridge, riveted directly behind the contact studs of two movable parallel contacts.
This patent pending "thermal bridge" allows the two parallel contact springs to be "thermally connected" which, in turn, provides for an even-leveled distribution of any excessive heat between the two contacts that can result from significantly uneven distributions of currents carried in one vs. the other contact. Uneven resistances and currents in parallel relay contacts are not uncommon.
Even in the extreme instance of a total failure of one of the two parallel-connected contacts, in which one would be completely isolated while the other would have to carry the entire current in a severe overload condition, the "thermal bridge" of the AZSR180 will prevent a critical overheating of the latter contact that would otherwise and inevitably result in the destruction of the relay.
The above mentioned design elements of the AZSR1200 and AZSR180 relays have also both been combined into Zettler's most recent development for the next generation of solar inverters, the brand-new AZSR1120 relay, a single pole 120 A AC side relay that requires only about 40 % of the volume space of the 200 A solar relay, yet still performs with very favorable, low self-heating characteristics.
For more information on Zettler's line of solar relays and to get the on-line PDF, please refer to:​ www.zettlersolarrelays.com
The content & opinions in this article are the author's and do not necessarily represent the views of AltEnergyMag
---
Comments (0)
This post does not have any comments. Be the first to leave a comment below.
---
Post A Comment
You must be logged in before you can post a comment. Login now.
Featured Product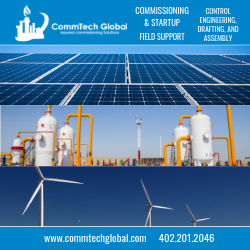 CommTech Global Solutions, LLC, provides professional and reliable commissioning services to customers in all realms of the energy industry. We blend our skills in engineering and technology with innovative business models, offering a complete range of services to assist you for a successful and in compliance operational startup. Consolidation of all our service domains gives our clients a comprehensive set of expertise and far-reaching experience on each project.