Because weather conditions—precipitation, wind and sun in particular—can have a major impact on both production and demand for any renewable energy producer, Statkraft pays unusually close attention to historical and predictive weather data.
How One Energy Producer Uses IT Workload Automation to Solve Energy Pricing Challenges
Contributed by | Advanced Systems Concepts Inc.
Based in Oslo, Norway, Statkraft is Europe's largest renewable energy producer. It develops and generates hydropower, wind power, gas power and district heating for Norway and the rest of Scandinavia, as well as continental Europe and beyond. Owned by the government of Norway, Statkraft employs 4,200 people and last year generated NOK 52.2 billion ($5.96 billion USD) in gross sales.
As Norway's number one power producer, Statkraft is a respected player in the European energy market. The company routinely sells its power to a mix of customers: resellers, major industrial users, power distributors, and others. As one would expect, Statkraft closely monitors a number of factors ranging from global competition to distribution costs in order to optimize its revenue.
Because weather conditions—precipitation, wind and sun in particular—can have a major impact on both production and demand for any renewable energy producer, Statkraft pays unusually close attention to historical and predictive weather data. It regularly integrates this information with analytics on consumption and pricing, modeling the results to drive its market forecasts.
For years, Statkraft's procedures for collecting and compiling weather data was driven by manual IT processes. The company understood it needed a less labor-intensive way to update its demand and pricing models. Despite the mission-critical nature of the need, team members could not devote the resources necessary for an in-house solution.
An Automation Alternative
Not long ago, a perfect opportunity presented itself to solve this important problem. During a major server upgrade at the company's Integrated Control Center (ICC), Statkraft's IT team set out to find a workload automation platform with the functionality to handle the complex tasks needed for its energy forecasting operations.
Workload automation platforms, an outgrowth of traditional job scheduling software, allow IT organizations to manage complex IT and business processes according to a wide range of pre-determined dependencies and triggers ranging from simple if/then or date/time commands to more advanced analyses of available computing resources. The most sophisticated of these solutions can perform operations like just-in-time resource monitoring and management for virtual and cloud systems, spinning up resources on a moment's notice and spinning them down once the job or process is complete.
To meet its needs, Statkraft wanted a workload automation platform that could handle its heavy automation demands with minimal training and an easy-to-use interface. It also needed to be able to connect with a wide range of operating systems and applications, and offer a strong logging capability for reporting and analysis.
After reviewing available products, Statkraft selected ActiveBatch from Advanced Systems Concepts. Using ActiveBatch, Statkraft's IT team was able to quickly build job flows that would automate its data modeling. It used ActiveBatch's Integrated Jobs Library to eliminate the custom coding and scripting that would otherwise be necessary; moreover, the team estimated it could save an hour of follow-up time if or when a job failed, thanks to the ability to create workflows with built-in alerts, event triggers, and automated reruns.
The initial success of Statkraft's automation setup gave the IT organization the confidence it needed to expand its use. After reviewing the IT environment at another Statkraft office outside Norway, the team initiated a second installation of ActiveBatch, replacing an in-house scheduler. The move allowed the office to process a higher volume of jobs and increase job frequency, while saving time and expensive resources.
Measurable Business Impact
With a workload automation platform running in two locations, the positive results have become apparent. One office's ActiveBatch installation executes roughly 2,000 jobs per day; the other runs approximately 100 jobs every minute. In a commissioned study, an independent analyst organization determined a three-year, risk-adjusted ROI of 153% for Statkraft's investment in ActiveBatch. The payback period: a mere 3.4 months.
Brian Thompson, IT Operations Manager at Statkraft, says that by reducing the effort needed to build, automate and maintain custom scripts for its demand and pricing analytics, his company has realized significant operating savings. "In total, we saved a couple of years of work – we would have had to hire at least two more people. And that's not counting the opportunity cost and potential lost revenue," he notes.
Through automation, Statkraft is now better able to forecast demand and pricing. It has gained the ability to update energy models more frequently, without expanding resources. Best of all it allows the company to make quicker, more informed decisions when the energy market shifts.
The content & opinions in this article are the author's and do not necessarily represent the views of AltEnergyMag
---
Comments (0)
This post does not have any comments. Be the first to leave a comment below.
---
Post A Comment
You must be logged in before you can post a comment. Login now.
Featured Product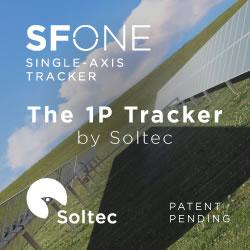 SFOne is the 1P single-axis tracker by Soltec. This tracker combines the mechanical simplicity with the extraordinary expertise of Soltec for more than 18 years. Specially designed for larger 72 an 78 cell modules, this tracker is self-powered thanks to its dedicated module, which results into a lower cost-operational power supply. The SFOne has a 5% less piles than standard competitor, what reduces a 75% the labor time.