Melwood partnered with Standard Solar to build a 413.8 kW rooftop system on its Horticulture Training Center, along with a 517.1 kW carport system (930 kW total), which will provide 95 percent of the center's energy needs.

Contributed by | Standard Solar
Melwood is a leader in job training, employment, life skill improvement, supportive and recreational services for persons with differing abilities throughout the Northeast United States. Founded in 1963, Melwood envisions a world where people with disabilities are fully included in society and have full, productive lives. Melwood offers job opportunities for more than 800 people with differing abilities through partnerships and community employers. As a 501(c) 3 not-for-profit organization, they rely almost exclusively on donations and contributions to fund their innovative programs.
System Specifications: 930 kW (413.8 kW rooftop and 517.1 kW carport)
Estimated System Production: 95% of the center's energy needs
Projected Benefits: Will save the equivalent of 357 metric tons of carbon dioxide from 40,000 gallons of gasoline. Will save the school $1 million in energy savings over the period of the 20-year PPA.
System Description: 3,003 Canadian Solar panels
Location: Melwood Horticultural Training Center, Upper Marlboro, MD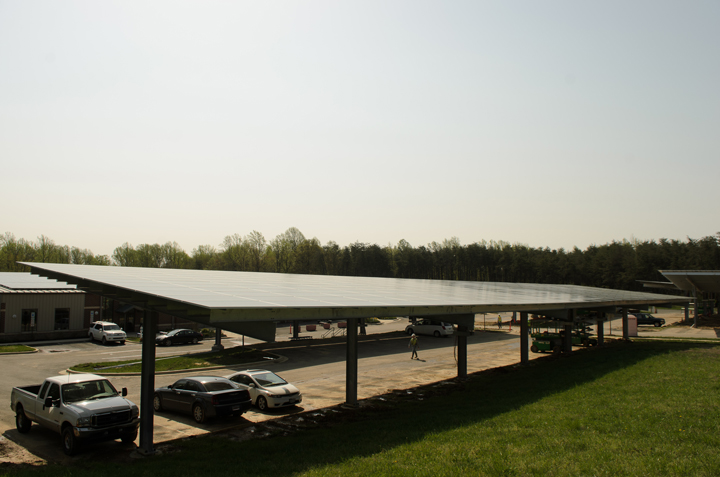 Challenges
In 2008, the challenging U.S. economy forced Melwood to find ways to save money as budgets shrank. Then the Federal government's 2013 budget crisis, which ended with mandatory cuts known as sequestration, sent the staff at Melwood searching for more savings. Though it wasn't the first time Melwood had investigated the idea of finding more sustainable energy sources (the facility's commitment to sustainable practices dates back to its founding), the search took on a palpable urgency in 2013. When the administrators realized the opportunity to explore a solar option was viable, they decided the timing and circumstances couldn't be more ideal.
There was, however, one problem. Given the tight budgets, how would Melwood fund a solar project? They would need partners who understood every aspect of solar financing. Fortunately, Standard Solar stood ready to help.
Solution
Standard Solar's extensive experience in navigating the often-tricky world of solar financing provided the expertise necessary to acquire the money to get this worthy project done. The company's financial specialists explored all funding possibilities and discovered that a combination of a grant from the Maryland Energy Administration and a 20-year power-purchase agreement (PPA) with WGL Energy (WGL) would fund the solar project. Thanks to an extensive history and good relationship with WGL, the PPA meant Melwood wouldn't have to pay any money upfront. Suddenly, the project fit into the Melwood budget—and the center could move ahead with its money-saving plans.
Results
Melwood partnered with Standard Solar to build a 413.8 kW rooftop system on its Horticulture Training Center, along with a 517.1 kW carport system (930 kW total), which will provide 95 percent of the center's energy needs. The system offsets 350 metric tons of CO2 equivalent to the CO2 emissions from more than 40,000 gallons of gasoline. It is expected to save Melwood $1 million over the life of the PPA.
But the most important part of the project (besides the cost savings) is that it provides the individuals that the center was founded to help, with an opportunity to learn about a new skill set, expanding the scope and number of potential job opportunities for them.
The content & opinions in this article are the author's and do not necessarily represent the views of AltEnergyMag
---
Comments (0)
This post does not have any comments. Be the first to leave a comment below.
---
Post A Comment
You must be logged in before you can post a comment. Login now.
Featured Product
With Baja Carports 35 plus years in the industry installing our Solar Support Systems nationwide and whose founder Bob Hayworth was one of the first to use solar panels as the rooftops on commercial carports ~ is assurance that you will receive Baja expertise in all phases of installation. Our team's diligence makes the design-build process easy for customers. You don't need a set of architecture plans to begin talking to us about your project. Baja's in-house design engineers will work closely with you to meet your project specifications and city's criteria. You'll have our design team's years of experience applied to your plans. Our engineers will deliver a set of stamped plans, which maximize canopy coverage and details the most-effective layout for your business' parking lot.