Wind turbine gearboxes are challenging to maintain because they are often in remote locations, at elevated heights, and operating under extreme conditions.
Maintenance and Lubrication of Wind Turbines
Gary Hennigan | Mobil Industrial Lubricants
What are some of the unusual or specifically different aspects of the maintenance and lubrication of wind turbines?
Wind turbine gearboxes are challenging to maintain because they are often in remote locations, at elevated heights, and operating under extreme conditions. But, regular maintenance – including gearbox oil changes – is required to protect components from micropitting and wear.
Because of these challenges, proper equipment lubrication is critical. It can help protect system components, minimize unscheduled downtime, reduce costs, extend oil drain intervals, and enhance safety through reduced human-machine interaction.
Why is formulation the most important characteristic to consider when it comes to lubricant performance and equipment reliability in the wind sector?
Getting the most out of your equipment requires the use of high quality synthetic lubricants.
However, when it comes to deciding on which lubricants to use, one of the most underappreciated factors is a balanced formulation. Equipment performance depends on using lubricants developed with a balanced formulation approach, which means using optimal base stocks and a tailored additive package that meets the specific needs of the wind industry, including helping to extend oil life despite challenging operating conditions.
For example, a typical wind turbine lubricant will have an oil drain interval of 36 months, but more advanced synthetic lubricants formulated specifically for wind can help extend those intervals even further. In fact, one Mobil synthetic lubricant formulated specifically for wind turbine gearbox and bearings has been shown to extend oil drain intervals in turbine applications up to seven years.
These are just some of the reasons why lubricant formulation is the most critical factor to consider when selecting a lubricant.
What are some of the specific characteristics to look for when it comes to lubricant formulation?
To better understand the importance of a balanced formulation, let's look at a few key equipment challenges facing wind operators today.
Micropitting: This is a common challenge for wind turbine operators. Micropitting can form on surface-hardened gears within the first several hours of operation if the gearbox is not properly lubricated. The result is reduced gear tooth accuracy.
To mitigate this effect, operators should look for oils formulated with a micropitting additive package, such as conventional extreme pressure additives, as well as employ a gear finish as specified by American Gear Manufacturers Association's AGMA 6006 standard.
Further, an oil formulated with advanced base fluids that provide a high viscosity index – generally 160 or higher – and lower traction coefficient, can also help. The higher viscosity index can provide a thicker lubricant film at operating temperature, and the lower traction coefficient can help increase energy efficiency.
Water contamination: This can have a significant impact on wind turbine performance, particularly in offshore environments where water exposure is far greater. When water is present in oil, it can cause additive depletion, stable emulsions, and higher viscosity. It can also lead to equipment issues, such as filter blockage and accelerated wear of system components.
Lubricants formulated with specific additives can help mitigate the effects of these contaminants by improving the oil's resistance to water contamination, and also improving its wet oil filterability.
Foam and entrained air: Foaming is another notable equipment challenge for wind turbine operators. For example, when foam bubbles up and breaks through a shaft seal, it makes a mess inside the nacelle, creating a "slip" safety hazard. Further, as foam forms on the surface of the oil, it may interfere with the oil level float switch, giving a false reading and causing a potential alarm. Finally, if foam enters the oil circuit, a momentary loss of oil pressure or flow could occur, also giving rise to an alarm. All instances could result in unnecessary down time.
There has been some talk of top treating oils with additives to extend oil life. Can you tell me more about this approach?
The additive top treat concept is simple: operators use condition monitoring to identify when an oil's additives start to deplete and then re-additize that oil with the addition of after-market additive packages.
But, while it's true that all wind turbine oils will eventually start to deplete additives as they work to protect the gearbox, relying on top treating to extend oil life is not a recommended best practice, as it may introduce potential complications, something no wind turbine operator wants.
Instead, the key to long-term lubrication performance is to select an oil that is formulated with the right mix of advanced base oils and additives to deliver the required performance over many years without the need for additive top treating.
What are some of the specific challenges that might arise when top treating with additives?
There are two main challenges: the potential for an unbalanced formulation and increased safety concerns.
Additive top treating may actually introduce new components, or contaminants, that could impact the performance of your wind turbine equipment by generating an unbalanced formulation.
For example, surface active additives like anti-wear additives and rust inhibitors both compete for space on the metal surfaces in a gearbox. Formulating an oil so that both of these types of additives are present in the correct amounts to properly protect the machine elements from both wear and rust is a delicate balance. Topping up with different ratios or different types of these additives could disturb the balance, creating more potential harm than good.
Top treating oils with additives also increases how often you have to interact with your equipment. While top treating may not be as invasive as flushing and replacing an oil, regular additive top treating requires more frequent equipment interaction, which in turn increases the potential for safety issues.
Why do you believe using a balanced formulation is a more effective solution for ensuring optimal lubricant and equipment performance than top treating with additives?
Instead of relying on additive top treating to extend lubricant life, prudent operators should focus on selecting an oil that is formulated with the right mix of advanced base oils and additives to deliver long-lasting performance without the need for additional additive top treatment.
The best formulated oils will last longer – in some cases years longer – so you will not need to top treat the oil to maintain the expected level of performance.
For example, the chart below compares various wind turbine gearbox oils, and you can clearly see that the highest quality oil, formulated with the right mix of base oils and additives, delivers better performance across a wide range of parameters.
And, lubricant suppliers that embrace this balanced formulation approach stand behind their products. For example, some of ExxonMobil's synthetic wind turbine oils are warrantied for up to seven years, demonstrating the capability for the fluid to protect the machine even after 60,000 hours in service.
That's why, when it comes to wind turbine equipment, the most important consideration should be lubricant formulation. If you select the right lubricants, your equipment will be better protected in the long run.
To learn more, discuss with your lubricant supplier to ensure you are using the right oils for your equipment.
About Gary Hennigan
Gary Hennigan is a National Account Sales Executive, supporting the wind, cement and food processing industries for ExxonMobil Fuels & Lubricants. With more than 18 years of experience in the lubricants industry, Gary has held a variety of sales and marketing positions for ExxonMobil.
The content & opinions in this article are the author's and do not necessarily represent the views of AltEnergyMag
---
Comments (0)
This post does not have any comments. Be the first to leave a comment below.
---
Post A Comment
You must be logged in before you can post a comment. Login now.
Featured Product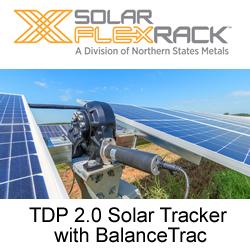 Solar FlexRack's latest solar tracker technology bundles an advanced tracker design with a full team of seasoned engineering and installation experts at your service. The next-generation solar tracker delivers a package of features that both enable increased energy yields for commercial and utility-scale solar installations, and significantly reduce project risks. That translates to smart installation cost-savings across your project budget.