EV batteries still have storage capacity, typically at 80 percent, after theyre removed from their vehicles and can be reclaimed for a "second life" as stationary power sources.
Repurposing Electric Vehicle Batteries
Ken Boyce | UL LLC
What applications can EV batteries have in a "second life"? (utility, residential, etc.)
We expect that repurposed EV batteries may be used in a variety of applications. That definitely includes utility applications; this may be in large-scale applications, but may also take the form of community energy storage.
Each EV battery is, essentially, different due to their auto application history – how do you test something like this that's not a standard product?
Representative samples of the reconditioned batteries will be subjected to a suite of safety tests to demonstrate the efficacy of the process. Then, each individual battery will need to go through an intense assessment. First, batteries are assessed for their "state of health" through initial screening tests that consider all different types of batteries and types of technologies. EV batteries that are not suited for continued use will be weeded out through additional testing processes that may determine what part of the battery pack can be swapped out, what will be replaced, and what will be disposed of.
The real challenge is finding a method for evaluation of EV batteries that is nondestructive, otherwise we would destroy the battery that this process has been built around. We are still establishing the finalized nondestructive testing criteria for the UL 1974 standard, but we know electrical, thermal and similar tests can provide a good evaluation of the cells, allowing us to evaluate an individual battery's 'health' to see if it is capable of being repurposed. We expect UL 1974 to be published late 2016 or early 2017.
What is UL 1974?
UL 1974 is the standard for the safety of repurposed electric vehicle batteries. It is the testing protocol to certify EV batteries for safe and effective use in a second-life infrastructure application.
Why is UL 1974 important for the future of energy storage?
UL 1974 will help EV batteries be safely and effectively adopted for use in microgrids and other energy storage solutions.
UL 1974 is also crucial for automakers in that it contributes to the economic viability of electric vehicles through the establishment of an effective aftermarket for EV batteries.
How did the need for this 1974 standard come about?
Electric vehicles (EV) are steadily gaining in popularity with both drivers and government officials. There are more than one million navigating the world's roads as of 2015. Within the next few years, the batteries from the first wave of electric motor vehicles will experience reduced vehicle performance and will reach the end of their automotive lifecycle.
EV batteries still have storage capacity, typically at 80 percent, after they're removed from their vehicles and can be reclaimed for a "second life" as stationary power sources. This should reduce the need for additional power production and shrink landfill waste.
For new technology such as repurposing EV batteries to be deployed successfully on a sustained basis, it must first be safe. Standard protocols must be developed for the condition, safety and energy capacity of each individual battery pack before it can be integrated into a stationary energy storage system.
How will the standard be implemented and who will carry out the tests and certifications?
UL will publish the standard as the discussions with technical experts conclude. UL will be ready to test and certify the products, so that they can bear the familiar UL Mark as a way to establish confidence in the market.

What else is UL doing in the energy storage space/industry?
UL is incredibly active in research, standards development, testing, certification and outreach in the energy sector. In addition to developing the world's first standard for safety of energy storage equipment, we are also working on other new standards, including one for distributed energy resource systems. UL led the task group that developed new requirements in the National Electrical Code for energy storage systems and microgrids. We have hosted a series of Lithium Battery Safety Summits in Washington D.C., India, China, and Canada which have brought together the world's leading experts to address critical battery safety issues. It's an exciting time and we are dedicated at UL to making sure we help enable the benefits of energy storage in a safe and sustainable manner.
About Ken Boyce
Ken Boyce is Principal Engineer Director, Energy & Power Technologies at UL LLC. Ken has decades of experience in safety engineering across many sectors. Most recently he has served as UL's technical leader for the energy and power sectors, overseeing standards development and technical operations for renewable energy technologies, batteries and energy storage, advanced technology infrastructure, electric vehicle systems, power distribution, factory automation, and related equipment. Ken is very active in the standards and code development community, and serves as the Chairman of National Electrical Code Panel 1. He represents UL in numerous global energy initiatives such as the IEC Renewable Energy Scheme. He works closely with US National Laboratories and academic institutions to advance scientific knowledge, including leading a number of significant renewable energy research projects. Ken holds a Bachelor of Science degree in Electrical Engineering from the Illinois Institute of Technology, is a Registered Professional Engineer in Illinois, and is a Corporate Fellow in the William Henry Merrill Society at UL.
The content & opinions in this article are the author's and do not necessarily represent the views of AltEnergyMag
---
Comments (0)
This post does not have any comments. Be the first to leave a comment below.
---
Post A Comment
You must be logged in before you can post a comment. Login now.
Featured Product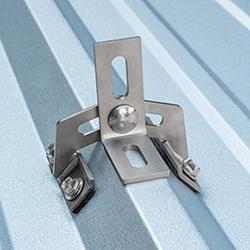 QuickBOLT Low Profile QuickBOLT with Microflashing™ is the industry's affordable, UL Certified Asphalt Shingle mounting system. The Microflashing™ is compressed by the collar on the bolt to create a water-tight seal. With an installation time of less than one minute, the Low Profile QuickBOLT allows installers to complete more jobs.