VTT is seeking a carbon capture technology for Finnish power and heat production plants. The first pilots were implemented, using wood pellets, at VTTs Bioruukki and the results are promising.
VTT Develops Combustion Technologies for Biomass – Aims at Negative Emissions
Contributed by | VTT Technical Research Centre of Finland Ltd
Finland is well on its way to achieving the 2020 climate goals, but it is already clear that the goals for 2050 are impossible to attain without major changes in energy production and other industries.
VTT has calculated that Carbon Capture and Storage (CCS) could cost-effectively cover one third of Finland's share of reductions in greenhouse gas emissions by 2050. More than 80 per cent of carbon capture measures would concern the burning or refining biomass, and the rest would concern the coal-intensive industry. Biomass is a renewable natural fuel that binds carbon dioxide from the atmosphere as it grows. If the carbon dioxide generated by burning of biomass is captured and permanently stored deep in bedrock, carbon dioxide can be removed from the atmosphere.
Chemical Looping Combustion (CLC) is a promising carbon capture technology suitable for new plants. This technology produces flue gas that consists of carbon dioxide and water vapour as a by-product. Since the gas contains no nitrogen, carbon dioxide is easy to separate and capture – unlike in alternative technologies. Biomass burning with the help of the CLC technology (Bio-CLC) is a new research area, and VTT's experiments in the sector are pioneering on a global scale.
Carbon capture consumes energy. However, the method based on oxygen carriers promises moderate energy consumption. The separation and capture of carbon dioxide become easier, when the fuel is combusted in a gas mixture without nitrogen provided by air. However, it takes a great deal of energy to produce oxygen from air. Researchers of CLC technology are therefore interested in how oxygen – embedded in some kind of carrier, such as metal oxide –could be fed into the power plant boiler.
Pilot testing of Bio-CLC technology at VTT's Bioruukki
The first experiments at VTT's Bioruukki proved the functionality of Bio-CLC as a biomass burning method. The fuels used were untreated and heat-treated wood pellets, and the oxygen carrier used was ilmenite, a natural material mainly containing titanium-iron oxide. In the pilot, the thermal input reached 20 kW. This input level is 100 times higher than that achieved on a laboratory scale and approximately 1,000 times lower than the production rate of an industrial power plant boiler.
When using traditional combustion technologies, chlorine compounds in biomass cause an elevated high-temperature corrosion risk. For this reason, the steam temperature must be kept low, which reduces efficiency. Bio-CLC technology allows the use of high temperatures and the achievement of a high efficiency rate. No signs of a risk of corrosion were detected in the experiments conducted by VTT. However, further testing is required to verify the results.
The method improves the efficiency of power production, because higher steam temperatures than usual can be implemented, without causing any corrosion problems on heat-exchange surfaces.
VTT carried out the combustion testing in the Carbon Capture and Storage Program (CCSP) coordinated by CLIC Innovation Oy, and financed by Tekes, Fortum Corporation, Helen Ltd and Amec Foster Wheeler Energia Oy. The Negative CO2project, financed by Nordic Energy Research, acted as project partner.
Further development of the method, combustion trials, and commercialisation will proceed in the joint Nordic spearhead project Nordic Energy Research, in which VTT is involved.
Not yet included in EU's emissions trading system
The development of Bio-CLC technology calls for a compensatory allowance for carbon capture generated by biomass burning. Such an allowance should be similar to that applied to fossil-based capture. However, biomass combustion facilities are not currently part of EU's emission trading system. Therefore, there are no economic incentives for applying CCS to biomass combustion. At the moment, with the technology incomplete, this defect in the emissions trading legislation is not a problem, but it will hamper the development of the technology. VTT is currently in the process of preparing a publication that will propose means of compensating for biomass-based carbon capture in emissions trading.
Carbon capture method in the Bio-CLC process
A metal oxide is employed as a bed material for carrying the oxygen into the reactor.
Once the oxygen has separated from the metal oxide and reacted with the fuel, the reduced oxygen carrier is then returned to a separate reactor, where it is re-oxidized with air.
The flue gas primarily consists of pure carbon dioxide and water vapour, from which carbon dioxide and other impurities are easy to separate.
Methods using oxygen carriers have not been commercialised so far.
The content & opinions in this article are the author's and do not necessarily represent the views of AltEnergyMag
---
Comments (0)
This post does not have any comments. Be the first to leave a comment below.
---
Post A Comment
You must be logged in before you can post a comment. Login now.
Featured Product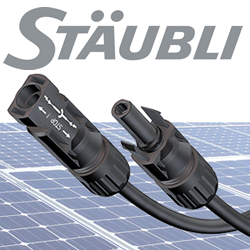 ​Stäubli Electrical Connectors are used on more than 300 GW, over 50% of the PV capacity worldwide. The MC4 family of UL and TUV listed products include connectors, in-line fuses, branch connectors, cable assembly and more.