Just southwest of Denver International Airport (DEN), Peña Station NEXT is an almost-400-acre, transit-oriented development destined to become one of America's leading smart, sustainable mixed-use communities.
Smart Communities - Peña Station NEXT
Matthew Crosby | Panasonic CityNOW
Please tell us about the Peña Station NEXT project and what the goals are?
Just southwest of Denver International Airport (DEN), Peña Station NEXT is an almost-400-acre, transit-oriented development destined to become one of America's leading smart, sustainable mixed-use communities. The development is adjacent to the Regional Transportation District's 61st & Peña Station rail stop along the University of Colorado A Line train linking downtown Denver with DEN. Peña Station NEXT is one of the first major steps toward realizing the City and County of Denver's and DEN's vision of creating a "live, work, play" Colorado aerotropolis around the airport and Peña Boulevard.
Peña Station NEXT has four main goals: maximize property value for investors, create compelling user experiences, improve community operations, and deploy cutting-edge smart and sustainable technology and solutions. The development is also proving a showcase for how to leverage public-private partnerships to overcome any challenges and implement solutions that address needs across smart mobility, smart energy, city services, smart buildings, and health and wellness. Lastly, Peña Station NEXT is a living lab for DEN, Xcel Energy, the City and County of Denver, and Panasonic; it is a place to evaluate technologies and develop business cases for potential broader deployment.
Peña Station NEXT was inspired by Fujisawa Sustainable Smart Town, a Panasonic-led smart and sustainable development in Fujisawa, Japan, about 30 miles southwest of Tokyo. In December 2014, Panasonic announced that it had chosen Denver for the newly consolidated operations and technology hub of Panasonic Enterprise Solutions Company and Panasonic CityNOW. At Peña Station NEXT, Panasonic plays multiple roles: as anchor corporate tenant, as lead on smart and sustainable technologies, and as invested partner on the development, working closely the City and County of Denver, DEN, utility Xcel Energy, master real estate developer LC Fulenwider, Inc., and others.
How are public institutions and private companies partnering to ensure the success of this development, and especially its solar+storage microgrid?
Peña Station NEXT and its solar+storage microgrid are the epitome of public-private partnerships at their best. Most microgrids involve singular entities, such as a military base or a college campus, with a behind-the-meter solution and single owner business case. At Peña Station NEXT, we have private real estate developers and technology companies, a regulated utility, and the City and County of Denver plus Denver International Airport, which is wholly owned and operated by the city. Without the partnerships across these public-private lines, working toward a shared vision, Peña Station NEXT arguably couldn't be nearly as ambitious and innovative. Rather than satisfying a single business case for a single owner, the microgrid will provide a stack of values and fulfill multiple business case objectives for the stakeholders individually and the public-private partnership as a whole.
Who are these partners and what are their roles?
Panasonic: Panasonic is the anchor corporate tenant, having moved into our new operations hub in early September 2016. We're also the lead on smart and sustainable technology deployment, ranging from the solar+storage microgrid to smart LED street lights to first/last-mile autonomous mobility solutions and community WiFi.
Xcel Energy: As Colorado's major investor-owned utility, Xcel Energy is a crucial partner on the solar+storage microgrid, which is part of Xcel Energy's Innovative Clean Technologies program, approved by Colorado's Public Utilities Commission in March 2016. The microgrid is aligned with Xcel's broader Our Energy Future initiative, which contains three strategic elements: enhancing customer choice, promoting local economic development, and technological energy innovations.
City and County of Denver and Denver International Airport: From the day in December 2014 when Panasonic announced it had chosen Denver for this operations hub, the City and County of Denver has been a close partner. And because Denver International Airport has an 800-space parking lot adjacent to Panasonic's building and the 61st and Peña Station rail stop, Denver is also playing a role in how the development takes shape on this western edge of the unfolding aerotropolis.
LC Fulenwider, Inc.: LC Fulenwider has a 100-year history as a visionary real estate developer in Colorado. Its foresight and commitment to sustainability underpin the motivation to make Peña Station NEXT an "American Fujisawa."
How are members of the portfolio of stakeholders and asset owners engaged in advancing the development's project components?
The Peña Station NEXT microgrid project comprises five core elements:
1.6 MWdc carport solar photovoltaic (PV) installation: located over the DEN parking lot; DEN will own the carport canopy structure, while Xcel Energy will own the solar PV system and operate it under a long-term lease agreement with DEN; offers additional, non-energy benefits such as covered parking
259 kWdc rooftop solar PV array: installed atop Panasonic's corporate office building using Panasonic HIT solar PV modules
1 MW / 2 MWh lithium ion battery system: located at Panasonic's building in an outdoor-rated enclosure, Xcel Energy will own and operate the battery energy storage system, while Panasonic will perform the operations and maintenance in concert with Younicos, a market leader in smart energy and grid solutions based on battery storage
Panasonic's Denver operations hub building: will serve as the initial anchor load for the microgrid; a high-tech, energy-efficient office targeting LEED Gold and net-positive energy, with an intelligent building energy management system
Switching and control systems: to operate the battery energy storage system and microgrid functionality.
Once the microgrid is live in early 2017, Xcel Energy, Panasonic, and the other project partners will gather data to review real-world performance and make refinements over time.
What is unique about the microgrid technology used to ensure it offers sufficient energy storage and supply?
The public-private partnership approach taken for the Peña Station NEXT microgrid has resulted in a multi-stakeholder microgrid model. This "portfolio microgrid" differs from typical microgrid models that focus on supplying energy for a single entity, like a university campus. The portfolio approach extends beyond the partners and assets mentioned above to the benefits and services the microgrid technology provides.
For example, the multi-use battery system will be leveraged for five major use cases:
Solar grid integration via ramp control and smoothing will maintain distribution grid reliability and power quality on a part of Xcel Energy's grid that already has high (20+%) solar penetration
Grid peak demand reduction will discharge the battery to offset times of high load, such as AC during hot summer afternoons
Frequency regulation will help manage energy supply for the overall grid and customers that require consistent, high-quality energy (i.e. data centers) through rapid response mechanisms
Energy arbitrage will help offset expensive electricity demand during peak hours by charging the battery during off-peak, low-price times and discharging during high-price hours
Backup power ensures resilience for Panasonic's facility, where a state-of-the-art network operations center demands 24/7 uptime
Each of these use cases adds value to the microgrid end users, and some use cases will be engaged more frequently than others. Overall, they will be evaluated as part of the initial two-year battery pilot program at the Peña Station NEXT microgrid to determine the complementary value propositions for battery energy storage.
What are some of the other features that will be integrated into the development?
Other smart city solutions that will make Peña Station NEXT a world-class destination to "live, work, play" include smart buildings; smart LED street lights with video analytics and other features for community safety and parking; electric vehicle charging stations; autonomous electric shuttles within the transit-oriented development and to and from the rail station for a seamless mobility experience; and community Wi-Fi; interactive digital signage; and smart bus shelters.
How is the project being funded and how will it be sold?
The microgrid project is funded by DEN, Panasonic, and Xcel Energy, which obtained approval to participate from the Colorado Public Utilities Commission (CPUC) in March 2016 as part of its Colorado Innovative Clean Technology (ICT) Program that allows Xcel Energy to test emerging energy technologies that may lower greenhouse gas (GHG) emissions or offer other environmental benefits.
Panasonic is an investor in the first phase of development for the broader Peña Station NEXT development. In September 2016 we announced a strategic investment in Rail Stop LLC, the development company responsible for 154 acres of the Peña Station NEXT, including the location of the Panasonic operations hub. The Panasonic investment is a joint venture with master developer LC Fulenwider.
Additional details about overall project funding remain undisclosed.
How will the development be managed and maintained over the coming years?
Panasonic's network operations center (NOC) housed within the building performs operations and maintenance on the microgrid as well as on the other smart, sustainable technologies used in the project. The NOC additionally provides operations and maintenance support for a nationwide network of large-scale PV systems owned and operated by Coronal Energy, powered by Panasonic. Development of the broader 400-acre site is still ongoing, so management and maintenance will be determined at a later date and will likely involve multiple stakeholders.
About Matthew Crosby
Matthew Crosby is Utility Solutions Program Manager with Panasonic CityNOW, where he focuses on utility strategy and solutions for Xcel Energy and other utilities. Before joining Panasonic, Matthew held leadership roles at Rocky Mountain Institute, Pecan Street Inc., Austin Energy, and the California Public Utilities Commission. At RMI, Matthew was consultant to the New York State Public Service Commission for the New York Reforming the Energy Vision proceeding, as well as Fortune 100 information technology and wholesale power marketing companies. At Pecan Street Inc., he launched the Pecan Street Research Consortium, a global network of academics developing engineering and computer science research using Pecan Street's unique residential database. At Austin Energy, he led program management for the residential electric vehicle program, and won a Department of Energy award to support regional electric vehicle charging infrastructure planning in Central Texas. At the California PUC, Matthew was the lead Energy Division analyst for the Alternative-fueled Vehicle rulemaking. Matthew holds a master of science in urban planning from Columbia University.
The content & opinions in this article are the author's and do not necessarily represent the views of AltEnergyMag

Panasonic Solar
Since 1918, Panasonic has powered more than a century of innovations with dependable, trusted technologies for everyday life. Panasonic authorized installers deliver best-in-class solar and battery storage technology with a hassle-free process to residential and small commercial customers. With their best-in-class EVERVOLT® solar panels and home batteries working together, the Panasonic Total Home Energy System lets homeowners produce and store their own energy for use now and later. All with zero emissions, zero worries and a comprehensive 25-year warranty on panels (12 years on battery storage).
Other Articles
We're also introducing two new high efficiency all-black solar modules - the EVERVOLT HK2 available in 430W & 420W and the EVERVOLT PK2 available in 405W & 4000W. We can think of no better place to showcase our best-in-class offerings to the industry than at RE+ 2023.
This project, like most, came with its share of challenges and requests from a discerning homeowner who wanted top quality. The ask: plan and install a solar system to handle the high electricity needs of this large home with a customized design and clean aesthetics.
EverVolt modules are more resistant to the effects of shade than conventional panels as the cells' connections are split in parallel, so even if one part is shaded, another parallel connected part can generate the electricity.
---
Comments (0)
This post does not have any comments. Be the first to leave a comment below.
---
Post A Comment
You must be logged in before you can post a comment. Login now.
Featured Product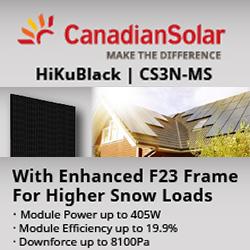 Aesthetic appearance for residential systems: With black backsheet & black frame, Power range 380 ~ 405 W, Low power loss in cell connection. Enhanced reliability: · Low temperature coefficient (Pmax): -0.34 % / °C, LID LeTID less than 2.0%, Lower hot spot temperature, Better shading tolerance.