Seattle is among 17 major North American cities whose "2030 District" is driving high-efficiency district energy systems to share and exchange energy and heat between building partners – saving energy, money and maintenance costs, and providing more reliable power.
Beyond Biospheres: Waste Heat to Power Amazon's New Campus
Contributed by | Seattle 2030
A big part of Amazon's success has been about being ahead of the curve, so it's natural that the Amazon Denny Triangle Campus includes innovative ways to leverage efficiency. And, as a tech powerhouse, it's only fitting that its newest buildings in downtown Seattle be heated through reclaimed heat coming from the infrastructure that makes the Internet, the cloud and our IT universe go around: a data center.
Richard Stevenson, Former President Of Clise Properties, First Had the Idea:
"We'd just completed a deal selling land to Amazon for their new campus," Stevenson says, when he thought about the excess heat from the Westin building, and whether it could help to power Amazon.
The "district energy" system shared between Amazon and the Westin Building's data center works by capturing heat generated from the Westin's humming servers and equipment – and transferring that heat through underground water pipes, instead of venting it into the atmosphere. Also known as waste heat recovery, the process is about four times more efficient than generating new heat the traditional way, from burning natural gas in boilers.
The district energy system came about from collaboration among Amazon, Clise Properties, McKinstry, the City of Seattle, and non-traditional lender Craft3 (see sidebar On Financing). Through the setup, Westin is able to curb the amount of heat it needs to reject, and Amazon will be able to heat more than 3 million square feet of office space.
Seattle is among 17 major North American cities whose "2030 District" is driving high-efficiency district energy systems to share and exchange energy and heat between building partners – saving energy, money and maintenance costs, and providing more reliable power.
Amazon's now-completed tower benefits from the district energy system that's easy on the power grid. When it started its planning process, Amazon knew that for its eye-catching, landmark biospheres to be approved, the whole project would need to be ultra-energy efficient for the project to be feasible. It had researched different options, including geothermal.
Amazon found that waste heat recovery from the Westin Building Exchange, on the next block, was the best option. Seneca Real Estate Group (which did the analysis for Amazon) recommended the district energy solution, based on operating, longevity and financial considerations.
"We use so much electricity at Westin," explains Stevenson (Clise Properties owns the Westin Building Exchange), "and the vast majority of that electric energy ends up as heat. Rejecting that heat always bothered me." Water is saved too, because recycling heat uses less water – in total, the amount of waste heat recovered by Amazon would heat about 365 homes a year, and about 3,000 gallons of water will be circulated every minute.
Working with McKinstry, the firm that developed the concept and designed and built the heat exchanger, it was straightforward to quantify the opportunity to recycle heat to Amazon. "What made it symbiotic," says Ash Awad, chief market officer of McKinstry, is that Westin was reaching the limits of its ability to discharge excess heat, while Amazon needed a heat source.
Offloading waste heat from one building to another that needs it provides a "valuable resource," Awad explains, and is a "cooperative energy solution that can be replicated." Seattle Mayor Ed Murray's support was a big help to keeping the project moving forward.
"We think waste heat is about the best heat source you can find," says Christie Baumel, formerly the Climate and Energy advisor, City of Seattle, "because waste heat is already there, it just needs to be captured and reused. As we increase awareness of projects like this, we hope to see more opportunities for Seattle businesses."
Planning and permitting for the underground pipes that carry the recycled heat below the street meant working with multiple agencies including Seattle Department of Transportation, City Council and the Mayor's office. Some advice for future street diggers on a tight construction deadline? Unless you're an existing utility working with the City, you should allow 6-9 months for the full permit approval, so get started on it early. Understanding the timeline for that process is key for keeping the project on budget and on schedule.
"The collaboration involved between multiple city agencies, ownership groups, and the design and construction team, all focusing on the same goal allowed this project to be a success," says Peter Boileau, project executive with University Mechanical Contractors. "It proved that if we worked together holistically with City support we could significantly improve the community surrounding the Amazon Headquarters project."
The system is built for expansion, so that if additional properties want reclaimed heat, there are options to attach to other buildings. The first step is for building owners and engineers to think outside of the box, literally, in terms of how resources are provided that will keep a business comfortable. In this case, that meant looking outside of Amazon's property lines.
ON FINANCING
It isn't always easy being the new kid on the block, but one advantage that the Amazon-Westin's district energy project had was that it was considered new and innovative enough for leading clean energy investors, such as Craft3, to take notice. In 2014 and 2016 Washington State's Department of Commerce named Craft3, a non-traditional lender, as one of the designated distributors of funds from the state-sponsored Clean Energy Fund. The fund, one of the first of its kind in the country, was created specifically to assist Washington clean energy businesses obtain capital for innovation and growth.
Craft3 was alerted to the Amazon-Westin project by a former employee working at McKinstry. After researching the project's financial and technical feasibility, Craft3 found it to be a worthwhile and eligible, and was able to approve an $886,000 loan. Craft3 is focused on renewable energy and energy efficiency – and can provide flexible financing to support projects like this, that more traditional lenders cannot.
"We have some of the cheapest electricity and natural gas in the country, so it really takes more incentives for people to realize the benefits of district energy, beyond energy savings," says Brian Young, clean energy sector lead for the Washington state Department of Commerce. "[This] Fund is an economic development tool – local companies can test out these solutions in the real world, then end up selling them across the world."
Tips for working with investors on district energy:
Find an investor that understands the difference between perceived and actual risks to make a smart and informed assessment on your project.

Have early-stage conversations with them to receive benchmarks for what they need to see, by when.

Underscore the reputation and experience of your players and consultants, including past projects and current clients.

Get straight on legal. The legal documents that underpin the whole deal for both parties – long-term sale or power purchase agreements and contracts, indemnification documents and clauses to address potential long-term issues. These are all things that your investors will love (and will make or break the project).
CHECKLIST
TEAMING: Network and find out who in your neighborhood has an energy usage pattern that may be mutually beneficial, and alert the City early in your project for guidance on requirements and additional opportunities

CONTRACTING: Create and review bids for contractors and sub- contractors

DESIGN: Talk to your architecture, engineering and sustainability consultants to determine design

FEASIBILITY: Gather architecture, engineering, sustainability and operation experts to discuss feasibility together with leadership

LEGAL: Getting clear on the legal agreements you've set up with your district energy partner will help you get both the City and financing partners give you the thumbs-up

FINANCING: Explore potential new funding sources (like Craft3, see sidebar) and determine risk comfort and assets

ENERGY CODES: Talk to district energy experts to discuss what's needed to meet the City's energy code and learn about recognition and offsets

PERMITTING: Know what permits you'll need and how long it will take to approve with the City
AMAZON WEB SERVICES (AWS) has a long-term commitment to achieve 100 percent renewable energy usage for its global infrastructure footprint. AWS exceeded its goal of 40 percent renewable energy by the end of 2016, and has set a new goal to be powered by 50 percent renewable energy by the end of 2017. A Clise Property in Seattle, the WESTIN BUILDING EXCHANGE is one of the leading data centers in the United States. MCKINSTRY is a full-service design, build, operate and maintain (DBOM) rm. UNIVERSITY MECHANICAL CONTRACTORS, INC., is a full-service mechanical contracting rm. SENECA REAL ESTATE GROUP provides real estate advisory and development management services to private and public sector clients throughout the Pacific Northwest.
THE SEATTLE 2030 DISTRICT is a nonprofit that promotes practical solutions like district energy in helping to dramatically decrease environmental impacts from building construction and operations. THE CITY OF SEATTLE is a founding member of the Seattle 2030 District and a national leader in energy conservation, green energy production, and sustainable building. Seattle has a citywide goal to be carbon neutral by 2050.
The content & opinions in this article are the author's and do not necessarily represent the views of AltEnergyMag
---
Comments (0)
This post does not have any comments. Be the first to leave a comment below.
---
Post A Comment
You must be logged in before you can post a comment. Login now.
Featured Product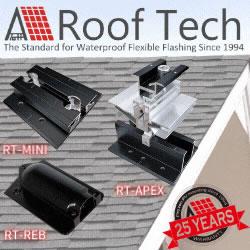 Now Roof Tech brings you the most innovative, watertight mounting systems ever developed for solar photovoltaic systems. Designed and manufactured exclusively for us by Japan's longtime leader in roofing technologies, Roof Tech products are 100% code-compliant and offer fast, simple installation and huge savings on shipping costs due to their compact, rail-less design. Learn more about our full line of versatile PV mounting solutions now available for residential installations. The next generation in rooftop solar mounting solutions."