There have been three key eras of PV technology development: PV1.0, marked by the birth of the silicon PV cell and exploration around the application of clean energy; PV2.0, which brought about the global mass commercialization of solar and more affordable yet lower quality module technologies; and PV3.0, the era we are just now entering.
The Evolution of PV Technology
Wenxue Li | LONGi Solar
Please tell us a bit about LONGi Solar and your role in the solar industry.
LONGi Solar is the world's largest manufacturer of monocrystalline solar cells and modules, and shipped approximately 2.5 GW of products in 2016. The company is headquartered in Xi'an, China, with branches in Japan, Europe, North American, India and Malaysia. Powered by advanced monocrystalline silicon technology and a long-standing history of successful field experience, the company is one of the fastest-growing PV companies in the world, and was recently named a Tier One manufacturer by Bloomberg BNEF.
With a strong focus on the research and development (R&D), production, sales and marketing of monocrystalline silicon products, LONGi Solar is committed to providing solutions with the best levelized cost of electricity (LCOE) and promoting the worldwide adoption of high-efficiency monocrystalline technology.
How will the solar industry change in the coming months?
In the months ahead, we expect the use of monocrystalline modules to continue to grow. The market share for monocrystalline modules in China has increased from less than 5% in 2014 to 27% in 2016, driven by the technology's higher efficiency and competitive cost.
The development of new manufacturing methods has made possible widespread use of monocrystalline technologies. For example, the proliferation of diamond wire cutting has already enabled a faster sawing speed and loss of less material when creating monocrystalline (mono) wafers and the process is now beginning to be used for the manufacturing of multicrystalline (multi) wafers. In addition, we expect the higher efficiency mono wafer to continue to gain market share over multi wafers due to the growth of distributed generation, where customer demand is focused on products that deliver higher yields for smaller areas.
Can you describe the historic evolution of PV to the stage of development we see today?
There have been three key eras of PV technology development: PV1.0, marked by the birth of the silicon PV cell and exploration around the application of clean energy; PV2.0, which brought about the global mass commercialization of solar and more affordable yet lower quality module technologies; and PV3.0, the era we are just now entering.
PV1.0 began in 1954 with the creation of the silicon photovoltaic cell. Since then, the PV industry has continued to develop module technology to provide a solution that balances efficiency, reliability and overall cost. In this first era of solar development, monocrystalline modules were the modules of choice, because they represent the purest form of silicon. While these initial monocrystalline modules were reliable, they lacked the affordability necessary to make rooftop solar widespread.
PV2.0 brought solar into the mainstream with a heavy emphasis on reduced costs. In PV2.0, the invention of synthetic processes meant manufacturers could bind smaller and multiple silicon cells together to create cheaper (yet less reliable) polycrystalline modules.
We are entering into a new, more innovative era of PV development: PV3.0. We are now experiencing the large rollout of solar modules with nominal power ratings above 300 W (60 type) – performance that led the industry in PV2.0 and is now the benchmark for modules in PV3.0. As the pioneers in production of high efficiency, low-cost solar cells, such as mono PERC, LONGi is reaching GW-size production levels.
How is solar different today than five years ago?
We see the history of the PV industry as spanning three eras. Five years ago, we were in PV2.0, largely defined by cheap yet low quality panels. Modules' power ratings ranged between 100 W and 300 W. Today, we are in an era of high-quality and high-efficiency milestones for the PV industry. In PV 3.0 high-efficiency, low-cost solar modules with power ratings above 300 W will drive sustainable solar system designs to provide competitive LCOE generation.
What are your feelings about the trade issues facing the US and other nations with respect to solar modules and the effects on the industry?
The movement toward grid parity for solar is stronger than the trade issues currently complicating module costs. With high-efficiency mono PERC modules, solar asset owners can obtain electricity at prices lower than the grid can provide. We see grid parity as a more important factor driving the development of the global solar market.
As demonstrated by monocrystalline cell technology, investing more in up front technology costs can deliver more favorable long-term economics to solar asset owners. Because of the economic benefits of installing solar technologies, solar energy adoption will continue to expand in the United States. Moving forward, there will be greater interest in the energy yields and cents per kilowatt-hour that a module technology provides rather than the traditional focus on lowest cost and cents per watt per unit.
What role does efficiency play in your product offering and a solar project?
We believe modules have the largest cost reduction potential in the value chain of a solar project – and efficiency is the key to maximizing returns. At LONGi, we are constantly challenging ourselves to provide the lowest possible LCOE at the lowest possible price.
In 2016, LONGi reduced the non-silicon cost of our monocrystalline silicon wafer product by 67 percent as compared to 2012 technologies. Additionally, LONGi achieved 325W for its highest power of 60 cell P-type monocrystalline module, offering consumers low-cost yet industry-leading efficient solar.
LONGi's diamond wire cutting capabilities and PERC cell developments are among LONGi's technologies that enabled the company's industry-leading efficiency performance.
What factors have contributed to LONGi's success a high-quality panel manufacturer?
For nearly 17 years, LONGi Solar has been focusing exclusively on technologies. The company has kept a keen eye on the value of solar energy over the years, focusing on product improvements and streamlining customer acquisition while exercising
cautiousness towards expansion and investments that only provide short-term benefits.
Additionally, LONGi has one of the healthiest finances in the PV industry and always adheres to prudent operation principles. In 2017, we were granted an "AA+" corporate rating, an achievement granted to only a select few PV enterprises.
Are there game-changing technologies on the horizon that will affect the industry or do you think we are in a relatively stable development cycle at this time?
We are confident that we are now in the era of game-changing technology development. LONGi Solar is investing 5-7 percent of our yearly revenue into research and development practices.
One area in which we are particularly fascinated is the use of solar energy as an amplifier and transmitter of other forms of electricity. We've built out solar projects that use local hydropower surpluses as means to transport surplus energy to areas for utilization. This coupling is especially interesting since hydropower acts as a baseload energy – it is able to supply secure electricity and couple well with intermittent renewable energy.
About Wenxue Li

Mr. Wenxue Li graduated from Lanzhou University in 1990, majoring in physics of metals, and later received an MBA from Xidian University in 2002. Li is now the president of LONGi Solar. From 1990 to October, 2010, he successively held the positions of vice-general manager, general manager, chairman of the Board and secretary of the Party committee of Shaanxi Jinshan Electric Appliance Co., Ltd. For thirteen consecutive years, the company remained among the top 100 manufacturers of electronic components in China and was rated by Shaanxi Provincial People's Government as a "quality and performance-guaranteed" enterprise. In 2010, Mr. Wenxue Li joined LONGi Silicon Materials (Ningxia), where he successively held the positions of executive deputy general manager and vice president of the operation center. Since February, 2015, he has been the president of LONGi Solar, making great contributions in upgrading corporate management, improving production efficiency and stimulating staff's initiative. Li has won the title of "Model Worker of Xianyang City" and was elected a representative of the Third People's Congress of Xixia District, Yinchuan.
The content & opinions in this article are the author's and do not necessarily represent the views of AltEnergyMag
---
Comments (0)
This post does not have any comments. Be the first to leave a comment below.
---
Post A Comment
You must be logged in before you can post a comment. Login now.
Featured Product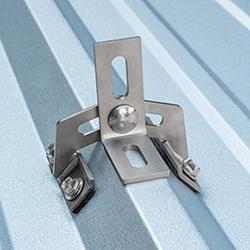 Explore new lines of income for your solar installation business with QuickBOLT's Stone Coated Steel roof mounts designed in partnership with metal roof manufacturers themselves. These SCS roof mounts work on all metal tile profiles and will help you bring in money you're missing out on. By not driving into the roofing material, QuickBOLT's Stone Coated Steel roof hooks maintain the integrity of the roof. Install with ease and confidence knowing your roof is protected against the harsh elements that these hooks are designed for.