At this time, OPVs are applicable only in limited markets that require lightweight, flexibility, and variable angle performance.
The Future of Organic Photovoltaics
Len Calderone for | AltEnergyMag
A photovoltaic cell uses organic electronics and is known as an organic photovoltaic (OPV) cell. Organic electronics investigates organic polymers and molecules that act as a conductor of electricity used to absorb light and transport electricity.
Organic photovoltaic solar cells are designed to offer a low energy photovoltaic (PV) solution. OPV has the potential to provide electricity at a lower cost than typical solar technologies. This technology is especially enticing to the building integrated PV market because a variety of absorbers can be used to generate colored or transparent OPV devices.
The cost of manufacturing plastic is very low by combining plastic with flexible organic molecules. The organic molecules absorb high amounts of light with a small amount of material.
Research is focusing on increasing device efficiency and lifespan. Significant efficiency gains have been attained by improving the absorber material. Research is working to further optimize the absorbers and to cultivate organic multi-junction designs. Alternative encapsulation materials are being explored to reduce cell degradation and push cell durations to industry applicable values.
The basic building block of silicon solar cells is the atom. With organic cells the basic building block is the molecule, which is a collection of a well-defined group of atoms. Since molecules are larger than atoms, they are easier to work. Because of this, it is simpler to make new designs with molecules, as virtually anything can be fashioned with molecules. It is problematic to process new material from an atom.

The number of molecules that could be used in an organic cell are unlimited, allowing the organic solar cells to be customized for a particular application or market. One company manufactures cells in different color schemes, including cells that are camouflaged for the military. With careful design and repeated adjustments, molecules can be built that will fulfill all three criteria essential for a successful solar cell—efficiency, cost and long life.
The benefit of this technology is the ability of OPV to select the molecule that absorbs solar light efficiently. Therefore, organic solar cells can be developed to be 1000 times thinner than silicon solar cells. Because these cells are so thin, they are flexible and can be printed on a roll-to-roll process, which can simply be transported and unrolled on customer's roof.
French power giant Engie has installed the world's largest OPV system on a roof at a school in France. The roof of the Pierre Mendès-France secondary school is now covered with 5700 sq. ft. of OPV.
The installation did not require piercing the roof nor strengthening the roof structures. It is expected to generate 23.8 MWh of electricity each year, which is sufficient to power 15-20% of the school's power needs. This opens the door to large scale development of OPV technology, which is ideal for lightweight, flat and curved roofs, where traditional solar panels are tricky to install.
Merck and BELECTRIC OPV presented organic photovoltaic materials at EXPO 2015 in Milan. They integrated flexible organic photovoltaic technology into the architecture. With its state-of-the-art materials, Merck supplied the key active component of the solar trees that feature the OPV technology. The energy efficient modules were integrated into stylized trees.
The blue color of the hexagonal OPV modules comes from Merck materials. These modules convert the incident light into charge carriers that can be collected in order to generate electricity. These panels are not only effective and long-standing but can be used for beautiful architectural applications. The solar trees show how these features can inspire architects for smart buildings with energizing facades.
Patented special inks are used in printing. They consist of formulated blends of materials which after coating, create electricity when exposed to light. This technology uses lightweight and malleable semi-transparent modules; therefore, they can be utilized on all kinds of surfaces.
An added advantage is that the modules generate a constant output, even if it is cloudy or artificial light is being used. The panels can also be produced in different colors, thus adapting to the environs. This creates new opportunities, principally in building design. The low cost of production is also advantageous. Since these polymer materials can be processed as liquid solutions, they are appropriate for different printing processes, such as spin coating, ink-jet printing or roll-to-roll processing.
Because the polymer-based cells can be coated on plastic film, they are flexible. The organic solar cells can be placed vertically or installed on weak structures, such as vinyl greenhouses. Usages for OPV are likely to increase in the future, since they are so pliable.
By changing the structures of organic compounds, it is possible to alter the colors of the cells for decorative usages. There are even transparent ones, which can be applied to windows.
The electrical conversion rate for OPV is slightly less that standard cells, but they do not have to beat the conversion rate of regular solar cells because organic solar cells will be used in different ways, such as packaging, clothing, flexible screens, lighting road signs and offshore buoys and recharging cell phones and laptops.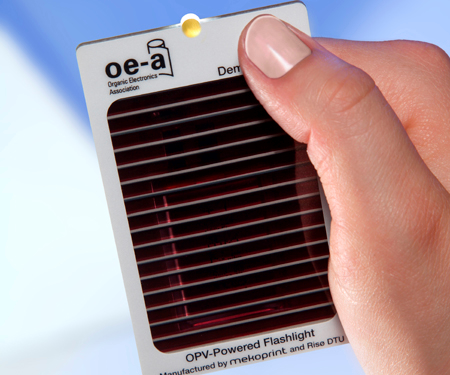 OPV powered flashlight
Risø DTU and Mekoprint have fabricated and distributed 10,000 free polymer photovoltaic flashlights. Risø DTU is the National Laboratory for Sustainable Energy, at the Technical University of Denmark; Mekoprint is a maker of plastic membrane-based devices, such as membrane switches and keyboards, nameplates, and graphic overlays. The distribution of the flashlights was aimed at highlighting the feasibility and low cost of the mass production of organic PV cells.
OVP is ideal for agricultural greenhouses because the windows need to be extremely transparent for plants to grow healthy. During the day, the plants are fed by sunlight; while at night, artificial light is used, thereby consuming a lot of energy. The benefit of organic solar cells for night lighting is appealing as a result of roll-to-roll manufacturing and low cost, flexible, and ecologically friendly materials.
Before this technology is fully accepted in the market, a lot of hurdles need to be overcome. At this time, OPVs are applicable only in limited markets that require lightweight, flexibility, and variable angle performance. The continuous development of OPV with the improvement in their light harvesting ability and the management of active layer materials will occasion widely applicable technologies for electrical generation.
For additional information:
The content & opinions in this article are the author's and do not necessarily represent the views of AltEnergyMag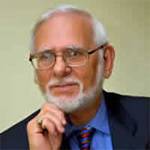 Len Calderone - Contributing Author
Len contributes to this publication on a regular basis. Past articles can be found with an Article Search and are listed below. He also writes short stories that always have a surprise ending. He has also written a book on wedding photography on a budget. These can be found at http://www.smashwords.com/profile/view/Megalen
Other Articles
There are advantages and disadvantages to any type of energy source. In this article, I will discuss the disadvantages of renewable energy. Wind energy is one universally used type of renewable energy. It is also one of the fastest spreading resources for electricity. But . . .
Energy's deathprint is the number of people killed by one kind of energy or another per kWhr produced. Coal is the worst. According to the World Health Organization, the Centers for Disease Control, and the National Academy of Science.
The show floor is where you will meet with the best-in-class companies, exhibiting the best solutions, services, and products for the future, while exhibitors can meet with 10,000+ solar and energy storage professionals from around the world.
---
Comments (0)
This post does not have any comments. Be the first to leave a comment below.
---
Post A Comment
You must be logged in before you can post a comment. Login now.
Featured Product
What if you could maximize the Ground Coverage Ratio (GCR) on your next project and not have to worry about the complicated variables that come with a tracker system? With a low tilt and clearance design, Dahlia® has the highest GCR of any fixed-tilt system in the marketplace. The system is available in three tilt options (7.5, 10 and 12.5 degrees) and designed to accommodate any sized PV module. The lightweight system is engineered with fewer components, several of which are shipped to job sites pre-assembled. This design feature reduces freight costs and rapidly trims the amount of on-site installation time required to complete construction. Maximizing PV coverage on a site can lead to an increase of production, which creates greater financial return for project owners. Over 100 MW of Dahlia® projects have been deployed across the United States, in regions of variable snow and wind loads. How much can Dahlia® cover and save you on your next project?